Merde! Protesting French farmers dump tons of manure at govt buildings (VIDEO)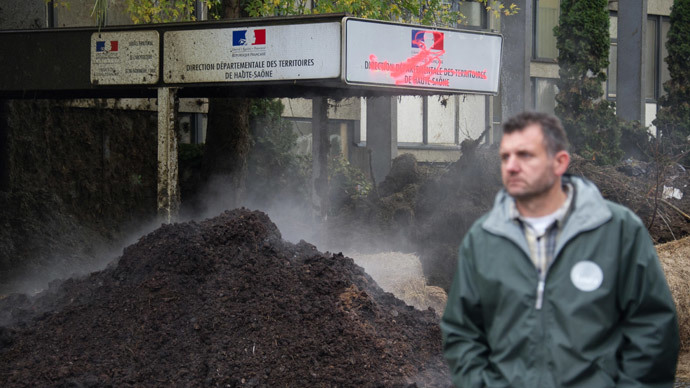 Dumping some 100 tons of manure and rotten vegetables in Chartres was part of a wave of protest by French farmers, who are angry with overregulation, sluggish economy and lack of protectionism.
France was gripped by a series of protests on Tuesday and Wednesday, with an estimated 36,000 people participating. The dumping of manure in front of a local administration building in Chartres in northern France was mirrored by similar action in the central city of Tours, western Nantes and Toulouse in the southwest.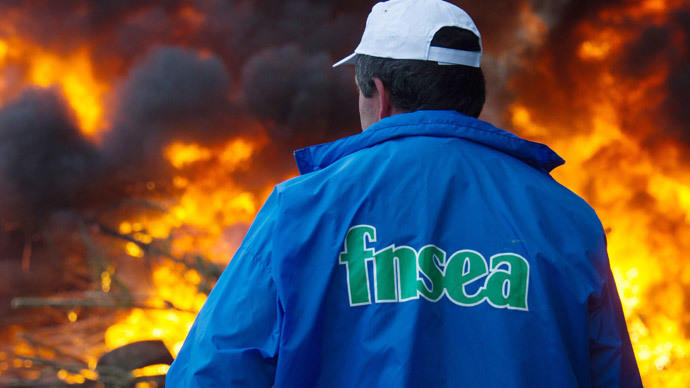 "Manure, we can't spread it any more. You can have it, help yourselves," one of the slogans said.
This year France has started enforcing a 1991 EU directive aimed at curbing nitrate pollution, which forced tens of thousands of farms that previously used manure as fertilizers to undergo costly infrastructure upgrades to comply.
In Dijon, farmers burnt an effigy of French Ecology Minister Segolene Royal.
In other parts of the country farmers organized by two of France's main farming unions, the FNSEA and Jeunes Agriculteurs (Young Farmers) resorted to less dramatic ways to vent off their anger.
Parisians who happened to be near at Place de la République on Wednesday could get some of 60 tons of potatoes and 20 tons of onions, apples and pears grown in the region and dumped on the streets by protesting farmers.
"This is a symbolic action. Often farmers don't harvest their produce because it costs too much and isn't worth it, so it goes to waste. Instead of doing that we decided to give it to the Parisians to help get our message across," Cyrille Milard, a farmer from the Seine et Marne department who participated in the protest, told the Local.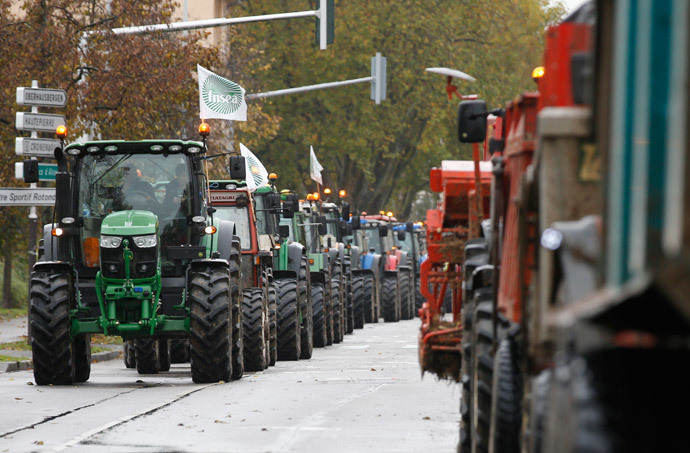 French farmers are irritated by what they call the overregulation of agriculture in France, accompanied by a lack of protection from foreign competition that does not suffer from such hurdles.
"Markets need to be regulated. The borders are open, that's Europe, and we import 80 percent of vegetables and 80 percent of meat. While this happens our farmers quit the profession every week and every day because they can't sell their produce. We produce high quality goods, but can't sell them," said Milard.
Illustrating the situation, some 20 Young Farmers activists checked freighters delivering food to the French Finance Ministry on Wednesday morning.
"Tomatoes from Morocco, apples from Italy, unlabeled produce: the Economy Ministry should set an example of 'Made in France', and that is not the case," said Samuel Vandaele, the group's deputy leader.
Aggravating the pressure on the farmers is the sluggish economy, which they blame on the policies of widely unpopular socialist President Francois Holland, and the falling prices caused by large harvests and a food embargo imposed on the EU by Russia in response to economic sanctions.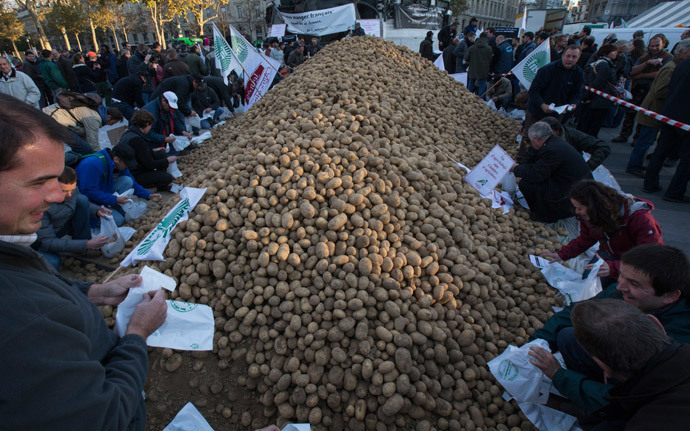 The protests held by the farmers coincide with those staged by activists opposing police brutality in France. This protest, which at times escalated into violent clashes with riot police, was triggered by last month's killing of an environmental activist by a police stun grenade.
Remi Fraisse, 21, was part of a camp of green protesters opposing the controversial Sivens Dam project in the basin of the river Garonne in Southern France. His death on October 25 led to a wave of riots, with a new protest expected on Thursday.
You can share this story on social media: