100 arrested, 9 injured: Violent clashes in France after protester killed 'by police grenade' (PHOTOS, VIDEO)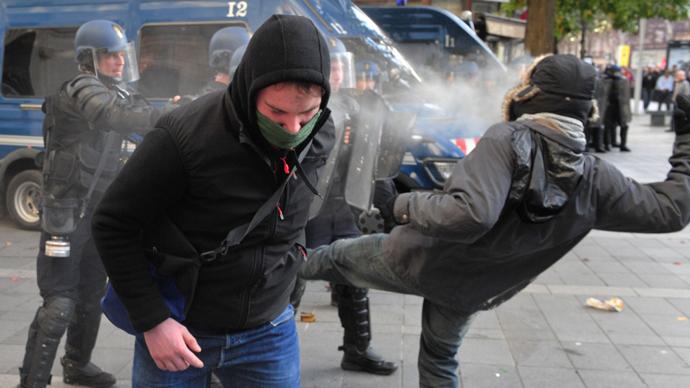 Riot police clashed with protesters rallying against police brutality in several French cities after the death of an ecology activist, apparently caused by a police stun grenade. At least 100 protesters were arrested and 9 people injured over the weekend.
Following the death of 21-year-old ecology protester Rémi Fraisse, rallies took place in Nantes, Toulouse, Lille, Bordeaux and Avignon on Saturday, as well as in Paris on Sunday.
In eastern Paris, 66 protesters were arrested as local media reported attacks on police and possession of unauthorized weapons. A crowd of protesters also staged a peaceful sit-in front of the Eiffel Tower.
The Nantes and Toulouse demos turned particularly violent, with masked and hooded protesters throwing projectiles and tearing down street signs. Security forces retaliated by firing tear gas and rubber bullets at the crowds.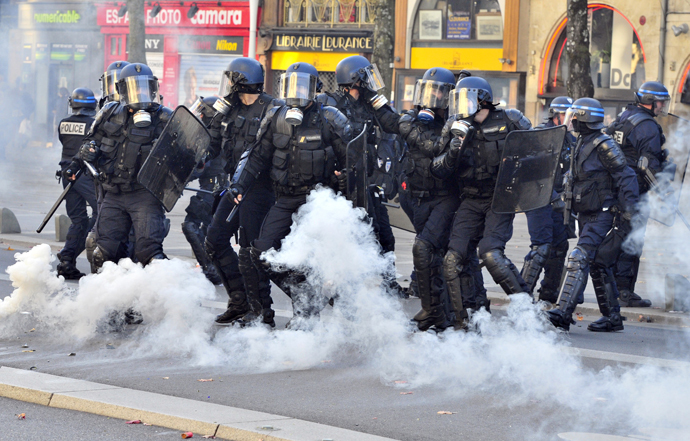 At least nine people - including four police officers - were injured in the confrontations, and 34 arrested, according to the interior ministry. Demonstrators hurled acid-filled bottles and stones at security forces, wounding an officer, Henri-Michel Comet, the regional governor, told Reuters.
"These are groups who have come in search of violent altercations with the police," Comet said on BFM Television.
Flashball en pleine tête, nez arraché

Une photo publiée par Gaspard GLANZ - Taranis News (@taranisnews) le Nov. 11, 2014 at 9:42 PDT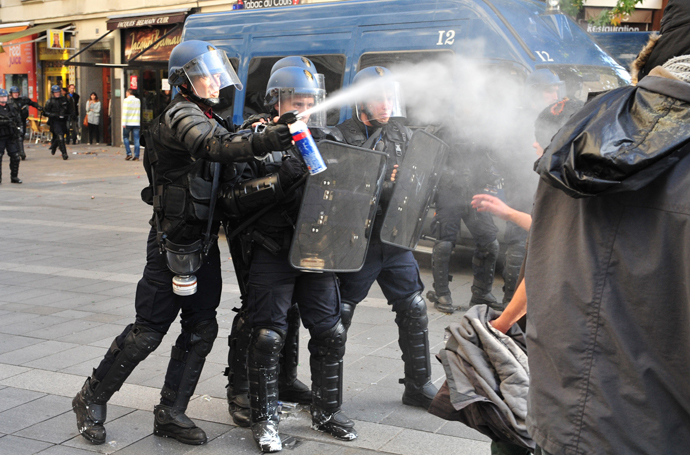 Rémi Fraisse was killed while he was taking part in a protest over a dam project in the Testet wetlands, near the southwestern town of Lisle-sur-Tarn on October 26. After a tense standoff between security forces and protesters, he was discovered dead with a wound in his back. Fraisse's death was the first during a protest in mainland France since 1986, AFP reported.
French President Francois Hollande has urged an investigation. The initial results announced on Tuesday by a state prosecutor showed that Fraisse had been killed by a so-called "stun grenade." This type of device is used by police to crack down on serious riots, and was previously considered non-lethal.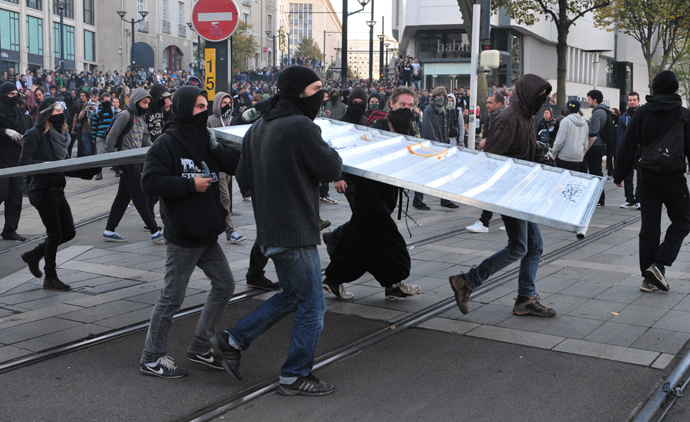 Protesters across France have demanded the resignation of the country's interior minister, Bernard Cazeneuve, but he dismissed the calls.
French Premier Manuel Valls described the latest riots as "an insult to the memory of Remi Fraisse" and condemned any deliberate acts of violence.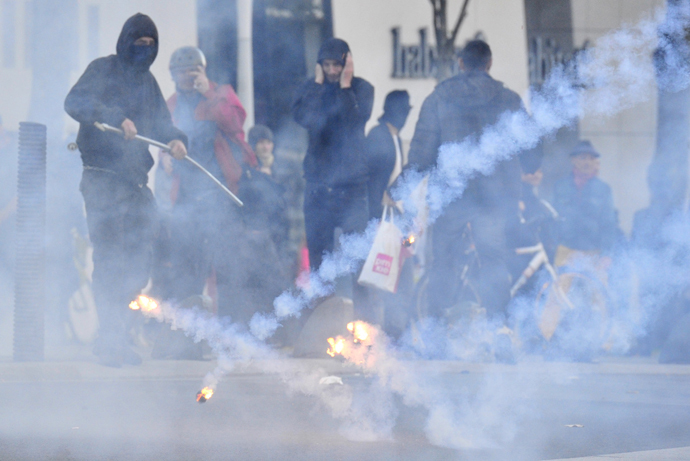 #France: #Toulouse against #Sivens Dam Project and for #RémiFraisse killed by police. #antifa p/v @HugoGausserandpic.twitter.com/H9nw2XQpBF

— Revolution News (@NewsRevo) November 1, 2014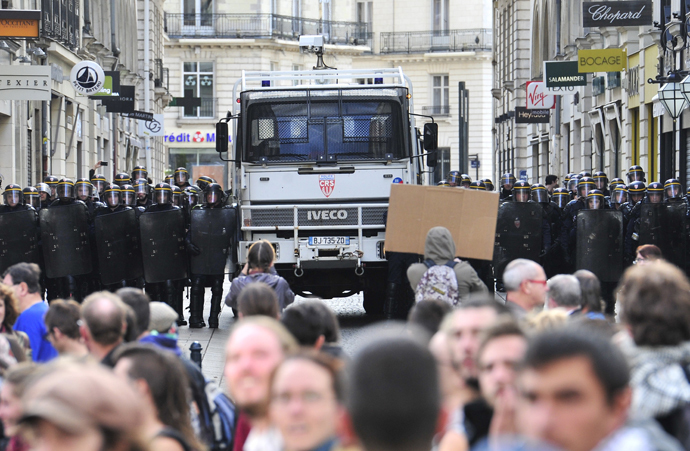 #Nantes: CRS (Riot police) fire rubber coated bullets & tear gas during demonstrations for #RemiFraisse. via @Franx59pic.twitter.com/z6evnRoPJ4

— ѕyndιcalιѕт (@syndicalisms) November 1, 2014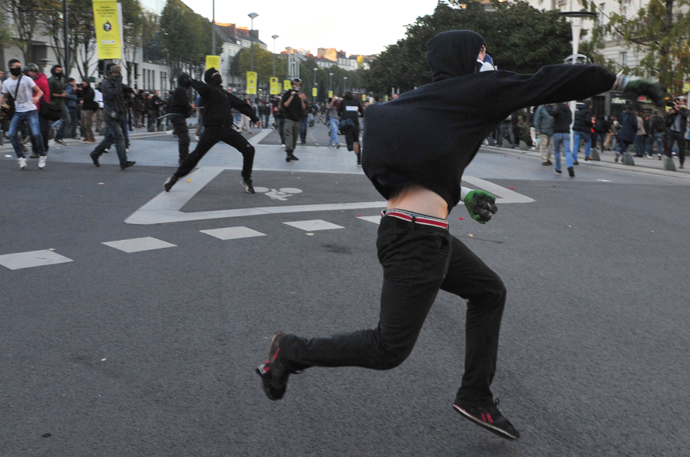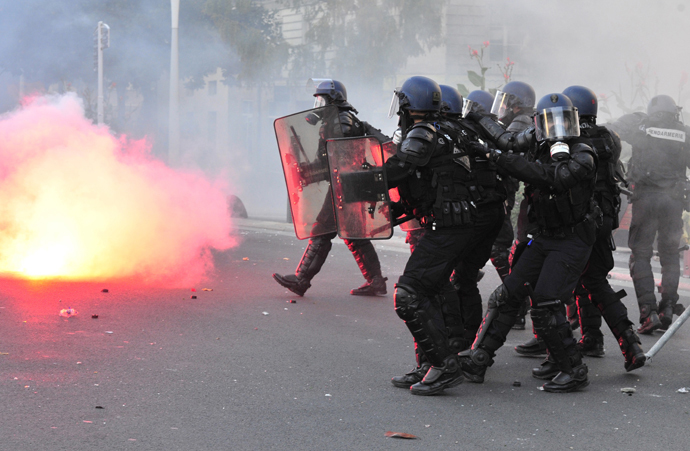 You can share this story on social media: