400 Ferguson protesters arrested across US, unrest persists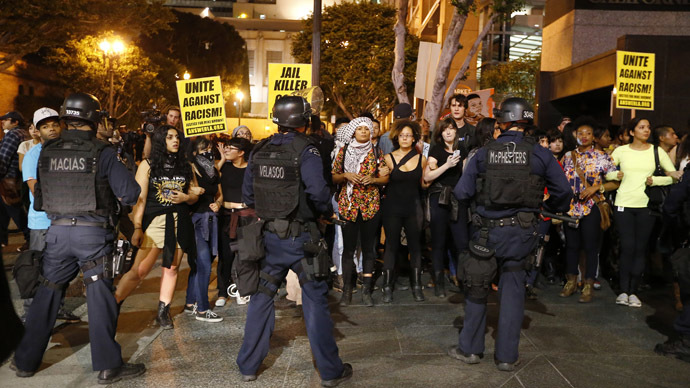 At least 400 protesters have been arrested over the past three days across the US, as they rallied against the grand jury decision on the shooting of Mike Brown in Ferguson, and police violence in general.
Some 200 activists were detained in Los Angeles. At 7:30pm local time on Wednesday, police told the demonstrators to leave within four minutes. Those who stayed were taken to police stations, with a possible bail of $500. If the bail isn't paid, the detainees are to stay in prison until at least December 1.
"@kentnish: Powerful images! MT @yamphoto: Vignettes of protesters taking over #LA streets after #Ferguson verdict pic.twitter.com/kWGPGcPZQw"

— filistin!!!! (@bugrail) November 27, 2014
"We won't stand aside. The LAPD's temper is known to the whole world. There's no need to think of the film plots! We should protect ourselves, our patience has run out, we'll be seeking the re-examination of the Wilson case," a protester called Angelo told TASS news agency.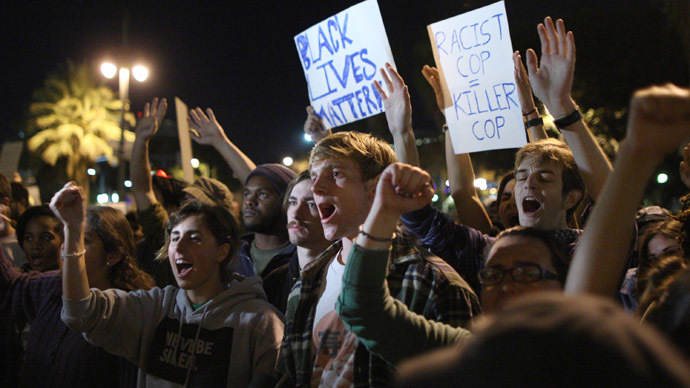 BREAKING #FergusonDecision protest in #LA overtakes 3 police cars http://t.co/fA6a9E8dt1 ShuttingitDown 4 #Fergusonpic.twitter.com/1VJvglkiLv

— Revolution News (@NewsRevo) November 26, 2014
One officer was reportedly injured in clashes with demonstrators.
In Oakland, California, hundreds of protesters marched through the city, spraying walls, billboards and bus stops with graffiti and smashing storefront windows. It all led to clashes with police in a public plaza adjacent to City Hall.
#oakland police causing chaos with motorists pic.twitter.com/OXSBUgK8cX

— Info Share (@SharingInfoLive) November 27, 2014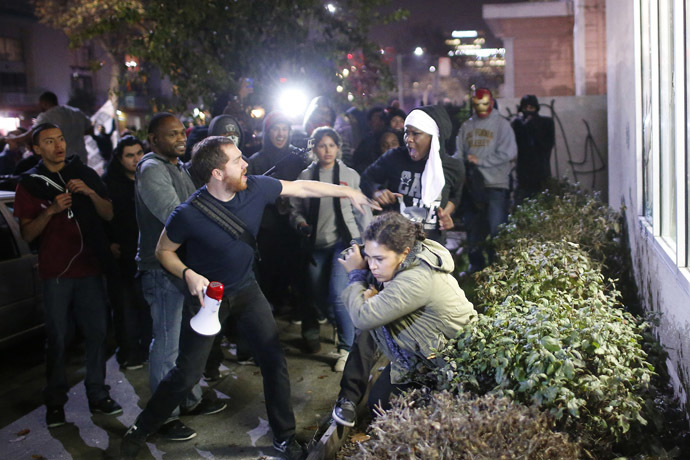 Reports also emerged of looting, blocked freeways and fires.
Dumpsters set on fire, doors of Walgreens kicked in, protesters climbing on 580 at 34th/Telegraph. #Oakland@CBSSFpic.twitter.com/0Tg5GXhdv2

— Christin Ayers (@christinKPIX5) November 26, 2014

San Diego saw a peaceful march, with around 300 people chanting "Ferguson, we've got your back!"
#SanDiego demonstration for #Ferguson tonight through #NormalHeights#SanDiegoProtestpic.twitter.com/m8WOUrlkRA

— Brooke Binkowski (@brooklynmarie) November 27, 2014

In Dallas, Texas, three members of a group called 'Come and Take It' marched alongside demonstrators, saying they were prepared to step in and protect private property if things turned ugly.
Things have also been largely peaceful in Ferguson, Missouri. Amid the snowy weather, several dozen protesters remained near the police station. On Monday, protests turned violent, with looting, gunfire, and clashes leading to over 60 arrests. Forty-five more people were detained on Tuesday.
7 arrests made in downtown #Dallas after #Ferguson demonstration. No violence. I'll have updates on @FOX4 . pic.twitter.com/4eNXu5VmDl

— Jenny Anchondo (@JennyAFox4) November 26, 2014

Over 2,000 National Guard forces were sent to step up security in Ferguson over the past few days.

The protests kicked off after Darren Wilson, a white police officer who shot dead unarmed African-American teenager Michael Brown back in August, was not indicted by a grand jury on Monday.

The governor of Missouri has reportedly rejected calls for a new grand jury to re-examine the case.

In a statement on Wednesday, Wilson said that he had a "clean conscience" over the killing.

Brown's family said that they were "crushed" by the grand jury's decision, and that their son was "crucified" by the prosecutors, but called on the rallies to remain peaceful.
You can share this story on social media: