Ferguson brave: Female manager defends her business from looters (VIDEO)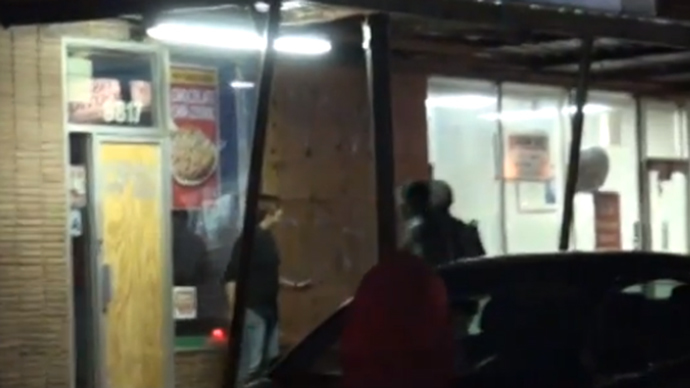 Video has surfaced out of Ferguson, Missouri showing a brief but tense impasse that ends with a mask-clad looter standing down to a female pizza shop employee as nearby businesses burn to the ground.
Monday evening's announcement that a grand jury has declined to indict Ferguson, MO police officer Darren Wilson with any charges related to the August shooting death of Michael Brown, an unarmed teenager, has rekindled mass unrest in the small Missouri town and other locales across the United State.
Dozens have been arrested already in Ferguson during the course of the two nights since the jury's decision was released, and a myriad of businesses throughout the town of around 21,000 have been looted, set ablaze or otherwise ravaged by outraged protesters, the likes of which, according to officials, has surpassed even the worst of events that unfolded in the days after Brown was first killed in broad daylight.
Now as video of the fiery protests on the streets of Ferguson are uploaded to the web, dramatic footage has appeared showing a strained standoff between woman working for a Papa John's pizzeria and an irate looter.
Blogger Victor Maggio captured the incident and uploaded it to YouTube on Tuesday this week, where it was quickly viewed more than 80,000 times in a matter of hours.
From only a few feet away, Maggio watched and recorded as a woman described by the Daily Mail as a Papa John's manager gestures a masked looter away from her establishment after he repeatedly tries to kick in the business's window.
Soon the masked man is joined by another looter and a shouting match ensues between the two and the pizzeria employee, but Maggio continues to record long enough to watch the woman deflect their attempts to cause further damage to the restaurant. After nearly a minute of the heated exchange, the two looters walk away.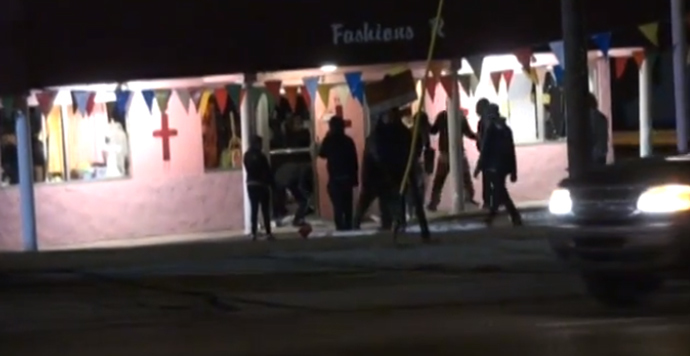 "[T]his damage was inflicted on people's lively hoods that had nothing to do with the shooting of Mike Brown," Maggio wrote on his website. "[G]unshots sound off through the whole video, and individuals took aim in the direction of police and reporters."
According to the Daily Mail, the Ferguson Papa John's was looted back in August during a series of protests that followed Brown's death.
"What I've seen tonight is probably much worse than the worst night we ever had in August, and that's truly unfortunate," St. Louis County Police Chief Jon Belmar said early Tuesday morning, hours after it was finally revealed that Wilson, 28, will not face charges at this time for the death of Brown.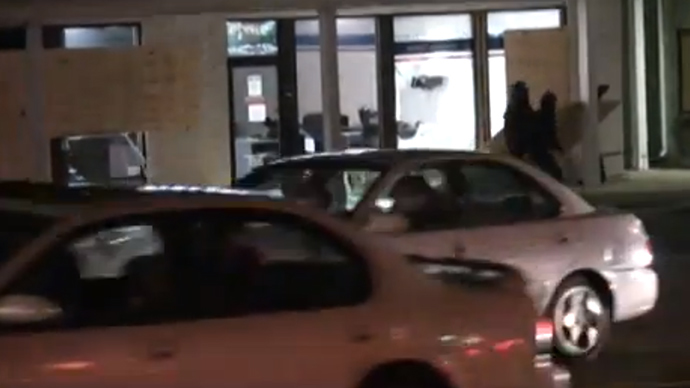 Later in the day, Ferguson Mayor James Knowles blamed the previous evening's destruction partially on the National Guard's failure to provide help, despite Missouri Governor Jay Nixon having already activated the group week earlier. In response, Gov. Nixon said Tuesday that more than 2,200 members of the Guard have now been called up to the region.
Benjamin Crump, an attorney for the Brown family, said Tuesday afternoon that he objects to what he called a faulty investigation into the teen's death.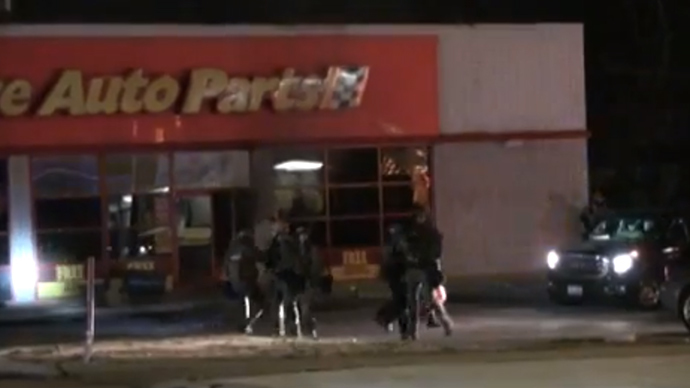 You can share this story on social media: