Truck torn apart by 2 trains at rail crossing in Kazakhstan (VIDEO)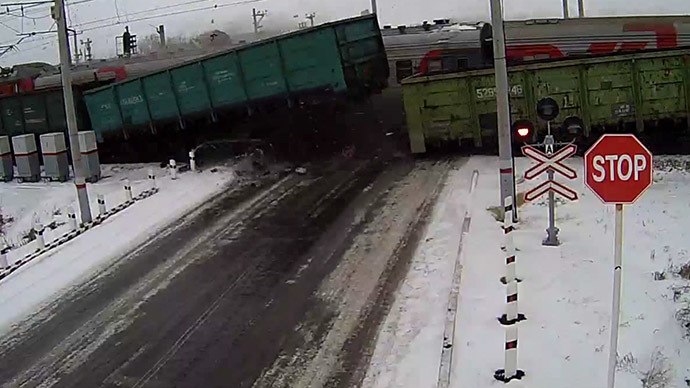 A truck driver has been killed in a horrific collision in Kazakhstan after his vehicle skid onto the rail track crossing right between the two oncoming trains. The crash in which both trains partially derailed was recorded by a CCTV cam.
The tragedy took place between "Kondratovka" and "Petropavlovsk" stations on the South Urals Railway.
The accident which hit the lens of a surveillance camera clearly shows that while attempting to bring the moving vehicle to a halt, the driver could not stop on time apparently because of the icy road conditions.
While the driver initially avoided a major collision with a cargo train, it hooked and dragged the truck for several meters, turning it for a heads on collision with a passenger train coming from the opposite direction. Mere seconds later the debris of the truck stuck the cargo train hard derailing several cars.
As a result of the accident the truck driver died on the spot. Four empty freight cars were derailed while three cars of the passenger train were damaged. Train drivers and passengers were not injured.
You can share this story on social media: