10 videos that made the news in October
Published time: 4 Nov, 2014 17:48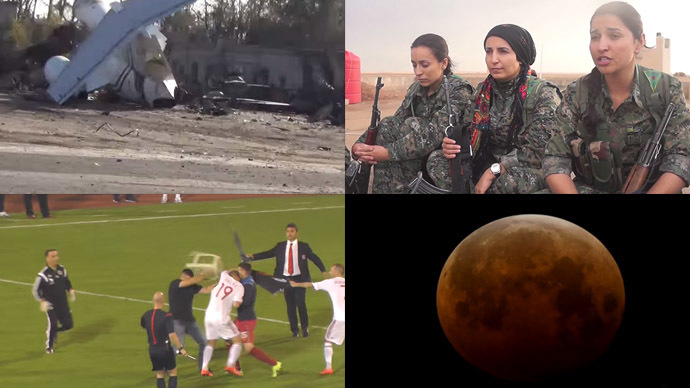 Donetsk state-of-the-art airport in ruins, shooting inside the Canadian parliament and drones stopping a football match - are some of the stories that made headlines in October. RT looks at 10 events over the course of the month, with videos to boot.
Donetsk airport in ruins
Just under three years ago, Donetsk's brand new airport costing hundreds of millions of dollars was opened ahead of Euro 2012 Football Championships. Today it has been reduced to rubble as Ukrainian government forces and local militias have fought over the key strategic location for five months. Named after the legendary Soviet composer Sergey Prokofiev, the hub handled around five million passengers a year. However it now resembles a wasteland, with burnt out cars and planes, as well as walls riddled with bullet holes litter the landscape.
Ottawa parliament shooting
On October 22 Michael Zehaf-Bibeau, a recent Muslim convert and high-risk traveler walked into the Canadian parliament building in Ottawa. He had just shot Corporal Nathan Cirillo, a Canadian soldier on ceremonial guard duty at the near-by Canadian National War Museum. Upon entering, he shot a guard in the foot, before advancing to rooms, where MP's, including Prime Minister, Stephan Harper were debating. The gunman was eventually shot dead, as the country's capital was sent into lock down.
ISIS supporters & Kurds clash in Hamburg
While European Islamic extremists have made the headlines for heading to Iraq and Syria in their hundreds, it would appear there are still plenty of sympathizers for Islamic State still left on the continent. On October 7, around 40 ISIS supporters, armed with knives, fought running battles with hundreds of Kurds in the German port city of Hamburg. Police eventually had to usewater cannons, batons and pepper spray to disperse the two feuding groups. Islamic State forces had been trying to capture the Kurdish Syrian town of Kobani for the whole of October without success, while the militant group has been accused of carrying out mass atrocities against Kurds.
Drone causes mayhem at Serbia v Albania football match
A dull game looked to be heading for a 0-0 draw as Serbia took on Albania in a Euro 2016 qualifier in Belgrade. With visiting fans banned from the Partizan stadium for security reasons, due to the tensions surrounding Kosovo, a drone carrying a 'Greater Albania' flag flew over the pitch, with a Serbia player, Stefan Mitrovic calmly plucking it out of the air. Mayhem ensued as Albanian players attacked their Serbian counterparts trying to get the national symbol back. Serbian fans ran onto the pitch as the home side's players tried to escort the Albanian's to the safety of the dressing room. The match was subsequently abandoned.
Hong Kong protests
Widespread protests broke out in Hong Kong after locals took to the streets to demand greater electoral rights from mainland China. They were angered that from 2017, the city leader would be chosen by a committee based in Beijing. They also demanded that Hong Kong Chief Executive Leung Chun-ying resign. If he failed to do so, the student leaders said the protesters would storm government buildings. Yellow umbrella's have become one of the symbols of the protest movement. They were originally used to help protect themselves from teargas and pepper spray used by police.
Blood moon eclpise
Austronomers and stargazers were given a special treat on October 8, as the moon was lit up in a blood red color. An optical trick played by the Earth's atmosphere offered a rare chance to see both an eclipsed moon and a rising sun at the same time. The rare optical phenomenon was best seen from Asia, Australia, North America and Russia's Pacific region. The first "bloody"eclipse out of a sequence of four red moons called a tetrad set for 2014-15 happened on April 15. The third and fourth will take place on April 4, 2015 and September 28, 2015.
Kurdish Female fighters taking fight to ISIS
Female Kurdish fighters have been igniting fear in Islamic State militants, who believe they will go straight to hell if they are killed by a women. With Iraqi and Syrian government forces abandoning their posts along border crossings, the Kurdish resistance movement has taken up the job of controlling the area. Women are involved too, with many admitting they had never picked up a gun before the IS threat forced them to take up arms, with the full backing of their families. All the women fighters in the battalion are volunteers, who go into battle under the "Hava"(friendship) motto. The commander of the Kurdish women fighters, Dalil Derki, said that his unit strikes terror into Islamic State militants, who have "twisted Islam.""In their philosophy women don't have their own role in society. Their philosophy and culture is that they believe that if they are killed by a woman they won't go to heaven. Instead they will go to hell," he explained to RT.
FEMEN's topless protest in Paris
25 FEMEN activits were arrested in Paris after carrying out their trademark topless protest in front of the Palace of Justice to rally against a sentence given to fellow memeber Yana Zhdanova for exibitionism, earlier in October. The activists, including FEMEN's Inna Schevchenko, chanted slogans such as "Feminist not exhibitionist" and "Not criminals" and held signs reading "Naked and free" and "My body, my manifesto." Zhdanova was given a fine of 1,500 euros ($1,897) by the Parisian court for destroying Russian President Vladimir Putin's wax statue at the Grevin museum in June.
Oil chief dies at Moscow airport
Christophe de Margerie, the CEO of the French oil company Total, was killed on October 21, as his business jet crashed into a snowplow after attempting to take-off from Moscow's Vnukovo airport. The Frenchman had a good relationships with Russian President Vladimir Putin and was strongly against Western sanctions imposed on Moscow. Investigators into the crash initially pinned the blame on the snowplow driver, who they say was drunk, while Russia's transport watchdog said the accident was caused by poor visibility.
Volcanic downhill challenge
Snow is not plentiful in the south of Italy, especially towards the end of summer. There Marco Tomasello, who works as a tour guide at the 3,350 meter high Mount Etna in Sicily, decided to indulge one of his passions - skiing. He and a group of friends descended down the solidified volcanic lava slopes, while careful to dodge any stones that may have been in their way.