Ottawa gunman 'privately-educated' son of Canada immigration chief, acted alone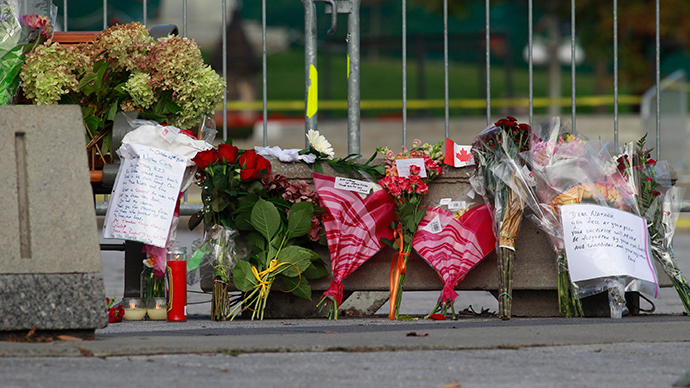 Following the Canadian shooting attack which threw Ottawa into lockdown, a 32-year-old, Quebec-born male was identified as the sole perpetrator – and his mother was found to work at Canada's Immigration and Refugee Board.
The gunman acted alone, authorities confirmed on Thursday, adding that that there is no link to an attack in Quebec earlier in the week.
"We have no information linking [them]," said Bob Paulson, commissioner of the Royal Canadian Mounted Police (RCMP), saying that the shooter Michael Zehaf-Bibeau may also have held a Libyan passport.
Checks by the RCMP found no evidence of national security related offenses, although Zehaf-Bibeau had a record of drugs violations and violence related activity, Paulson said. Authorities said the gunman had wanted to go to Syria.
Zehaf-Bibeau had converted to Islam prior to the attacks in Ottawa and had previously had his passport revoked and been arrested several times. He was the privately-educated son of the deputy chairperson of Canada's immigration division, Susan Bibeau, reported CTV News.
Despite his upbringing, he had been regarded as somewhat disturbed by one of his friends from his youth and in later years had several drug and robbery arrests and one weapons charge – he was also classed as a high-risk traveler.
One friend, Dave Bathurst, told Canada's Globe and Mail that Zehaf-Bibeau had exhibited some signs of possibly suffering mental illness.
"We were having a conversation in a kitchen, and I don't know how he worded it: He said the devil is after him," he said.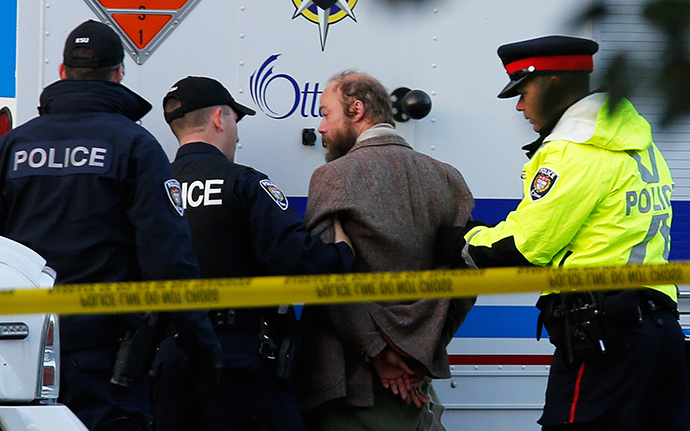 His parents had reportedly gone long periods of time without seeing their son.

READ MORE: Ottawa gunman 'identified' as recent Muslim convert, high-risk traveler

On Wednesday, his mother, Susan Bibeau told AP that she was crying for the victims of her son's attack, including killed 24-year-old soldier Nathan Cirillo, rather than for her son.

"Can you ever explain something like this?" she said through tears, during a telephone call. "We are sorry."

She added that she did not know what to say to the people who were injured.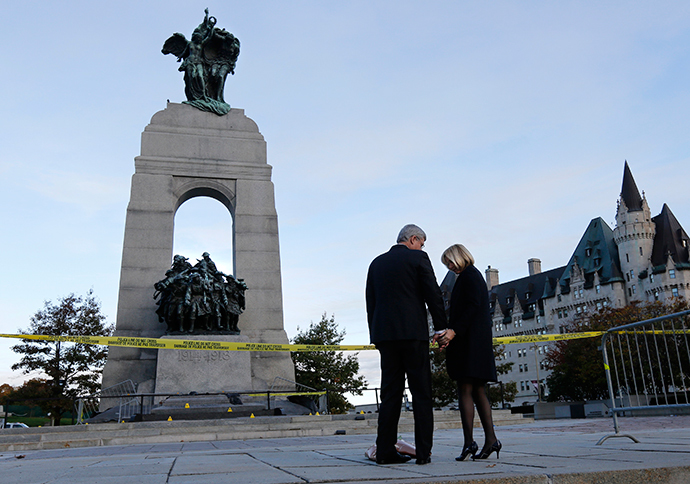 "No words can express the sadness we are feeling at this time. We are so sad that a man lost his life. He has lost everything and he leaves behind a family that must feel nothing but pain and sorrow," the parents said in their official statement.

"I don't understand and part of me wants to hate him at this time. You write that our son was vulnerable - we don't know, we (he) was lost and did not fit in. I, his mother, spoke with him last week over lunch, I had not seen him for over five years before that."
READ MORE: Ottawa shooting LIVE UPDATES

Bibeau was killed by Sergeant-at-Arms Kevin Vickers shortly after his attack on Parliament Hill and a shooting at the National War Memorial.

The shootings which shook Canada on Wednesday morning put the capital on lockdown as well as all military bases nationwide. Three people were hospitalized in the storm of bullets he unleashed on Parliament Hill before he was killed.
You can share this story on social media: