​Skiing over cold lava: Italian thrill seekers zoom down Mt Etna (VIDEO)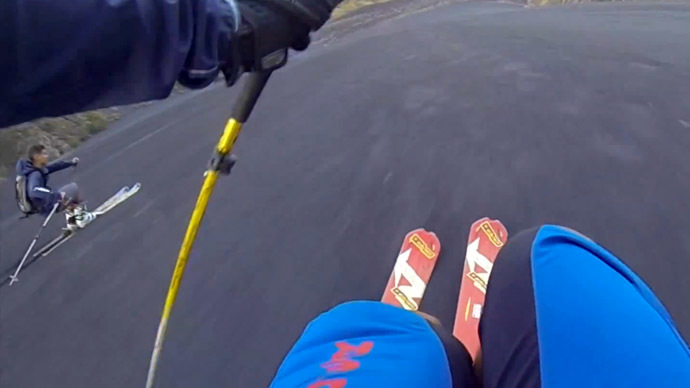 Italian skier Marco Tomasello and his group of daredevils have taken to speedily descending the solidified volcanic lava slopes of Mount Etna, Sicily on skis, rather than waiting for winter to come.
Tomasello, a self-described free rider, works as a ski instructor at Les Trois Vallées, in France, but in the summer acts as a tour guide on the 3,350-meter-high Mount Etna. The official tours, however, do not apparently include a rapid ski down the lava.

Head camera footage, courtesy of the skiers, shows them descending as if on snow, at incredible speeds.

The footage has since gone viral: Tomasello uploaded the footage to Vimeo on Monday and it has already garnered some 50,000 views from awestruck audiences.

Mount Etna erupts on a regular basis and has a variety of eruption styles, ranging from explosions on the summit to lower-down flank eruptions.

Because of the frequency of eruptions – on average once every 1.7 years, but every year (excluding 2007) since 2001 – the volcano's height is always fluctuating.
You can share this story on social media: