'Blood Moon' eclipse wows Pacific sky-gazers (VIDEO, PHOTOS)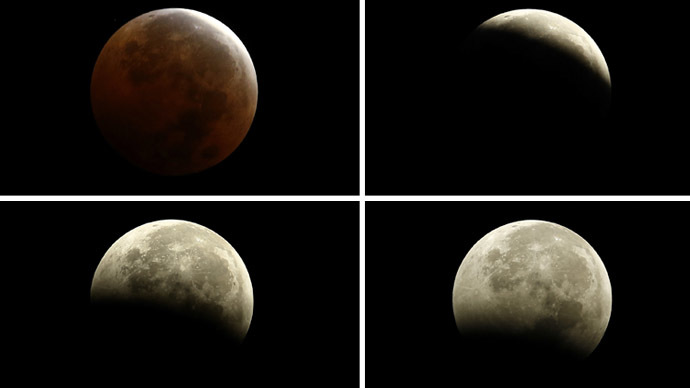 A blood-red moon has dazzled stargazers for the second time this year, presenting a spectacular view in the skies over the eastern hemisphere. The rare optical phenomenon has been best seen from Asia, Australia, North America and Russia's Pacific region.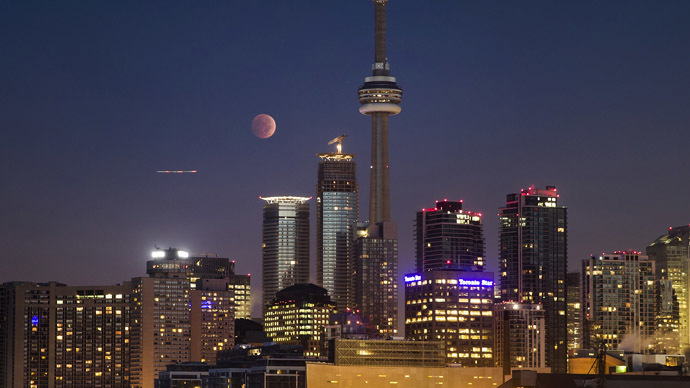 The latest total lunar eclipse started at 11:25 AM GMT and lasted for 59 minutes. Due to the Moon's position in orbit, it appeared 5.3 percent larger than during the previous eclipse. The clouds, however, hid the celestial body for a while.
NASA and the SLOOH Community Observatory were streaming live video transmissions of the event.
The Moon turns red or orange when the moon lines up with the Sun and Earth and passes Earth's shadow, called an umbra, reflecting the sunlight refracted by our atmosphere. A perfect alignment of Moon, Earth and the Sun is called perigee-syzygy. On such a rare occasion, the full Moon rapidly darkens and starts glowing red.
This is the #bloodmoon image @nasa retweeted that has now been seen by over 1.6 million people.. #astronomy#outreachpic.twitter.com/0cFRrtLGfV

— Nick Howes (@NickAstronomer) October 8, 2014
When an eclipse hides the dayside of the Moon from the Sun's heat, the temperature on the lunar surface falls from +130 degrees Celsius to -99 degrees Celsius.
Photo: Last night's #bloodmoon as viewed from a telescope from New Smyrna Beach, FL and shot with an... http://t.co/gtbmkgOqvb

— Blake Steck (@blakesteck) October 8, 2014
#BloodMoon! Red & orange light scattered by the atmosphere. Watch: http://t.co/JAuaXWK4JD#LunarEclipse#eclipsepic.twitter.com/evVd0yUN9B

— NASA (@NASA) October 8, 2014
That bloody moon can only be seen in Asia and America; other countries are SOL. http://t.co/PKvstKnoNmpic.twitter.com/bp2aHFY8cH

— DigitalRev (@digitalrev) October 8, 2014
The first "bloody" eclipse out of a sequence of four red moons called a tetrad set for 2014-15 happened on April 15. The third and fourth will take place on April 4, 2015 and September 28, 2015.
Watch the full video of the eclipse
COOL! This morning's Total Lunar Eclipse seen from New Ulm, Minnesota. Photo: Jason Tauer. #LunarEclipse#BloodMoonpic.twitter.com/wtjd5OLNQd

— Mark Tarello (@mark_tarello) October 8, 2014
Omg blood moon is so clear from my window pic.twitter.com/v6kjlMYxbM

— shafiq | mcspicy-kun (@shashashafique) October 8, 2014
This morning's #BloodMoon" caused by lunar eclipse, as seen from Cincinnati Observatory: http://t.co/gC83RYcX0xpic.twitter.com/LNguxihFZe

— Enquirer (@Enquirer) October 8, 2014
The #bloodmoon from my side of the planet. pic.twitter.com/yLvtbutQID

— Ron. (@RonnieSnark) October 8, 2014