Global day for Kobani: Thousands march to support Kurds' fight against ISIS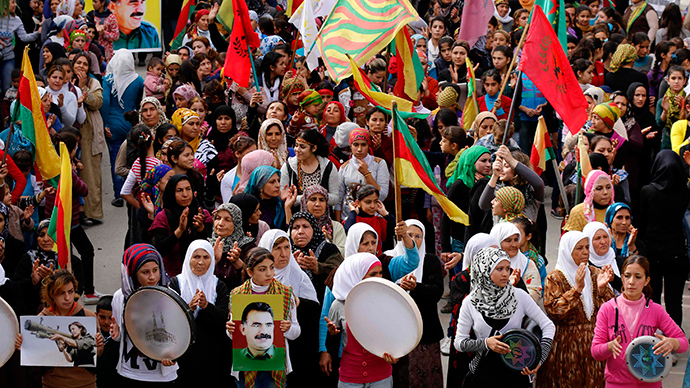 Thousands of protesters from across the globe – including Turkey, France, Italy, Germany, the UK, and Australia – marched to show solidarity with Kurdish fighters battling ISIS in the strategic city of Kobani, located on Syria's border with Turkey.
READ MORE: ISIS slaughters ex-police and army officers in Iraq – report
Hundreds gathered in London's Trafalgar Square on Saturday to support the Kurds, who are fighting against Islamic State militants in Kobani for the second month.
London rally to support democratic #Kurdish resistance in #Kobani against #ISIS fascism. @sunny_hundal@giles_fraserpic.twitter.com/NpIJxbtzOg

— Peter Tatchell (@PeterTatchell) November 1, 2014
The protesters chanted "Down with ISIS" and "Hands off Kobani" while Kurdish flags fluttered in the air. The central London rally was the largest to take place in the UK. It was organized by the Kurdish People's Assembly and Kurdish community organizations throughout the country.
"The purpose of the event in London will be to let the world know, and more importantly let Kobani know, that we are with them!" said a statement from the organizers.
Hundreds gathered in Turin, Italy, holding signs that read "Free Kobani" and "Stop ISIS."
The international campaign was joined by Germany's largest cities, Berlin and Hamburg. Thousands of Kurds took to the streets waving flags. They held signs calling to stop the jihadists, as well as photos of iconic Kurdish fighters such as the woman warrior known as 'Rehana.'
Melbourne :"Isis Attacks, Turkey supports, Kobane resists" #GlobalDay4Kobanepic.twitter.com/ckojDD8ZJl

— kurdish blogger (@kurdishblogger) November 1, 2014
amazigh in morocco in front of #turkey's embassy, showing solidarity with kurds fighting ISIS. #GlobalDay4Kobanepic.twitter.com/DXgwDeZ66j

— naila bozo (@nailabozo) November 1, 2014
Even children joined the rally, putting up "V" hand signs in the air and shouting slogans calling for peace.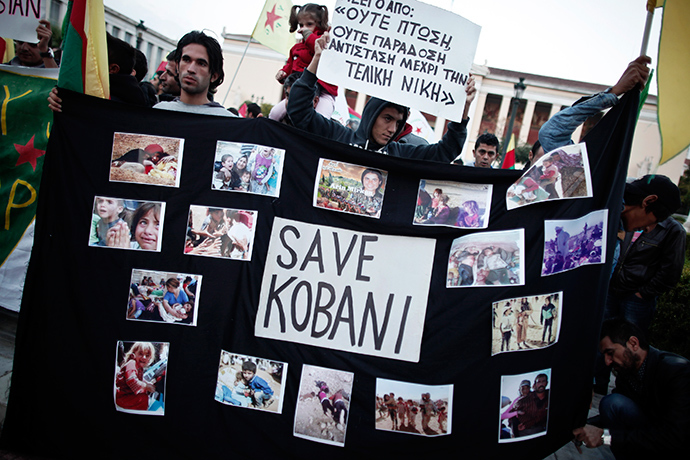 The streets of Paris were also filled with protesters on Saturday. The demonstrators held signs reading "Support the resistance" and "Save Kobani."
Anti-#ISIS&Erdogan protests in Paris #TwitterKurds#Kobane#Shingal ISIL Syria Turkey #1NovemberWorldKobaniDaypic.twitter.com/MN7m1k2IEh

— Kawa Arî (@KawaAri1) October 31, 2014
Australian cities, including Sydney and Melbourne, were also gripped by protests. Demonstrators held banners which read, "ISIS Attacks, Turkey supports, Kobani resists."
Kurds demonstrated in central Athens on Saturday as part of the World Day of Solidarity with Kobani. Some carried banners reading "IS = Turkey." Ankara has been accused of not making enough effort in trying to stop ISIS and turning a blind eye to foreign radicals passing through the country en route to Syria to join the extremists.
Ocalan flags at #GlobalDay4Kobane protest in Istanbul, Turkey pic.twitter.com/VqJxiesF7S

— فَـرَحْ Farah (@RoadToPalestine) November 1, 2014
Nevertheless, thousands of demonstrators gathered in Istanbul and in Turkey's southeastern province of Diyarbakir to support Kurdish fighters. Some were holding flags supporting imprisoned Kurdish leader Abdullah Ocalan, one of the founding members of the Kurdistan Workers' Party (PKK). The PKK is banned in Turkey as a terrorist organization for leading a 30-year struggle against Ankara in order to create a Kurdish autonomous region in the country's southeast.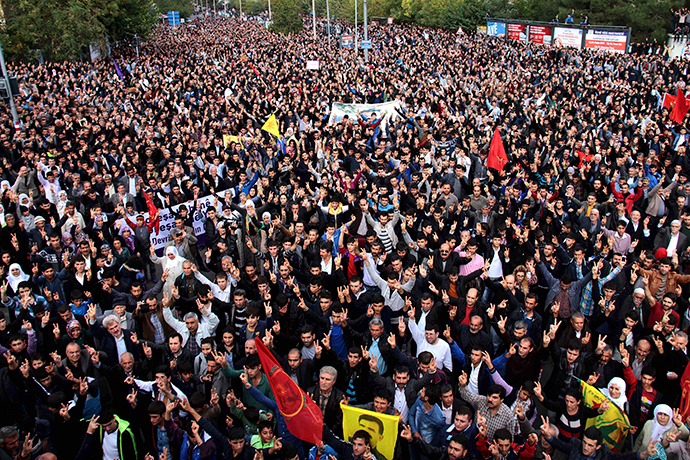 The Saturday rallies came as Iraqi Kurdish peshmerga fighters entered Kobani from Turkey to join the battle against the militants, who have killed thousands and took control of large territories in Iraq and Syria proclaiming it as their caliphate.
You can share this story on social media: