ISIS slaughters ex-police and army officers in Iraq – report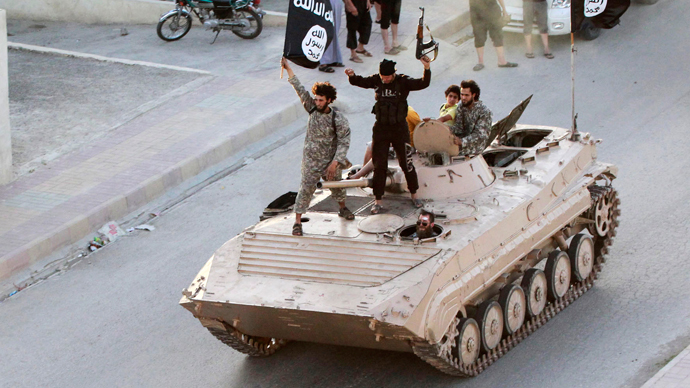 The rampage continues in Iraqi territory occupied by Islamic State militants, who have now reportedly made a point of eliminating former law enforcement and army officers to preclude the possibility of a popular uprising against their rule.
READ MORE: ISIS eyes using Ebola as bio weapon – Spain
Former members of the Iraqi security forces surrendered their arms in return for safety back in June, when the Islamic State (IS, formerly ISIS/ISIL) captured the Iraqi city of Mosul. They are now suspected of preparing a revolt and being butchered en masse, AP reported.
Sunni law enforcement officers who promised the Islamic State they would cut ties with former colleagues were given "repentance badges", granting them quasi security as they continued their lives as ordinary citizens.
Now the IS leadership has evidently changed its mind and decided to eliminate potential leaders of an anti-IS revolt in the occupied territories. Former officers are being gunned down in groups and one by one anywhere they are tracked down, be it a public place or their homes.
READ MORE: 1,000 per month: US airstrikes fail to stem tide of foreign fighters
It's being questioned whether this new wave of repressions has been sparked by statements from officials in Baghdad. One of these voices is ousted Mosul governor, Atheel al-Nujaifi, who announced last week that pro-government Sunnis are forming militias in the city, consisting mainly of former police and army officers.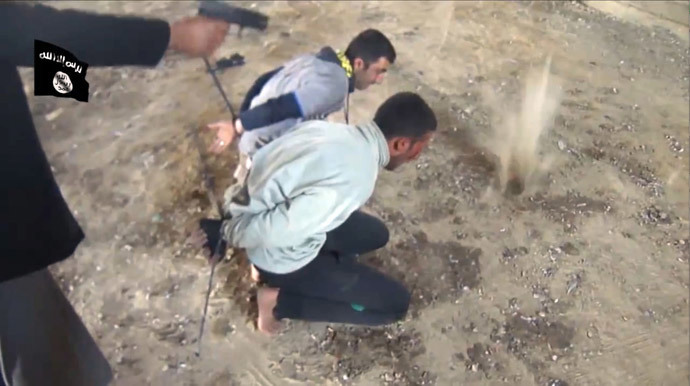 Iraqi army spokesman Brigadier General Saad Maan Ibrahi, also said anti-IS groups are being formed in Mosul, the largest city in the Iraqi territories seized by the Islamic State.
Former police and army officers who "have the expertise to plan an armed uprising and have good knowledge of weapons and military operation" are among those forming these groups, Maan told AP.
The bloody trend of recent weeks has brought even more terror to the IS-controlled territory bridging Iraq and neighboring Syria. In particular, the Iraqi city of Mosul, has said that no reassurances are enough for the IS militants, and no document can prevent the execution of undesirables.
Former Iraqi police officer Colonel Mohammed Hassan, and his son, were killed last week after IS gunmen stormed their home in Mosul. Hassan and his son fought back, managing to kill three attackers before they were shot dead. After the killing, their mutilated bodies were hung from a fence, anonymous witnesses told AP.
In another incident, IS militants shot and killed Colonel Issa Osman, the battalion commander whose unit was reportedly the last one to give up fighting in Mosul during the June takeover. Osman, who renounced ties to the security forces and officially possessed a "repentance badge", was paraded through Mosul's streets before his execution.
READ MORE: ISIS chlorine attack on security forces confirmed – Iraq officials
Residents of Ana, a town west of Baghdad, reported that on Wednesday IS executioners beheaded former police officer Bahjat Salman in a public square. They had proclaimed him a "traitor."
There have also been reports that Islamic State jihadists raided the homes of 20 former police officers in villages south of Mosul. Several hours later their bullet-ridden bodies were handed over to the local morgue.
Two former army officers have been reportedly executed in the northern city of Beiji. IS militants accused them of carrying out mortar attacks on their positions, residents said.
About 20 former law enforcement and army officers were detained in the town of Shurqat and nobody has heard anything about them since, an official in the Salahuddin provincial council revealed.
The Islamic State butchers political opponents and members of religious sects it considers heretical alike.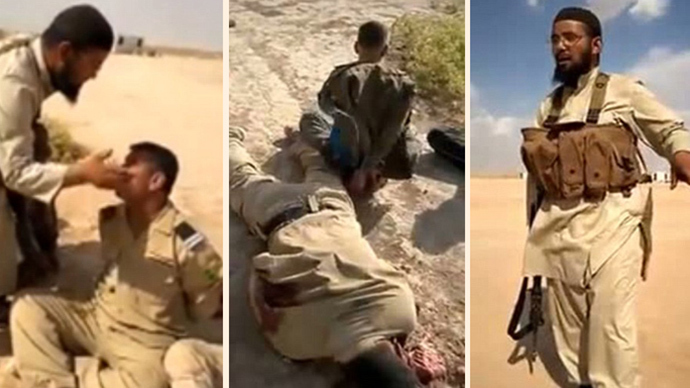 On Wednesday, IS militants paraded 30 Sunni tribal fighters through the western Iraqi city of Hit, before shooting them dead on a main street. Next day a mass grave of another 48 tribal fighters, mostly from the Al Bu Nimr tribe, was discovered. The extremists had overrun the town earlier in the month.
Although there has been little sign of an armed revolt in Mosul so far, its citizens cannot tolerate these endless killings and terror any longer.
"Most Mosul people want to get rid of this savage organization," a resident speaking on condition of anonymity told AP. "We are waiting for any effort to save us."
Hundreds massacred in a single event in Mosul in June – HRW
Human Rights Watch reported a mass murder of prisoners by IS fighters in the Iraqi city of Mosul back in June.
Islamic State militants separated some 1,500 captives along religious and ethnic lines. They then took about 600 Shia, Christian, and Yazidi into the middle of the desert and executed them on the edge of a ravine, torching the bodies afterwards.
About 40 of the prisoners survived the execution, but some of them died later in the desert from their wounds and dehydration.