​Kurdish, Iraqi troops up ante in fight against ISIS as US-led airstrikes continue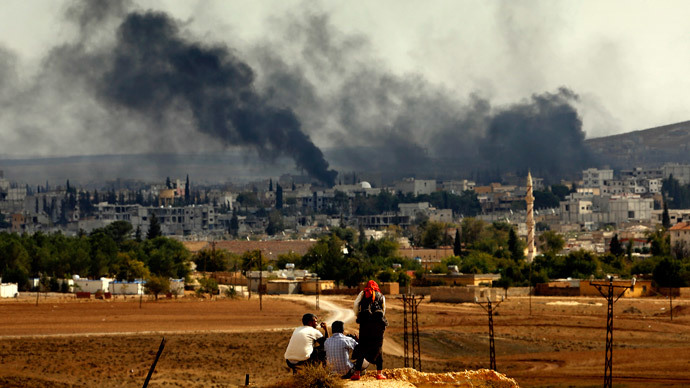 Iraqi and Kurdish forces have made significant gains against Islamic State militants over the weekend, aided by coalition airstrikes. Kurds managed to take the Iraqi town of Zumar, while also repelling IS attacks on the strategic Syrian town of Kobani.
The town of Kobani (Ayn al-Arab in Arabic) on the Syrian-Turkish border has been under siege from the Islamic State (IS, formerly ISIS/ISIL) for over a month until the Kurdish forces managed to mostly push the extremists out. On Sunday, Kurdish fighters managed to repel an attack on the important border crossing.
Idris Nassan, a local Kurdish official, said that the Islamist militant group had shelled the border gate, the only official route for Kurdish fighters to cross into Turkey, during the night.
"Of course they will try again tonight. Last night they brought new reinforcements, new supplies, and they are pushing hard," he said, as reported by Reuters.
The IS has suffered heavy losses in trying to capture the town, while the UK-based Syrian Observatory for Human Rights watchdog, says that 815 people have died so far in the conflict, with over half coming from the militant group.
The organization says that 302 Kurdish fighters have perished, in comparison to 481 from the IS. The militants have also suffered significant losses from coalition bombing raids on their positions.
"In Syria five airstrikes near Kobani destroyed seven ISIL vehicles and an ISIL building [on Sunday]," US Central Command said in a statement.
There was more success for Kurdish peshmerga forces in the northern Iraqi town of Zumar and surrounding villages on Saturday, according to local security forces. A Kurdish intelligence officer said that local forces had advanced in five different directions against IS. They encountered fierce resistance from the militant organization, but eventually prevailed.
Iraqi Kurds are also going to provide artillery support for fellow Peshmerga fighters in Kobani, the regional government's spokesman told Reuters on Sunday.
"Primarily, it will be a back-up support with artillery and other weapons," Kurdistan Regional Government (KRG) spokesman Safeen Dizayee said. "It will not be combat troops as such, at this point anyway."
Iraqi security forces enjoyed significant gains against IS militants on Saturday, as they managed to retake most of the town of Jurf al-Sakhar near the capital, Baghdad, according to local officials. This is some of their biggest inroads in months, in an area which enjoys significant strategic importance.
Their efforts to retake the town had been hampered by the Sunni insurgents being able to move weapons and fighters from different locations into the settlement. However, it now appears that the Iraqi government is gaining back control of the town and disturbing the network.
"We have managed to push out Islamic State terrorists from the town of Jurf al-Sakhar today and now we are raising the Iraqi flag over the government offices," provincial governor Sadiq Madloul said, Reuters reports.
Although both the Kurds and the Iraqi government forces have been making gains, it has been slow progress, due to the threat of roadside bombs and booby-trapped houses.
"We have decided to make slow advances. We hold the ground, set up watchtowers, clear the explosives and build sand barriers to prevent the armed men from returning," Army Major Ahmed Nu'aman said.
You can share this story on social media: