Pro-ISIS radicals with machetes, knives attack Kurds in Germany (VIDEO)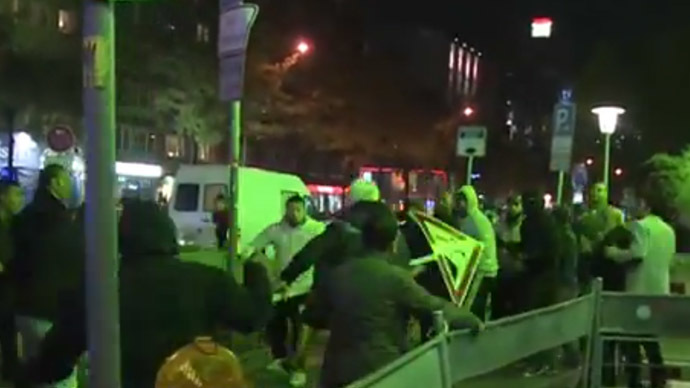 Peaceful protests against IS in Syria and Iraq organized by Kurdish nationals in several German cities ended with serious clashes with pro-jihadist Muslims in Hamburg and Celle. Police had to request reinforcements to restore order.
Police in Hamburg, a port city of 1.8 million people, used water cannons, batons and pepper spray late Tuesday to disperse crowds of warring Kurds and pro-jihadist Muslims, armed with knives and brass-knuckles, following a protest against Islamic State militants who are attacking the Kurdish town of Kobani in Syria near the Turkish border.
At first, on Tuesday afternoon about 80 Kurdish protesters occupied Hamburg's central train station for an hour, NDR.de reported. The Kurdish protesters left the railways voluntarily after 6pm, a police spokesman said.
See Kurd protesters storm TRAIN TRACKS in Hamburg http://t.co/PwU2mnJK1h#ISIS#Kobane#TwitterKurdspic.twitter.com/FJZGOJlFbV

— Ruptly (@Ruptly) October 7, 2014
A bigger group of about 500 Kurdish demonstrators marched through downtown Hamburg. On their way, they damaged several cars and Turkish snack bars, breaking panes of glass and throwing around plastic chairs. Police detained 14 rioters.
Later, several hundred Kurdish protesters gathered near the Al Nour Mosque on Steindamm Street near the city's train station. At about 11:30pm local time (21:30 GMT), the Kurds were attacked by a group of approximately 40 armed supporters of the Islamic State (IS), RT's Ruptly video news agency reported.
The violent clashes that followed the attack resulted in four people being hospitalized with stab wounds.
@curdistani Pro-IS fanatics in Hamburg/Germany searching confrontation in front of kurd-Meetingpoint. German Police between the groups

— Jens-Peter Gieschen (@JPGieschen) October 7, 2014
Anti-IS demonstrations of Kurds in northern Germany began Monday and were supported by hundreds of protesters in the cities of Bremen, Celle, Göttingen, Hannover, Kiel and Oldenburg.
In most of the cities, protests went off peacefully and were virtually trouble-free, but in Celle police failed to prevent clashes.
The first brawl between about 100 Kurds and Muslims on each side took place Monday, but police in Celle, a town of 71,000, with the help of colleagues from Hannover, Oldenburg and Wolfsburg, prevented serious clashes between the two groups.
On Tuesday, however, the two sides, armed with stones and bottles, attempted to break through police lines to attack each other.
Police in full anti-riot gear used pepper spray and batons to repel the attackers and prevent violence. Though the situation calmed down and no officers were injured, a large police force remains in the city to prevent a possible escalation.
Some of the Muslims taking part in the clashes in Celle were "Chechen nationals" who came there from all over Germany, Cellesche Zeitung reported.
A wave of anti-IS protests organized by Kurdish activists has rocked many European capitals, including London, Brussels, The Hague and in Sweden's Gothenburg.
The Kurdish diaspora in Europe is protesting that the Islamic State militants in Iraq and Syria are attacking Kurdish communities with impunity, without meeting any serious opposition on the ground apart from Kurdish peshmerga militias. The assault of jihadists on the Kurdish settlement of Kabani in Syria, near the Turkish border has already claimed over 400 lives, while airstrikes by the US and its allies against IS fighters in Syria are not focused on protecting Kobani.
Kristofer Lundberg, an activist with the Socialist Justice Party in Sweden's Gothenburg who organized and spoke at a 1,000-strong rally in support of Kurdish people in Kobani on Tuesday, told RT: "We demand that Turkey open its border and let the refugees there flee ISIS terror, and also to let the fighters who are waiting at the border go to Kobani to defend the city. Thousands of Kurds are ready to defend Kobani."
Meanwhile, there have also been protests in London against the UK launching airstrikes on the Islamic State's positions in Iraq.
You can share this story on social media: