Battle for Kobane: Turkey fires tear gas at activists trying to enter Syria (VIDEO)
Turkey's security forces have fired tear gas at dozens of Turkish and Kurdish activists trying to cross into Syria. On the other side of the border, a major city in Syrian Kurdistan is under increased assault from Islamic State militants.
Authorities used tear gas in the town of Suruc, Sanliurfa province, on Saturday as activists ignored calls to disperse, Turkey's Hurriyet daily reported.
Today on #Turkey#Kobane border.#Turkish Army and Police (#ISIS) attack against #Kurds#STOPturkey! @UN#TwitterKurdspic.twitter.com/yrsOOAc4fh

— Reş (@yekeres) October 4, 2014
The activists were reportedly trying to cross the border into Syria to help defend the city of Kobane against IS militants. The border city, located in Syria's north, is a strategic point for the jihadists; if the city falls to the militants, it would provide a direct link to their captured territories in Aleppo and Raqqa.
Kurds on Turkey's border with Syria rally in solidarity with their kin in Kobane pic.twitter.com/BG34QSsXZi

— Azad Kurdistan (@mrgoldfink) October 4, 2014
The Islamists have been attempting to capture Ayn al-Arab – also known under the Kurdish name of Kobane – since September. The Kurds have so far managed to keep control of the area, but militants have pledged to take it over by the beginning of Eid al-Adha, or Feast of Sacrifice.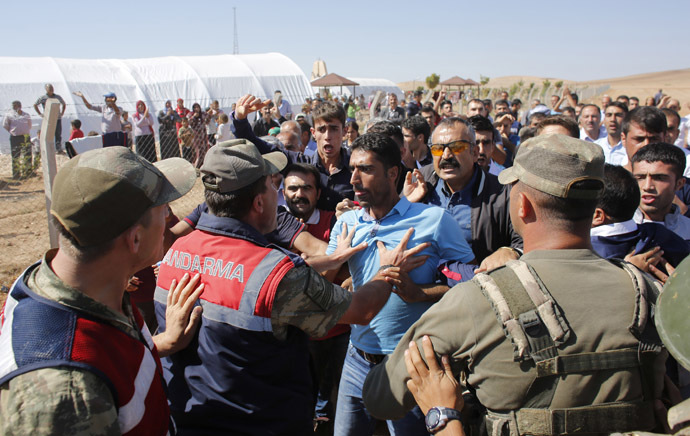 Nevertheless, city authorities said on Saturday that the Kurds were still in control as fighting between the Syrian Kurdish militia (YPG) and IS militants continued, according to Turkey's Doğan News Agency.

The Kurdistan Workers' Party announced general mobilization to defend Kobane on Friday, as the city was under heavy shelling from IS, the Lebanese Al-Mayadeen TV channel reported. It also said that IS fighters claimed the southern and eastern approaches to the city.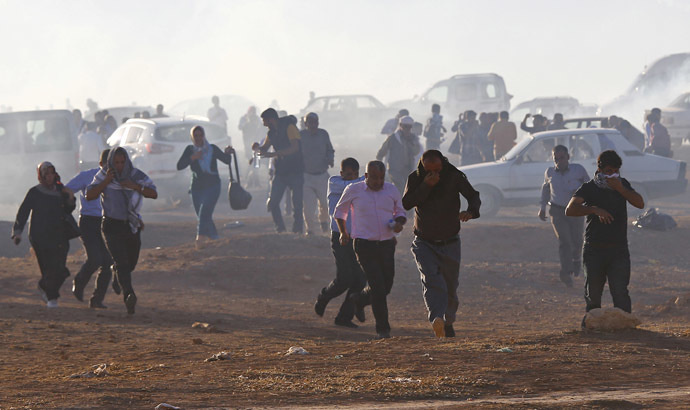 The battle for Kobane comes after Turkey's Prime Minister Ahmet Davutoglu said on Thursday that Ankara would do "whatever we can" to stop IS from capturing Kobane, as the Turkish army received the green light from parliament to engage in military action against the insurgents in Syria and Iraq.

Ankara has strained relations with the largest ethnic Kurdish minority in the country, which has been demanding a separate state for decades while using both peaceful protests and guerrilla warfare.

On Saturday, Turkish President Recep Tayyip Erdogan even compared the Kurdistan Workers' Party (PKK) to IS militants.

"The IS for us are the same thing as the PKK. It's erroneous to consider and regard them separately. There are other terrorist organizations apart from them. And we, as well as the whole world, must assess them right," Erdogan told reporters at the celebration of Eid al-Adha in Istanbul.
READ MORE: Turkey approves military action against ISIS, NATO eyes involvement
Syria has warned Turkey that any military involvement on its territory would be considered an act of "real aggression against a member state of the United Nations."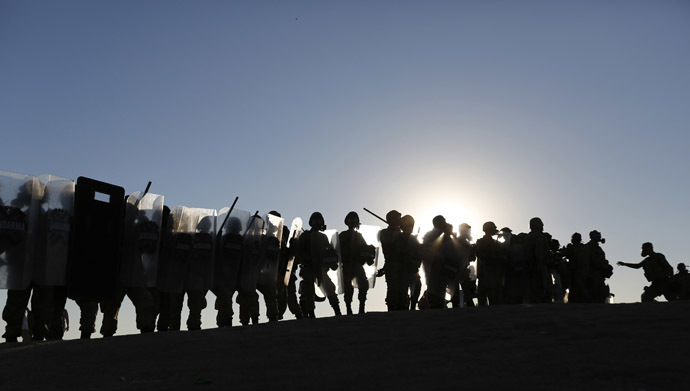 Ankara has been one of the Syrian opposition's major backers during the civil war to overthrow Syrian President Bashar Assad.

Turkey has been widely criticized for turning a blind eye to foreign radicals passing through the country en route to Syria.

The latest comments made by US Vice President Joe Biden on Thursday have outraged Erdogan. Biden stated that the Turkish president had admitted to making a mistake in allowing foreign fighters to cross the Turkish border into Syria.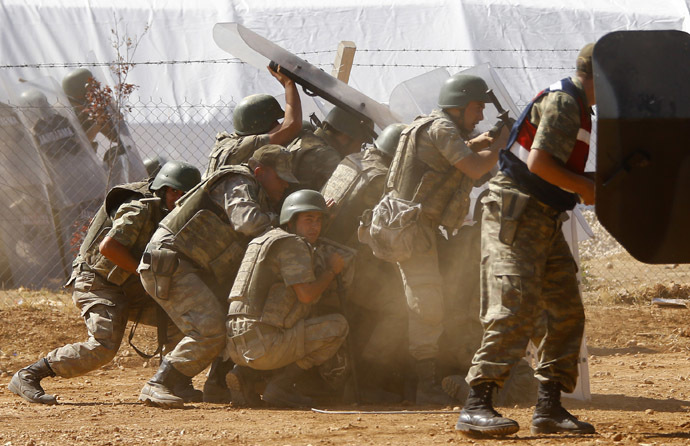 "If Biden told these words, then he will be history to me. I never uttered such remarks," Hurriyet quoted Erdogan as saying.
READ MORE: 'He will be history': Turkish president lashes out at Joe Biden over ISIS comments
Following the Turkish army's approval to use military force, no specific commitments have yet been made to stop IS. Meanwhile, airstrikes launched by the US-led coalition on Syria do not appear to be slowing down the advance of IS militants.
You can share this story on social media: