​'Unite against ISIS!' Kurds occupy London's busiest Tube station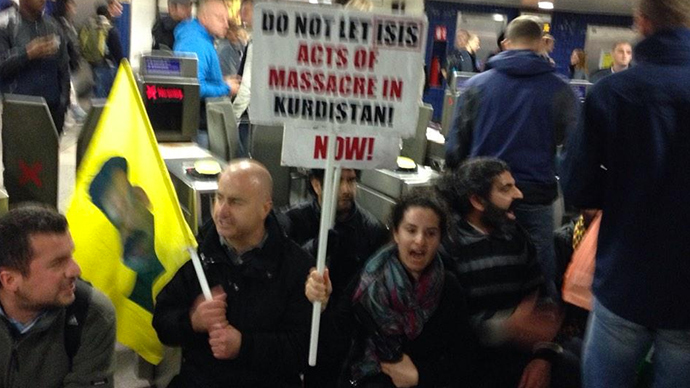 Kurdish activists in London have occupied the capital's busiest Tube station to protest against what they see as lackluster UK support for Kurdish fighters currently battling against Islamic State (IS/ISIS/ISIL) militants in Iraq.
The protesters managed to temporarily shut down Oxford Circus Tube station when activists blocked ticket barriers and the main entry points into the station on Monday.
Holding placards calling for more financial and military support to the Kurdish Peshmerga – who are currently facing off against IS militants in the border city of Kobani – the protesters said Kurdistan must not become a buffer zone to contain the ongoing war.
"Unite, Unite, Unite against ISIS!" the protesters chanted.
BREAKING NEWS! Video of Kurdish anti-ISIS blockade of ticket barriers at Oxford Circus #oxfordcircus#Kobanehttps://t.co/pfRCQue4xP

— @Hevallo (@Hevallo) October 6, 2014


Protesters also took to visual demonstrations to highlight the situation in Kobani, with some dressing in orange jumpsuits to represent the threat of more hostage killings if intervention was prevented.
RT @Xunavmerdin: Kurds protest Isis/ daish gangs in london for supporting #Kobane#Kobani#Kurdspic.twitter.com/5LeZefzy51

— @Hevallo (@Hevallo) October 6, 2014

The demonstration is the latest in a series held by London's Kurdish community. Last week, Kurds organized a hunger strike outside Downing Street to protest the UK's lack of support. The London branch of the Kurdish Socialist Party (KDP), among others, has organized its own interventions in recent weeks.
OXFORD CIRCUS SHUT! RT @RPMain: Kurdish anti-#ISIS protestors lead to shut down of Oxford Circus #oxfordcircuspic.twitter.com/pz5yNwfPfj

— @Hevallo (@Hevallo) October 6, 2014

"Kurds are furious that Kobani has been left by the international community to ISIS without any concerted effort to help,"a protester, who did not wish to be named, told RT.
"They [the protesters] believe that the US inaction to destroy and provide close air cover for Kurds is in deference to Turkey."
The protesters also called for the UK government to provide "advanced weapons" calling the need to supply the Peshmerga as "urgent."
"Why are the Kurds left to be sacrificed to ISIS?" they added.
— @Hevallo (@Hevallo) October 6, 2014

The protesters also picketed outside the US embassy in London, urging the US government to "stop supporting ISIS"and to"prevent genocide of Kurds."
Kurdish fighters have been one of the most effective fighting forces against ISIS since the militia entered Iraq earlier this year. Female fighters have been at the forefront of the conflict. It was reported on Monday that a female suicide bomber had killed herself when attacking ISIS fighters to prevent them storming Kobani.
You can share this story on social media: