New US-led airstrikes hit Syrian territory – monitor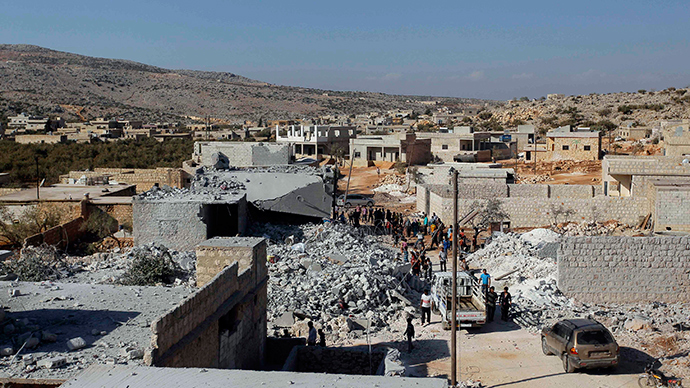 Five air strikes by a US-led coalition have hit Syrian territory near the Turkish border held by IS (formerly ISIS) militants, according to the organization that monitors situation in the country.
Military planes that conducted attacks came from the direction of Turkey and were not Syrian, head of UK-based Syrian Observatory for Human Rights Rami Abdulrahman told Reuters.
He added that the planes carried out strikes 30-35 kilometers to the west of the strategic city of Kobani.
Neither Turkish air space nor a US airbase in the southern Turkish town of Incirlik have been used in US-led air strikes against the Islamic State militants, two officials in Prime Minister Ahmet Davutoğlu's office told Reuters on Wednesday.
The report by the Syrian Observatory for Human Rights remains unconfirmed, though: a local official in central Kobani told Reuters that he hadn't heard any strikes close to the town overnight.
However, he said that fighting between the Kurdish forces and the IS has been taking place.
IS fighters stayed around 15km from the town in the east and west, but had advanced in the south to within 10km after battling with Kurds, Idris Nassan, deputy minister for foreign affairs in the Kobani canton, told Reuters.
The first attacks by the US-led alliance were launched on Tuesday, with 30 militants allegedly killed in the airstrikes. The attacks also killed eight civilians, including three children.
Last week, the radical jihadist group Islamic State started an offensive against the mainly Kurdish city of Kobani, and 130,000 Syrian Kurds fled the violence.
The US said that the Tuesday strikes were agreed with Syria, although it's not clear if the Syrian authorities were informed about the latest offensive.
On Tuesday, Syria said in a statement that it's ready to cooperate with any international anti-terrorism effort. The country won't stop the fight with IS extremists, the Foreign Ministry said.