Anti-ISIS coalition bombing terrorist positions in Iraq and Syria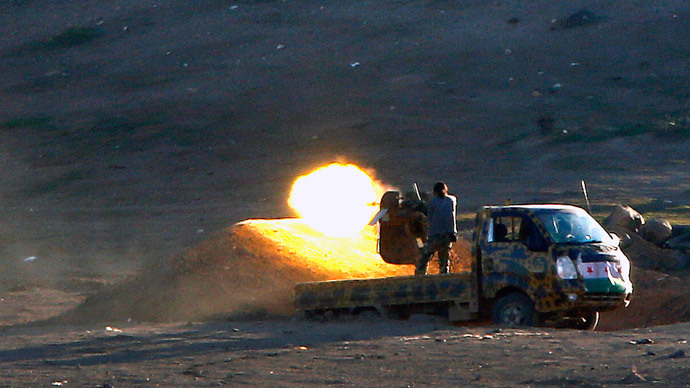 The US-led coalition is conducting airstrike assault on positions of the Islamic State (IS, formerly ISIS) organization in Syria and Iraq. The strikes involve a mix of fighter, bomber and tomahawk land-attack missiles.
26 November 2014

16:24 GMT

The US led coalition carried out an airstrike in Iraq on Tuesday killing a senior IS commander along with dozens of other jihadists riding in his convoy. Senan Meteeb, was known by the Islamic State as the 'emir' or 'prince' of the group's military in Iraq's Western Anbar province, and was reportedly killed along with 30 of his militants when their vehicles were hit about 190 kilometers north west of Baghdad. Mateeb was personally responsible for the slaughter of hundreds of Anbu Mimr Sunni tribesmen who had fought against the Islamic State with Iraqi security forces.

16:23 GMT

The Syrian government carried out airstrikes on Tuesday on the city of Raqqa, the de-facto capital and stronghold of the Islamic State (IS, formerly ISIS/ISIL) extremist group, killing between 63 and 95 people and injuring 120. According to the Syrian Observatory for Human Rights, government planes carried out at least 10 air raids, including on the market and one of the city's mosques. IS is known to store weapons and train and accommodate fighters in Raqqa, in the north east of Syria.

24 November 2014

17:12 GMT

The US and its allies have carried out 24 air strikes on ISIS positions in Iraq and Syria over the weekend, the US Command Center has announced. The nine strikes near Kobani in Syria destroyed fortified firing positions, and hit a command headquarters. In Iraq, the bombs targeted checkpoints, fighting units, and armored vehicles.

23 November 2014

14:10 GMT

About 300 Sweden's citizens may have been fighting alongside Islamic State militants, the country's intelligence chief, Anders Thornberg, told Sveriges Radio.

"A hundred cases of people who have left to join the fighting have been confirmed, then there are the presumed cases..., and then there are those that have not been counted, which brings the total to between 250 and 300," he said.

He added that there are many young Swedes who have joined the ranks of extremist group.

"A certain number of young Swedish men are leaving and training in camps, learning to become terrorists to use explosives and weapons," he said, "They're going beyond the limits of human behavior."

22 November 2014

22:33 GMT

Islamic State militants have killed 25 members of a Sunni tribe during their assault on a village near Ramadi, capital of Iraq's Anbar province. Local officials told Reuters that corpses of the men from the Albu Fahd tribe were found after the army launched a counter-offensive on Saturday against ISIS.

Local tribal leaders fears more dead will be found as the bodies were scattered around with no signs of weapons next to them, suggesting they were not killed during fighting.

13:20 GMT

At least 550 German citizens have joined Islamic State militants in Iraq and Syria, Interior Minister Thomas de Maiziere told German television channel Phoenix. "We estimate 550. Just a few days ago we had 450," he said, "These young people... were radicalized in Germany, within this society. That's why prevention must be accompanied by suppression."

He added that most of them are men, but several women have also travelled to conflict zones.

21 November 2014

15:42 GMT

The US and its allies have carried out 30 airstrikes on Islamic State (IS) targets in Syria and Iraq since Wednesday, Reuters reports.

According to US Central Command, 23 strikes in Iraq, including six near Baiji, hit IS buildings, vehicles and tactical units.

In Syria, six strikes near Kobani destroyed staging areas, buildings and two tactical units, while another near Ar Raqqah damaged an IS barrack, CentCom said.

13:57 GMT

A UK citizen who claims to be an explosives expert has joined the Islamic State (IS) militants, he told the Guardian. Hamayun Tariq, 37, a car mechanic, has been fighting for the Taliban for several years. On his Twitter account he posted pictures of multiple pages of handwritten notes on electronics components which help to assemble bombs.

The new IS recruit says he's met 30 to 40 other UK citizens since joining the extremists.

20 November 2014

14:18 GMT

An Islamic State leader has been killed in an air strike in the Iraqi city of Mosul. Local residents and medical sources say that Radwan Taleb al-Hamdouni was killed as he was travelling by car in the west of the city on Wednesday afternoon. Al-Hamdouni was described as being the militant group's leader in Mosul, which was reported by Reuters.

He was buried later on Wednesday, with a large number of his supporters, some carrying flags attending. He was the governor of Mosul, for Islamic State, who captured the city in June.

14:02 GMT

At least two militants from an Al-Qaeda affiliate Al-Nusra Front were reportedly killed in a US airstrike on a Syrian border town with Turkey.

The US military said its strikes destroyed a "storage facility run by veteran Al-Qaeda operatives," while Rami Abdul Rahman, who runs the Britain-based Syrian Observatory monitoring group said two Al-Nusra Front fighters were also killed in the attack, as referred to by Reuters.

According to some locals, at least six civilians including two women and a child were injured, Reuters reported.