Airstrikes alone won't help US to fight ISIS – Syrian FM to RT Arabic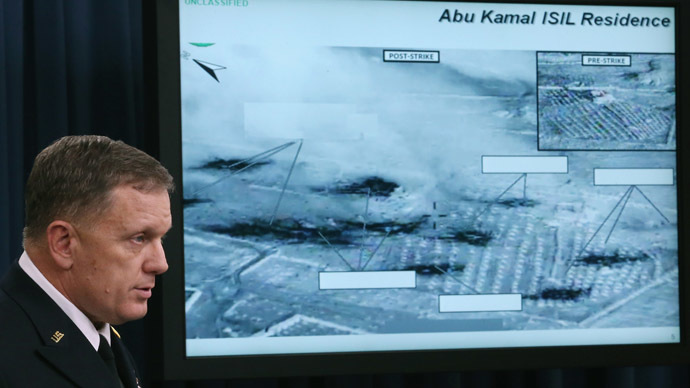 The US should change its approach "immediately" if it wants to fight terrorism and particularly ISIS, because airstrikes alone will not be effective, Syria's foreign minister told RT Arabic. He also believes the US wants the Syrian crisis to continue.
LIVE UPDATES: Anti-ISIS coalition bombing terrorist positions in Syria
On Tuesday, the Pentagon confirmed that the US military and partner nations from the anti-ISIS coalition have launched the first attacks on Islamic State targets in Syria.
Pentagon: F-22s used in combat for first time in Syria
The attack was part of US President Barack Obama's plan, which he outlined in a speech earlier this month, saying that the US was prepared to "conduct a systematic campaign of airstrikes" against Islamic State (formerly known as ISIS/ISIL) terrorists "wherever they are."
But Syrian Foreign Minister Walid Moualem says he is "confident" that those airstrikes will not be "effective, if there is no coordination of actions on the ground and if no ground military operations are carried out."
"The US is mocking the whole world when they say that they are going to coordinate their actions not with the Syrian government, but with the moderate Syrian opposition. This is funny. What moderate opposition are you talking about?" Moualem told RT Arabic. "This moderate opposition is killing Syrians just like al-Nusra or ISIS."
If the US wants to have positive results in their "fight with terrorism" they should "immediately" change their approach, he said.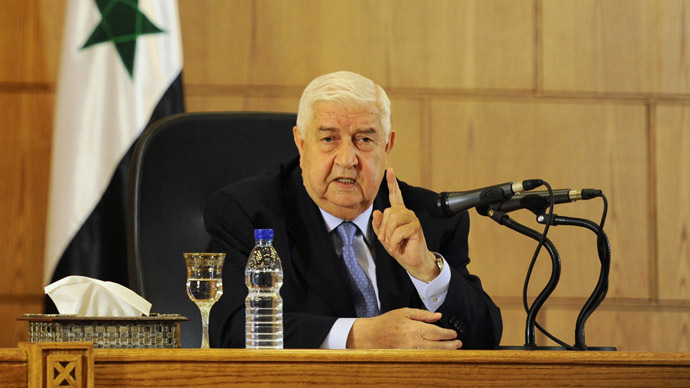 "[The Americans] said that they want to put an end with ISIS, just like they put an end to al-Qaeda in Afghanistan. But here is a question: has al-Qaeda in Afghanistan been really annihilated? After 10 years of the US and NATO's interference in the situation in that country al-Qaeda has spread its influence, intensified and started action with even more violent methods," Moualem said.
However, he said there are doubts in Syria that the US and its allies are really interested in fighting terrorism as they claim.
"If intentions to target ISIS and al-Nusra in Iraq or in Syria are sincere, we only welcome them. But I want to say that we have doubts on that – not concerned, but have doubts about the sincerity of the US, Israel, Turkey and Saudi Arabia, which created the coalition," Moualem said.
If the US was "seriously wanted to fight the ISIS and other terrorist organizations" there would be an international organization under the aegis of the UN, in which all countries would participate, Moualem said.
"Why was Russia expelled from that alliance? Why was Iran expelled as well as Syria?" he said.
"Militants who enter Syrian territory do not use parachutes for it. They enter Syria through borders of those countries, whose governments let them do that. These countries are known," Moualem said, referring to the anti-ISIS coalition participants. "If the US and those countries as [America's] allies seriously want to fight ISIS, they, first of all, have to immediately stop supporting terrorist formations, financing, arming, preparation, training and illegal intrusion into territory of Syria."
But Moualem said he was personally not sure that the US and other countries it is acting with were interested in a political settlement of the internal conflict in Syria.
"This is why they are undermining the process of peaceful settlement of the conflict," he said.
You can share this story on social media: