'Sisters in arms': Kurdish women fighters ready 'to send ISIS to hell' (VIDEO)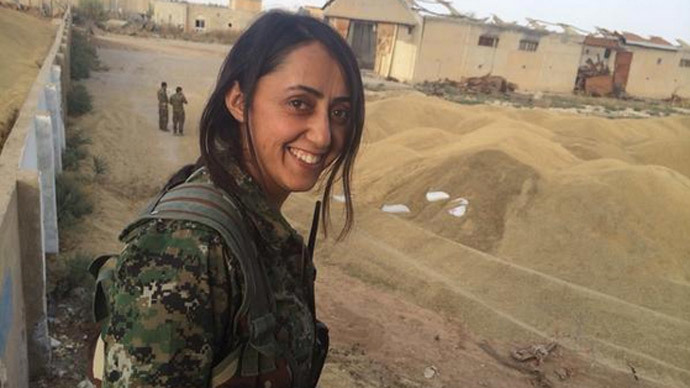 Female Kurdish fighters ignite fear into Islamic State militants, who believe that they'll go straight to hell if they are killed by a woman. RT travelled to Iraqi-Syrian border to meet the YPG, the female battalion fighting IS.
The border area between Iraq and Syria is currently controlled by Kurdish volunteers after both Iraqi and Syrian military forces abandoned the border crossings.

The women fighters occupy the lookout post on the border, which allows them to monitor all IS activities in Iraq and Syria.
Women fighters make up one third of all #Kurdish resistance.

— PaulaSlier_RT (@PaulaSlier_RT) October 7, 2014
Rosarine, one of the women, confessed that she had never fired a gun in her life before the war against Islamic State (IS, formerly known as ISIS) began.

"The first time I fired I was scared, but my love for my country was bigger than my fear," she told RT's Paula Slier. "Islamic State thought women can't fight them, but here we are. We are not afraid because we know what we are fighting for."

The 19-year-old, who dropped out of school to join the YPG, Kurdish People's Protection Units, says that now she opens fire "whenever something moves [on the IS side]."
Interviewing #YPJ female fighters - their ages range from 18-40 pic.twitter.com/sxVggszcxR

— PaulaSlier_RT (@PaulaSlier_RT) October 7, 2014
All the women fighters in the battalion are volunteers, who go into battle under the "Hava" (friendship) motto. Rosarine added that she and her 'sisters in arms' get full support and encouragement from their families as they're fighting to protect the Kurdish land and its people.

The commander of the Kurdish women fighters, Dalil Derki, said that his unit strikes terror into Islamic state militants, who have "twisted Islam."

"In their philosophy women don't have their own role in society. Their philosophy and culture is that they believe that if they are killed by a woman they won't go to heaven. Instead they will go to hell," he explained to RT.

According to the YPG commander, half of the jihadists on the border were killed by women fighters and "if they want to go to hell, they should keep fighting us."

Derki said that he's proud of his troops and their achievement on the battlefield as they "set an example to women all around the world."
#Peshmerger Brigadier-General says one of the 4 #YPJ fighters who helped his men escape, was killed by #ISIS the next day

— PaulaSlier_RT (@PaulaSlier_RT) October 7, 2014
Another female soldier, Beritan, said that she has already been in many "dangerous fights," with one battle even lasting "for an entire night and day."

"I wasn't really scared, I was more focused on killing the terrorists than dying myself," she explained.

Many of the girls told RT that they'll remain soldiers after the war with IS is over as the battle for an independent Kurdish state, Kurdistan, is underway.

The Kurds do not have their own state, with the Kurdistan region spanning adjacent parts of Iran, Iraq, Syria, and Turkey.

The Kurdish conflict with various jihadist groups taking part in the Syrian civil war, including IS, started in July 2013 in the Syrian town of Ras al-Ayn.

While Kurdish forces recently managed moderate military gains against IS in northern Iraq.

However, the jihadists seem to be taking the upper hand in the battle for the strategic town of Kobani on the Turkish-Syrian border.
You can share this story on social media: