Hong Kong police officers beat protester, use pepper spray, arrest dozens (VIDEO)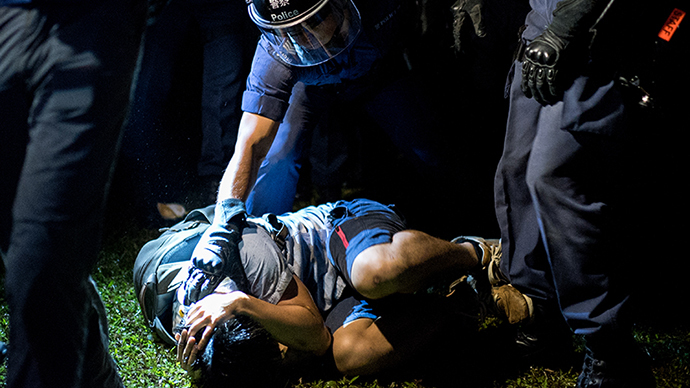 Dozens of Hong Kong protesters blocking central streets while rallying for a greater say in their city's election were pepper sprayed and arrested early Wednesday. In one case, a detained man was reportedly beaten by police in a dark alley.
The police brutality witnessed overnight was broadcast on TV the following day, leading to public outrage. As a result, the Hong Kong police officers invovled in the apparent assault on the protester have been "removed" from duty, the city security chief announced on Wednesday.
The situation began to escalate when police started removing barricades installed by protesters at a major road/tunnel. When demonstrators flooded the area to resist law enforcement, hundreds of officers responded by trying to push the crowd back, Reuters reported.
Police physically wrestled with some protesters in order to take them away, while pepper spray was used on others who declined to comply with orders. About 45 people were arrested in total.
"There were so many police. They punched people...We are peaceful," student Danny Chiu told Reuters.
Meanwhile, Hong Kong television channel TVB aired video footage of multiple police officers beating a man whose hands were bound. He was placed on the ground, where he was punched and kicked repeatedly for about four minutes, the station reported.
The man was later identified by the South China Morning Post as a Civic Party member named Ken Tsang Kin-chiu. Party leader Alan Leong said that lawyers "plan to send Tsang to hospital and have his wounds inspected soon. Leong added that the lawyers who met Tsang this morning said he was emotional and suffering from injuries."
In a photo released Wednesday morning, Tsang's face looked bruised, as if it had been struck in several locations.
Independent Police Complaints Council Eric Cheung Tat-ming added to the newspaper that it is unacceptable for officers to "beat up people in a dark corner" in any circumstance, and an investigation could be forthcoming.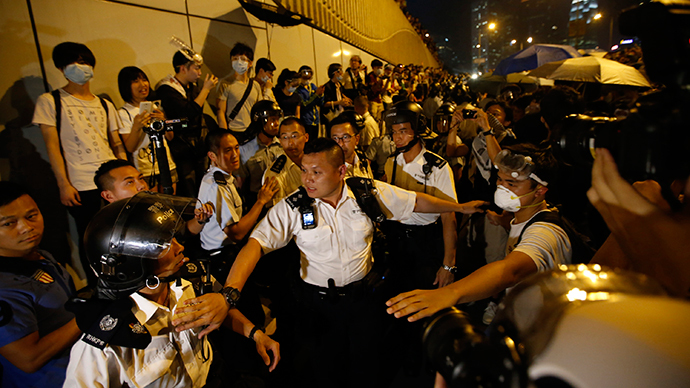 Protests in Hong Kong began about three weeks ago, after Beijing unveiled its plans for the city's upcoming 2017 elections, in which residents are supposed to be able to choose their own chief executive. Under the proposed system, only candidates approved by Beijing will be eligible to run for office – a decision that has sparked outrage among those who desire greater freedom when it comes to electing their leader.
Although the number of protesters has gone down considerably from the 100,000 or so that took over the streets in early October, there are still "several thousand" people demonstrating, according to Reuters.
Despite the protests, Hong Kong's current leader, Leung Chun-ying, said there is "zero chance" the demonstrations will sway leadership in Beijing.
At the same time, Joseph Wong of the University of Hong Kong told the agency that it is unlikely the protests will end any time soon.
"I don't think the protesters, having suffered tear gas, endured the attacks by the anti-occupy people, I don't think they will just surrender unconditionally and leave," he said.