Best World Cup ever? 50 reasons why Brazil 2014 totally rocked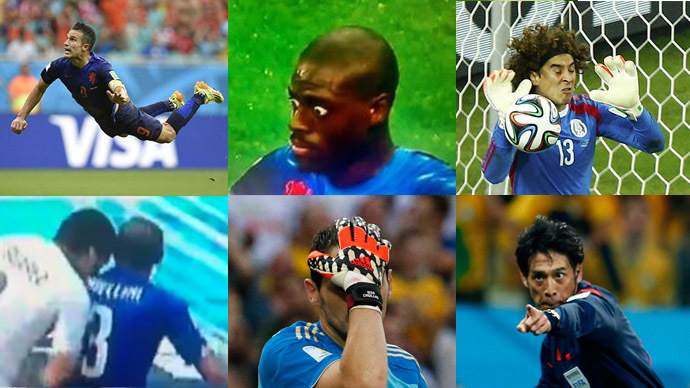 With Germany about to take on Argentina in the World Cup final, RT comes up with 50 magic moments that made Brazil 2014 one of the most stunning World Cups in FIFA's history.
Because 43-year-old Columbian goalkeeper, Faryd Mondragon, came in as a sub in his team's group stage game against Japan to become the most mature World Cup player ever;
Because German striker, Miroslav Klose, scored against Brazil in a match held in Brazil to replace Brazil's Ronaldo as the top scorer in World Cup history, with 16 goals in the bag;
Because Robin van Persie scored the event's most stunning goal against Spain, with the Flying Dutchman's diving header being immortalized in a special coin back home in the Netherlands:
Because an official White House petition was started to rename the Washington airport after US goalie, Tim Howard, who put up a record-breaking performance with 16 saves in a playoff match against Belgium;
Because Bruno Martins Indi of the Netherlands not only produced a solid defensive display, but also provided world football with one of its most crazed expressions:
Because the inform German side destroyed Brazil 7-1 in the semifinals to deliver the 'Pentacampeoes' their first defeat in 39 years as well as their biggest ever World Cup loss;
BREAKING: Brazil's Christ the Redeemer statue right now. pic.twitter.com/C856m35xrj

— Sheriff Woody (@NotSheriffWoody) July 8, 2014
Because Colombia's well-choreographed goal celebration dance was backed by an equally great game and a historic spot in the quarterfinals:
Because Germany's 7-1 thrashing of hosts Brazil in the World Cup semi-finals was so brutal that it even made a debut in the 'public humiliation' section of the adult website Pornhub;
Please stop uploading the game highlights to Pornhub... Our public humiliation category is full. #BrazilvsGermany

— Pornhub Katie (@Pornhub) July 8, 2014
Because two American astronauts at the International Space Station had to be
shaved bald right up in orbit after the US team lost to Germany in the group stages;
Because Dutch coach, Louis van Gaal, made a risky swap ahead of the penalty shootout in the quarterfinals against Costa Rica to see substitute keeper, Tim Krul, bring Netherlands the win by saving two shots;
Because the small Central American country of Costa Rica stunned the football world by winning the 'Group of Death' with Uruguay, England and Italy, making it all the way to the World Cup quarterfinals;
Because the tidy Japanese supporters cleaned up the stands after themselves, following a group stage game against the Greeks;
Because titleholders, Spain, suffered a shocking early exit from the tournament, ensuring the world would get a new football champion in 2014;
My new favourite picture of the World Cup so far #ESPvsCHI#FifaWorldCuppic.twitter.com/eRdmgPE6ee

— Danny Matcham ⚽️ (@boymetworld91) June 18, 2014
Because football (or soccer) has been making waves on American TV as Team USA's World Cup matches brought more people to the screens than the broadcast of NHL's Stanley Cup finals;
Legendary ex-Paraguay goalie, Jose Luis Chilavert, has written a letter to support his colleague, Iker Casillas, who was under fire after Spain's poor World Cup run, stressing that "for me, Iker is still the best in the world and by far."
Because French coach, Didier Deschamps, spotted a drone spying on his team's training session in Brazil;
Because Colombia's James Rodriguez has turned into a global super-star during the World Cup, with the 22-year-old Monaco midfielder completing the event with an impressive 6 goals and 4 assists;
Because Germany's national squad became the first team in history to make an appearance in four semifinals in a row;
Because players, who were named after Agent 007 – James Rodriguez of Colombia – and Russia's first president – Costa Rica's Yeltsin Tejeda – appeared on the pitch in Brazil;
Because it took German midfielder, Toni Kroos, 69 seconds to complete the fastest brace (score twice) in World Cup history as he upset the Brazilians in the semis;
Because the World Cup got off to a record-breaking start, averaging an incredible 3.06 goals per game in the first 16 matches;
Because the Germans needed just 29 minutes to put five goals past Brazil, with no other nation managing to score as much so fast;
Because the 7-1 thrashing of Brazil allowed Germany to surpass the Brazilians (221 goals) as the World Cup's top scoring nation on 223 goals;
New Brazil flag pic.twitter.com/L9Brhi0n8a

— Strictly Fútbol (@_StrictlySoccer) July 8, 2014
Because it took Germany and Bayern Munich attacker, Thomas Müller, only 10 matches to score 12 World Cup goals;
Because even US president Barack Obama, who used to play basketball in his youth, found time for football World Cup broadcasts during his busy schedule:
President Obama watches the USA vs Germany World Cup game aboard Air Force One enroute to Minneapolis. #worldcuppic.twitter.com/bK2OGz5Xnd

— Doug Mills (@dougmillsnyt) June 26, 2014
Because even a flood was unable to stop German and US fans from packing the stadium for a group game in Recife;
Because Team USA coach, Jürgen Klinsmann, wrote a letter, asking bosses to provide American workers with time off to watch the World Cup;
Team #USA coach writes letter asking bosses to give American workers time off to watch #WorldCup game against #GERpic.twitter.com/XM6RCcru9M

— RT (@RT_com) June 26, 2014
Because goal-line technology and special vanishing spray for refs to mark free kick spots were used in Brazil for the first time in the 84-year history of the World Cup;
Because Barack Obama was added to the English World Cup squad by a UK merchandise company, which confused the US president with footballer Chris Smalling;
A company deserves a red card after mistaking Barack Obama for England's Chris Smalling on a World Cup memento mug! pic.twitter.com/OJPguGn45l

— Fact (@Fact) June 25, 2014
Because Brazil 2014 has become the second most attended World Cup after USA 1994 (68,991 people per game), with an average gate of 52,762 people;
Because Uruguayan troublemaker, Luis Suarez, promised that he'll "never do anything of kind again" after being handed a record four-months ban for biting Italy's Giorgio Chiellini in a group stage match;
Because Belgium's Queen Mathilde congratulated the wrong player on scoring the winning goal against Russia (1-0), but royal support still helped the team reach the quarterfinals;
Because one hundred and sixty-seven clients of a betting firm have made money as they had a feeling that Uruguayan striker, Luis Suarez, would surely bite somebody during the World Cup;
Because young Brazilian players from the Anita Garibaldi slum on the outskirts of Sao Paulo has challenged the team that lifts the World Cup to attract attention to the poor living conditions in their neighborhood;
Because a Brazilian court showed that it cares for players' health, ordering FIFA to introduce mandatory water breaks in World Cup matches if temperatures reach 32 degrees Celsius (89.6 Fahrenheit);
Because the event helped in fighting crime as drug lord, Jose Diaz-Barajas, was arrested in Rio airport after buying a ticket for the Brazil vs Mexico match in his own name;
Because long-time political rivals – the US and Iran – collaborated on the football pitch, with American referee, Mark Geiger, and assistant Alireza Faghani of Iran working as a team at Colombia's meeting with Greece;
Because Neymar lived up to the host nation's great expectations by scoring four goals in five matches and becoming a truly irreplaceable figure in the Brazilian attack;
Because a giant grasshopper became an internet sensation after riding on the shoulder of Colombia's James Rodriguez in the quarter-final against Brazil:
Because Chilean attacker, Mauricio Pinilla, has got a tattoo of the disappointing moment when he struck the crossbar in the dying seconds of extra-time in the playoff encounter with hosts Brazil;
"One centimetre from glory" - Pinilla gets tattoo of the moment he struck the crossbar vs Brazil. pic.twitter.com/uoqt83AHRp

— PlanetOfFutbol (@PlanetOfFutbol) July 1, 2014
Because Leo Messi has managed to silence the skeptics, who said that he's only eager to give his best for Barcelona, almost single-handedly (4 goals and 1 assist) pushing Argentine into final;
Because Uruguay's President, Jose Mujica, called football's governing body, FIFA,"a bunch of old sons of bitches"for harsh sanctions against his country's 'biting' star, Luis Suarez.
Because Serge Aurier of the Ivory Coast has proven himself the top sprinter at the event, with a turn of pace measured at 33.52 kph during a group stage encounter against Columbia;
Because Mexico's coach, Miguel Herrera, took honors as the most passionate man at the World Cup, a seething volcano of emotions on his team's bench:

Because Javier Mascherano displayed unbelievable dedication in helping Argentina beat the Netherlands for a spot in the final, with the player suffering a concussion in the first half and then literally "tearing his anus" in a game-saving tackle on Arjen Robben;
Because a young girl sent a letter to David Luiz, the Brazilian captain, consoling him after his team's 7-1 thrashing by Germany, writing "you don't need to be sad because you played well and did the best you could."
Because physio Walter Ferreira suspended his own cancer treatment to get Uruguay's striker, Luis Suarez, fit for the World Cup after knee injury and the player rewarded him with two goals against England:
Because English football great, Wayne Rooney, finally ended his 759 minute goal drought, putting his name on the scoreboard at the World Cup for the first time ever;
Because the thick brown dreadlocks, which have taken shape over some 10 years, made US midfielder, Kyle Beckerman, the most extravagant looking player at the event: