Humiliation: Brazil demolished by Germany 1-7 in World Cup semi-final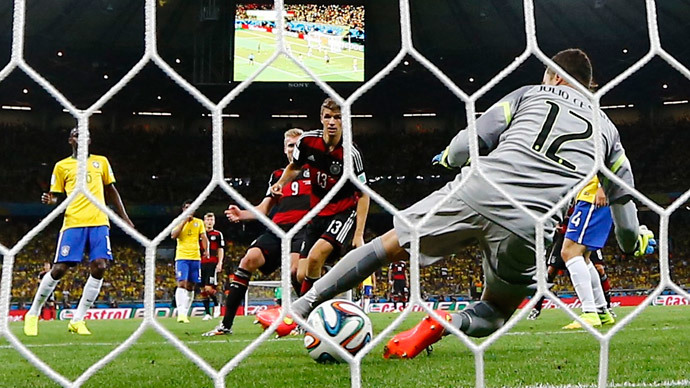 Brazil's dream of winning the World Cup on its home soil has been crushed by a merciless effort from Germany, which blasted out to a 5-0 lead before halftime and never looked back.
In the second half, Germany added more offense to win 7-1, leading the announcer to dub Brazil's effort as its worst performance in 94 years.
RESULT IN BELO HORIZONTE: #BRA 1-7 #GER#BRAGER#WorldCup SEMI-FINAL #joininhttp://t.co/oduOUkbDNSpic.twitter.com/ZMauDGijrT

— FIFAWorldCup (@FIFAWorldCup) July 8, 2014
It was tough enough for Brazilians to swallow the fact that they had lost at home for the first time in 39 years, but the way in which the game unfolded was particularly troubling. In a span of just 18 minutes, Germany put five goals past Brazil's defense and goalkeeper, jumping out to a commanding lead as they placed themselves in the World Cup final.
Germany will wait to play the winner of Argentina vs. Netherlands on Sunday, but for the host nation, this loss will likely sting for years to come.
GERMANY STOP https://t.co/bM1tx07MRy

— SB Nation GIF (@SBNationGIF) July 8, 2014
To add insult to injury, when German striker Miroslav Klose scored the game's second goal, he passed Brazil's Ronaldo to become the World Cup's all-time leading scorer with 16 goals. According to ESPN, Germany also displaced Brazil as the all-time top scoring team, with 223 goals.
Although Brazil was already missing its best player, Neymar – who suffered a fractured vertebra in the previous match against Colombia – many expected the host nation to unite in his absence, dig deep, and find another level of play in hopes of matching Germany. Just 11 minutes into the game, however, it became clear that Brazil was coming up short.
Thomas Muller opened the scoring for Germany, with Klose netting another goal a little over 10 minutes later. Klose initiated a rapid assault by Germany, which scored four goals in just six minutes, all but ending Brazil's chances before halftime.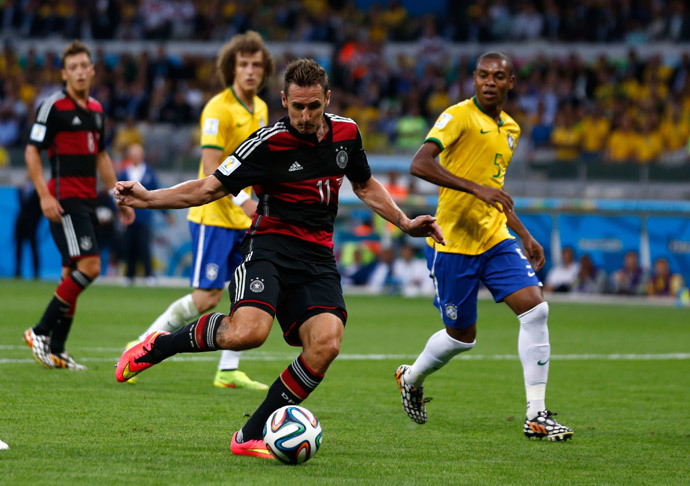 New Brazil flag pic.twitter.com/L9Brhi0n8a

— Strictly Fútbol (@_StrictlySoccer) July 8, 2014
As Brazil looked completely lifeless on the field, fans could be seen crying in the stands, while the internet erupted with shock and awe at what they were witnessing. GIFs of fans shedding tears at the stadium quickly went viral on Twitter and Facebook, while the rest of the world began poking fun at Brazil's effort and posting a variety of photoshopped images, ranging from changing the host nation's flag to display a net full of goals to depicting the team's defense as a pair of goats and an empty net.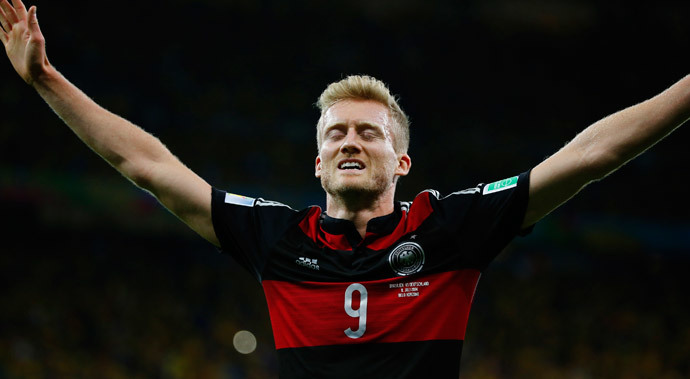 BREAKING: Brazil's Christ the Redeemer statue right now. pic.twitter.com/C856m35xrj

— Sheriff Woody (@NotSheriffWoody) July 8, 2014
Even Brazil's iconic Christ the Redeemer statue was used, as some wily Twitter users depicted the figure with his head in his hands. Another, meanwhile, replaced the statue entirely with one of German Chancellor Angela Merkel striking a triumphant pose.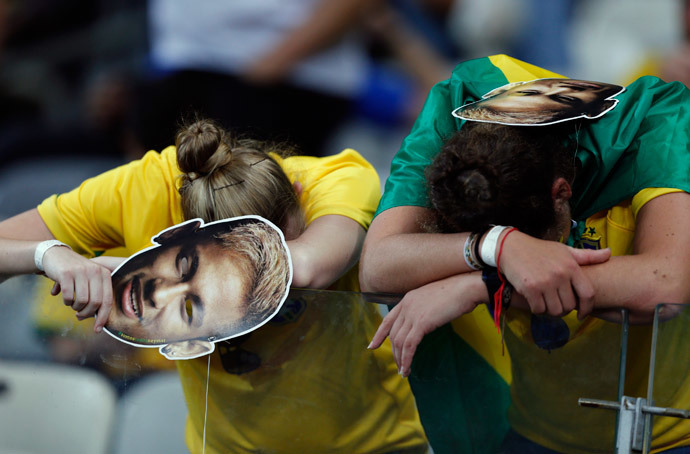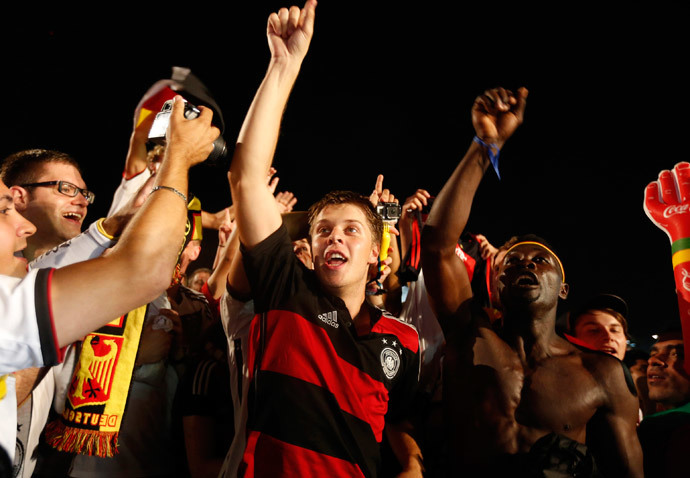 Greetings from Brazil pic.twitter.com/PwoBM1LrF1

— Tom Miller (@tomcmmiller) July 8, 2014
You can share this story on social media: