Colombia team gets hero's welcome home after best ever performance at WC
Published time: 7 Jul, 2014 21:22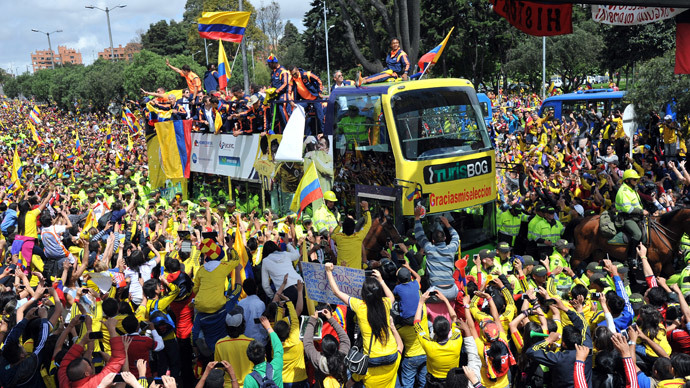 Thousands of fans have praised Colombia's national team as heroes on their return home to Bogota from the World Cup, where they lost to hosts Brazil 2-1 Friday after reaching their first ever quarterfinals in the Championship.
Colombia won its previous four games, against Greece, Ivory Coast, Japan and Uruguay.

The South American team failed to beat football heavyweights, Brazil though. But it did impress millions around the globe by its brilliant performance at the championships led by 22-year-old star James Rodriguez who made a huge splash at the 2014 World Cup scoring six goals in five games.
Gracias a todos , me siento muy orgulloso de ser COLOMBIANO. pic.twitter.com/yMr3Xq25Ul

— James Rodríguez (@jamesdrodriguez) July 6, 2014
Colombia's memorable goal-celebration dance - praised in the media as the best one ever – has become an internet hit.

On Sunday, after the squad arrived at El Dorado airport, they were greeted by elated crowd of thousands of supporters lining the streets – many waving the Colombian flag and wearing the team's yellow shirts - as the players' open-top bus was making its way through the city.

Colombian President Juan Manuel Santos sent a message thanking the national team "for so much joy and for teaching us how to dream," AP cited.

Bogota organized a massive party at the Simon Bolivar Park in the heart of the capital for coach Jose Pekerman and his squad to celebrate the incredible success. To the fans' joy, the players appeared on stage to perform their now famous dance.

An estimated 50,000 people took part in the celebrations, according to AFP.