Adios España! Social media mocks Spain's humiliating exit from World Cup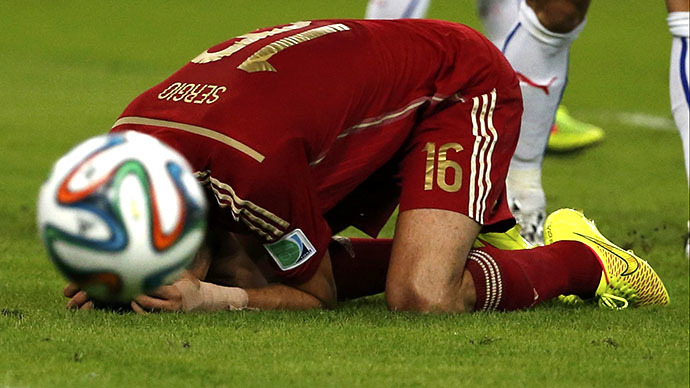 Former World Cup champions Spain have been booted out of the tournament, losing to Chile 2:0 in Brazil. Their defeat has triggered a social media storm, with memes poking fun at the Spanish team flooding Twitter.
Spain's performance at the World Cup this year has been dubbed "the great disappointment" by the Spanish media.
The defending champions were humiliated right from the onset of the tournament, losing 5:1 to Holland. The Spanish team was finally knocked out of the running by Chile on Wednesday evening, prompting a wave of scathing memes on Twitter under the hashtag #CHIvsESP.
JUAAAAAAAAAAAAAAAA!!!! XD #ESPvsCHI#ChileVSEspanapic.twitter.com/dPGGZXF2pA

— Edu Castillo (@edu_castillo) June 18, 2014
"The King just sent a Whatsapp to Del Bosque (manager of the Spanish team)…"
"Shall we abdicate together?"
El Rey le acaba de mandar un whatsapp a Del Bosque... (via @Carlapvera) pic.twitter.com/Lvl0jEjIft

— Mónica Quiroz Мônicа (@monica) June 18, 2014

Continuing the theme, Twitter user @viniami2009 posted a meme of Del Bosque.
"Come on guys, let's get back to Spain to see the coronation of the new king."
#Espanapic.twitter.com/VO76KlE4yj

— Viniami (@viniami2009) June 19, 2014

"Don't turn off the engine! We won't be long!"
#EspanaVsChilepic.twitter.com/2izKtla9kB

— Alejandro Saavedra (@zoqua81) June 18, 2014

Disappointed fans targeted Spanish keeper Iker Casillas, who was responsible for letting in seven goals over the course of the first two World Cup matches.
"If you know I'm gonna mess up, why do you bother inviting me?"
#ESPvsCHI#EspanaVsChilepic.twitter.com/5DQuiNNhZ4

— Jaiminho Do Fabela (@JaimitoPrepago) June 18, 2014
Del Bosque to Casillas #WorldCuppic.twitter.com/BEh54SvUu7

— FansAllStar Football (@FASfootball) June 18, 2014

Fans also targeted Spanish striker Diego Costa, who changed his nationality from Brazilian to Spanish to play for the World Cup team.
Diego Costa be like... pic.twitter.com/HssivHb8S4

— TransferScoop (@TransferScoop) June 18, 2014
**Places gently on timeline and walks away** #ESPvsCHI#SpainBeLikepic.twitter.com/IjRUklodih

— Digicel Jamaica (@Digicel_Jamaica) June 18, 2014
Following the match, elated Chilean football fans flooded Italia Square in the country's capital, Santiago, to celebrate victory. The Chilean team now goes on to face The Netherlands on Monday.
My new favourite picture of the World Cup so far #ESPvsCHI#FifaWorldCuppic.twitter.com/eRdmgPE6ee

— Danny Matcham ⚽️ (@boymetworld91) June 18, 2014