Jaws and scores: Suarez and other bite-crazy athletes (VIDEO)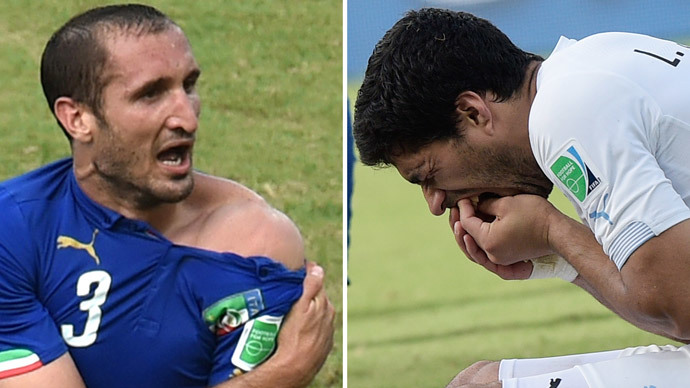 Uruguay's striker Luis Suarez has made headlines by chomping on an Italian rival in a crucial FIFA World Cup match. RT recalls the history of Suarez's misconduct and other top athletes, who don't hesitate to use their teeth to achieve victory.
Italian defender Giorgio Chiellini wasn't the first victim of the Uruguayan attacker as the scandalous striker, nicknamed the Rabbit, previously bit two other players.

"We are all football players, we know what happens on the pitch, we don't have to take anything seriously," Suarez said after the match, which Uruguay won 1-0.

Following the Chiellini incident on Tuesday, over 160 people won money after betting that the Uruguayan wouldn't be able keep his jaws at bay during the event in Brazil.

Another Suarez biting incident occurred when he was playing for Ajax Amsterdam in the Dutch league: he assaulted Otman Bakkal with his mandibles during a match against PSV in 2010.
A long-term disqualification didn't teach the Uruguayan a lesson as he went on to nip the shoulder of Chelsea's defender, Branislav Ivanovic, while playing for Liverpool in the English Premier League last year.
The assault on Chiellini puts Suarez's prospects at the World Cup in question, as FIFA has opened disciplinary proceedings against the payer.
Mike Tyson
When heavyweight boxing star, Mike Tyson, realized he was losing his 1997 rematch against archrival, Evander Holyfield, he used his teeth as a last resort. A graphic replay showed Iron Mike biting a piece of his opponent's ear and spitting it on the floor. Holyfield had to receive attention from the ringside doctors and resumed the fight, only to be bitten on his other ear. After that, the referee disqualified Tyson, who was then labeled 'cannibal' till the end of his career.
Mikhail Grabovski
One of the top Belarusian hockey players, Mikhail Grabovski, said that he had to use his teeth because he feared for his life. A mass scuffle during an NHL match in February 2013 saw the Toronto Maple Leafs forward being suffocated by Max Pacioretty of Montreal Canadiens, who didn't loosen his grip until he felt a bite. Grabovski wasn't sanctioned by the league in any way, while Pacioretty received a tetanus shot after the game.
Jermain Defoe
Jermain Defoe of Tottenham Hotspur was never among English football's bad boys, but even he felt he had to resort to biting in order to punish West Ham's Javier Mascherano for an outrageous tackle. The incident occurred right before the eyes of the referee in the 2006 Premier League match, who decided to award both players yellow cards. After the match, Mascherano called Defoe's behavior "unbelievable," adding that the offender deserved a straight red.
Johan Le Roux
Former South African rugby player, Johan Le Roux, wasn't called the 'Beast' for nothing. He bit the ear of New Zealand captain, Sean Fitzpatrick, during an away test match in 1994. The South African avoided punishment by the referees on the pitch and never apologized or explained his actions to the media. However, his country's sport officials couldn't tolerate Le Roux's behavior and he was sent home on the first plane.
Miguel Olivo
The heat of sporting battle sometimes makes athletes bite their rivals, but minor league baseball player, Miguel Olivo, went even further by assaulting his own teammate in the same manner. During a match this May, Olivo was dissatisfied with the performance of his Albuquerque Isotopes partner, Alex Guerrero. The argument between the two quickly turned into a brawl and concluded with Guerrero undergoing plastic surgery on his ear.
Tree Rollins
Three periods of reciprocal provocations culminated in basketball stars Tree Rollins of Atlanta Hawks and Boston Celtics's Danny Ainge colliding on the court and starting a scuffle during a 1983 NBA game. Despite Rollins being 20 centimeters taller and a lot heavier than Ainge, he was the one to bring his jaws into play, biting his rival on the hand. The next day, the Boston Herald paper came out with this risible headline: "Tree Bites Man."
Mike Ottinger
A wrestling match, which took place in the US this March, was also marred by a biting incident. Central Michigan University junior, Mike Ottinger, sunk his fangs into the arm of Mathew Miller of Navy to get an instant disqualification. Despite the match being stopped, Ottinger continued his attempts to bring his opponent down, forcing the referee to interfere. Modest Miller even tried to shake the offender's hand after the match, but Ottinger refused the handshake.
Jarkko Ruutu
Finnish hockey tough-guy, Jarkko Ruutu, didn't appreciate the fist of an opposing player poking him in the face. And the Ottawa Senators player decided to nip Andrew Peters of the Buffalo Sabres on the thumb during an NHL match in 2009. The bite was so painful that Peters, who had participated in hundreds of fights during his career, cried out loud. Ruutu was handed a two-game suspension and a fine of over $35,000 for misconduct.
Mircea Bornescu
Unlike the rest of the football players on the pitch, the goalies are allowed to use their hands during play. But the Romanian keeper, Mircea Bornescu, who competes for the Petrolul Ploiesti club, decided that employing teeth was also an option. After all, Romania is where Dracula was born. Last summer, he bit deep into the upper arm of Tha'er Al Bawab from Gaz Metan Medias. Al Bawab responded by punching Bornescu in the face, and both players were sent off in a crazy match, which saw a total of six players red-carded.
You can share this story on social media: