Uruguayan striker Luis Suarez takes a bite out of the competition, social media erupts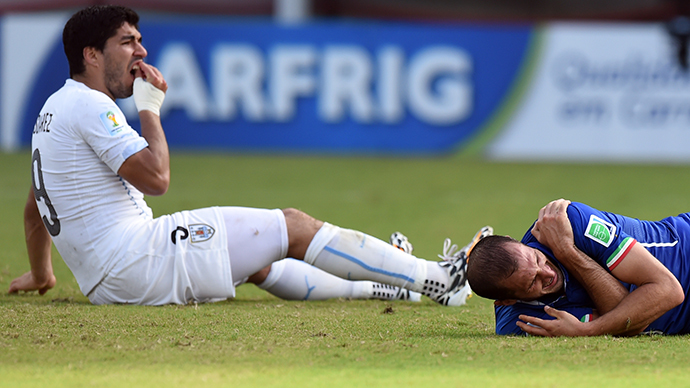 A minor scandal erupted during a World Cup match on Tuesday when Uruguay's striker, Luis Suarez, appeared to take a bite out of Italy defender Giorgio Chiellini's shoulder. The incident immediately set off a torrent of memes on social media.
Somebody call @StevenSpieIberg#BanSuarez#cannibalpic.twitter.com/XH4eOJrqMY

— THE STUDIO EXEC (@studioexec1) June 24, 2014
Though Uruguay was able to defeat Italy 1-0 and advance onto the next stage of the World Cup, the match is likely to be enshrined in soccer history for Suarez's unexpected chomp.
The Uruguay forward has been banned twice before from European club soccer for biting, though Tuesday's incident seemed to go unnoticed by the game's referee, who evidently did not have a clear line of sight. FIFA will nonetheless be looking into Chiellini's claim, which seemed to be well supported by images of the player's exposed shoulder, and what looked to be clearly defined tooth marks.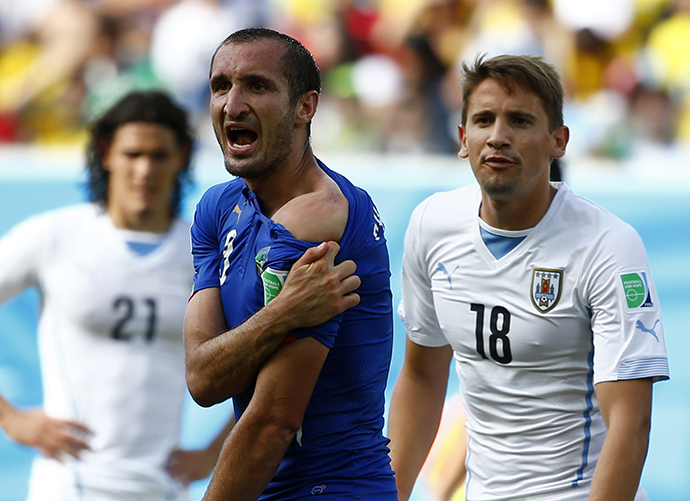 FIFA has launched disciplinary proceedings against Suarez over the alleged incident. "FIFA can confirm that disciplinary proceedings have been opened against the player Luis Suarez of Uruguay," the world soccer body said in a statement.
Online World Cup fans immediately took to social media to lambast Suarez and his penchant for tasting the opposing team.
Twitter bites back against Suarez via @btsportfootballpic.twitter.com/D41f3QhJVm

— Tim Montgomerie (@TimMontgomerie) June 24, 2014
The Walking Suarez pic.twitter.com/pWZX2Ls5hi

— Footy Humour (@FootyHumour) June 24, 2014
The alleged bite took place with 10 minutes left in the match, when Suarez clashed with Italy's Chiellini on the European team's penalty zone. Chiellini angrily pulled down his shirt to prove the incident to the referee.

"It was ridiculous not to send Suarez off," Chiellini told Rai TV. "It is clear-cut and then there was the obvious dive afterwards, because he knew very well that he did something that he shouldn't have done."
Everything seems to be under control. They've caught Suarez leaving the stadium. pic.twitter.com/JAN4fXVGeW

— 2014 World Cup (@TheWorIdCup) June 24, 2014

Italian coach Cesare Prandelli offered his resignation after the team's loss, though he denounced a red card which sent midfielder Claudio Marchisio out of the game in the 59th minute.

"It's ridiculous to be down to 10 men in a game like this," he said. "There weren't any bad fouls or anything that merited a sending off. You can't affect a game like that. The referee ruined the game."

This is not the first World Cup where Suarez has proved to be a controversial player. In 2010, the player did not take part in Uruguay's World Cup semi-final after denying Ghana a match-winning goal with a hand block.
By far, the best gif for all this #Suarez drama!! #ITAvsURUhttp://t.co/5bge3comKv

— ɔɐɯ sıɹɥɔ (@CLVRchris) June 24, 2014
.@Tridentgum is all over it #suarezpic.twitter.com/efD9NHXjQN

— Scott Kerr (@scott_kerr) June 24, 2014

The first case involving Suarez taking a bite out of the competition was in 2010, when he was banned for seven matches while playing for Dutch team Ajax after TV replays showed him biting PSV SV Eindhoven midfielder Otman Bakkal.

In 2013, Suarez was again implicated in a biting incident, this time while playing for Liverpool. The player was banned for 10 matches in the English Premier League after biting the arm of Chelsea defender Branislav Ivanovic. Even that reprimand was seen as insufficient, with British Prime Minister David Cameron commenting that the Uruguayan player had set an "appalling" example.

Beyond the infamous handball incident and three infamous biting incidents, Suarez was further implicated in a racist remark made against French defender Patrice Evra during a Liverpool vs. Manchester United match in 2011. Suarez allegedly called Evra, who is black, a "Negro" or "Negros" seven times during that game, and was handed an eight-match ban and a US$62,000 fine.
Wednesday's Daily Express back page - "Jaws III" #tomorrowspaperstoday#bbcpapers#WorldCup2014pic.twitter.com/R92eqvDdh8

— Nick Sutton (@suttonnick) June 24, 2014
You can share this story on social media: