Brazilian slum team challenges World Cup champs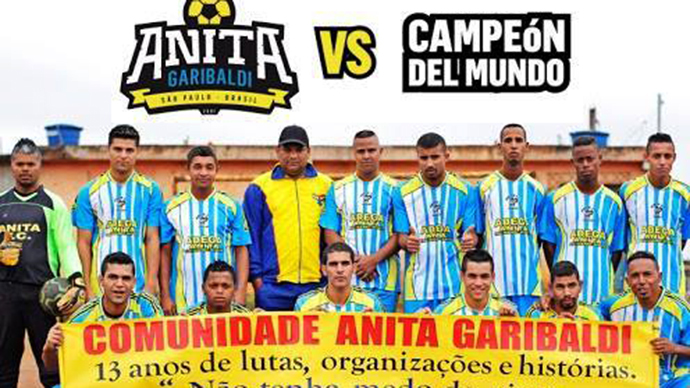 The star team of the world's best footballers – still to be determined at the 2014 Brazil World Cup – has been challenged by a team of the world's poorest to play a match on their home field in the São Paulo slums.
Players from Anita Futbol Club, born and raised in Sao Paulo's Anita Garibaldi favela, want to prove to the world that poverty is no obstacle to achieving success in sports.
Favelas, or slums, omnipresent on the margins of Brazilian urban societies, often get neglected by the authorities and ignored by the world cup fans.
Still youngsters from some 3,000 families that live in the Anita Garibaldi, for the love of the game, flock, often barefoot, to compete against each other on a dirty playground in the late hours of the evening, once the heat dies down.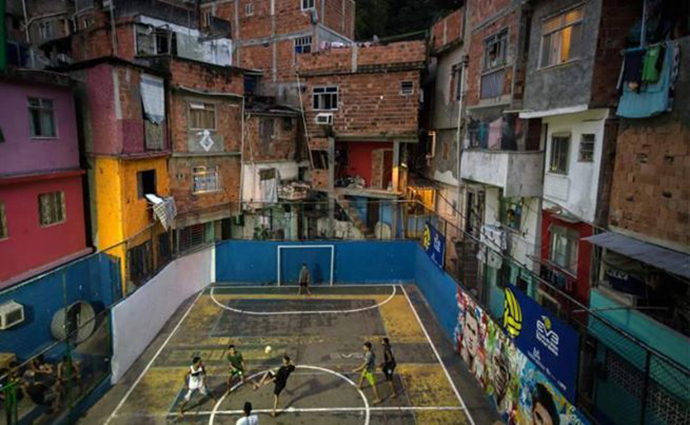 But now, with support from Latin American Techo NGO, the favela located some 10 kilometers away from the Ghuarulios Airport in São Paulo, may become the challenge ground against the world's greatest team. Anita Garibaldi's soccer field, a place where kites are flown, bikes are ridden, is set to become the arena of a legendary match – if the champions accept the challenge.
"We want their reality, and the reality of millions of people living in poverty, to be known by the world," Techo writes in their press release. "In every training session, every game, every time the ball moves, they are confronting much more than a rival, they are confronting their adversities."
The slum's football club has a good chance to win, Techo whose aim is to strive for a "fair and poverty free society," believes, "because they are not playing to be the best, but to be better every time."
Queremos jugar contra el campeón del #Mundial2014 > #Comparte Ingresa a http://t.co/x55SWoB9Zg#DesafioAnitapic.twitter.com/eNEj82VEnl

— TECHO - Uruguay (@TECHOuy) June 17, 2014
"I would like to play Brazil because that way the majority of players would be returning to their roots, the pitches where they learned to play football in this country," says Anita FC's coach Alexandre Romao.
"I've embraced this utopian ideal [of challenging the world champions] as I see the boys believe it is going to happen. And if they believe it, then so do I," says Romao.
¿Sabías que el equipo de una favela desafía al Campeón del Mundo? Conoce más en http://t.co/ivNzvOOgHg#DesafioAnitapic.twitter.com/5xoQtjcBKH

— TECHO Chile, Biobío (@TECHObiobio) June 11, 2014
The daring challenge is awaiting whichever team lifts football's greatest trophy on July 13 in the finals of the World Cup.
The cheeky dare also comes in the footsteps of a year-long protest tied to some $14 billion government spending the Brazilian government allocated to host the tournament.
It all happened after the Black Blocs built barricades, closing a major thoroughfare - São Paulo's Marginal Pinheiros pic.twitter.com/Vc4opk9D5s

— Ben Tavener (@BenTavener) June 19, 2014
A street demonstration in Brazil's biggest city ended in violence on Thursday after a group of anti-government protesters vandalized cars and banks, police responded with tear gas. The march started off peacefully as roughly 1,300 people commemorated the one-year anniversary of successful efforts to prevent a transit fare hike last June, when over a million people took to the streets in over 300 cities, demonstrating against a wide range of social injustices.