China bans baby pandas from predicting 2014 World Cup winners
A group of giant panda cubs will not be oracles of the FIFA World Cup in Brazil despite mass expectations. Banned by Chinese vets for "safety and health" reasons, the baby pandas will be replaced by turtles.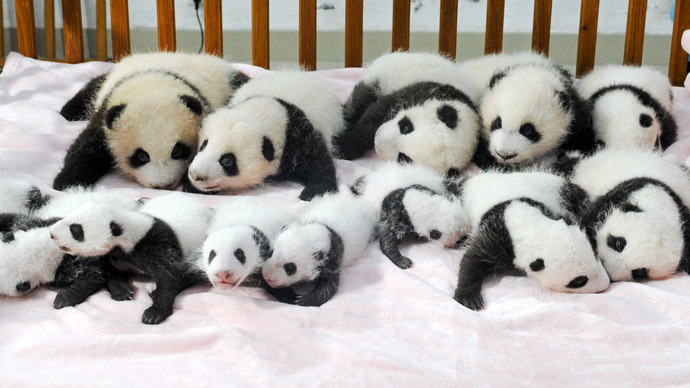 A team of giant panda cubs was supposed to predict winners of the football tournament by choosing specific food, climbing trees with certain flags, and racing. However, Chinese authorities have spoiled the plan. There are fears that panda pundits would be harmed by "human overexposure," according to Xinhua news.
The China Conservation and Research Center for Giant Pandas told The Wall Street Journal that the "safety and health of pandas" are the main priority.
"The safety and health of pandas is most important. We won't sacrifice it," the center's spokesman said.
Chinese fans were quick to find a replacement upon hearing the news. Now the right to predict winners of the 2014 World Cup has been given to pet turtles, Xinhua reported. Football fans have been posting pictures of their turtles picking papers with names since Sunday.
However, fans may not want to place bets on the turtles' predictions – so far they have wrongly predicted England, Japan, and Spain as winners.
But the turtles aren't the only predictors to make headlines. So far, Britain's Pele the Piranha, Dubai's Shaheen the Camel, Germany's Nelly the Elephant, and a Swiss guinea pig have all had moments in the spotlight.
It was Paul the Octopus from Germany who charmed football fans worldwide and became a global celebrity after accurately predicting the outcome of all Germany's matches in South Africa – as well as the Spanish victory in the final against the Netherlands – during the 2010 World Cup. Paul died in 2010.
You can share this story on social media: