'Our humiliation category is full': Pornhub calls to stop uploading Brazil vs Germany highlights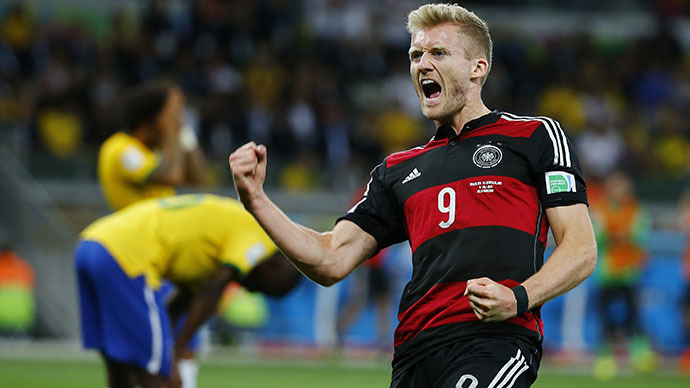 Germany's crushing 7-1 victory over Brazil in the World Cup semifinals was so brutal that it even made a debut in the 'public humiliation' section of the adult website Pornhub.
In the wake of a tsunami of internet memes about the crushing defeat of the World Cup favorites, one submission was apparently uploaded to Pornhub under the title "Young Brazilians get f**ked by entire German soccer team."
The website jokingly urged its users to stop uploading game highlights, as its "public humiliation category is full."
Please stop uploading the game highlights to Pornhub... Our public humiliation category is full. #BrazilvsGermany

— Pornhub Katie (@Pornhub) 8 июля 2014
A screenshot of the submission went viral, prompting curiosity from many. "Is this under 'gangbang' or 'amateurs?'" one commenter asked. "I thought Pornhub didn't allow rape," others quipped.
At the time of publication, the video had been removed. While news of the stunt was likely encouraged by the site for publicity, the screenshot remains proof that it really did happen.
Germany's 7-1 defeat of Brazil on its home turf at Belo Horizonte Stadium was arguably one of the most embarrassing semifinal matches to date – if not the most embarrassing World Cup loss ever.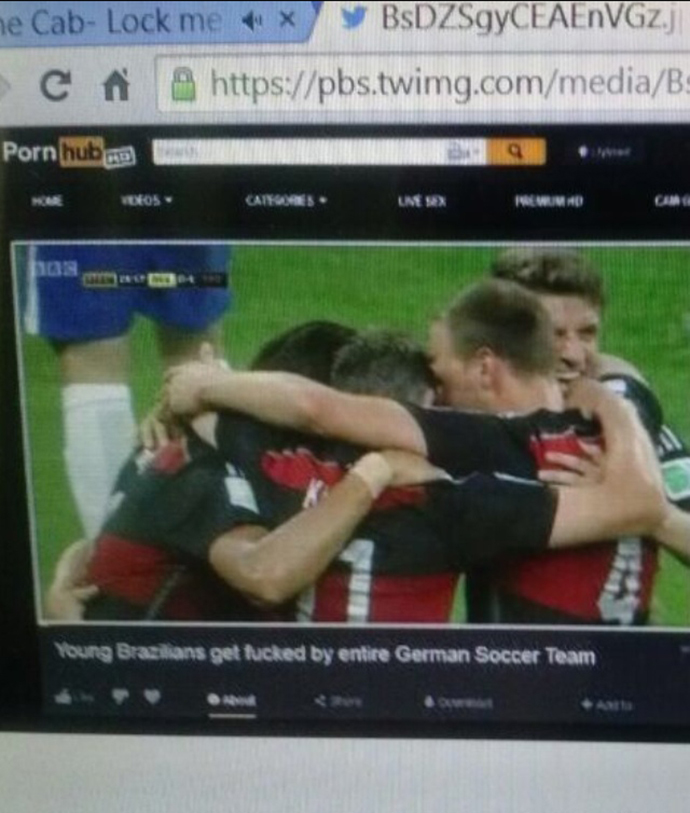 Further viral images swept the internet on Wednesday, predominantly of devastated Brazilian fans emitting fraught screams and tears as they watched the
"public humiliation."
One or two labeled the defeat a beautiful tribute to Neymar, who couldn't play on account of his injury – so
"neither did they."
Some Brazil fans laid the blame on Mick Jagger, who was spotted mingling with a cluster of Brazil supporters in the stands.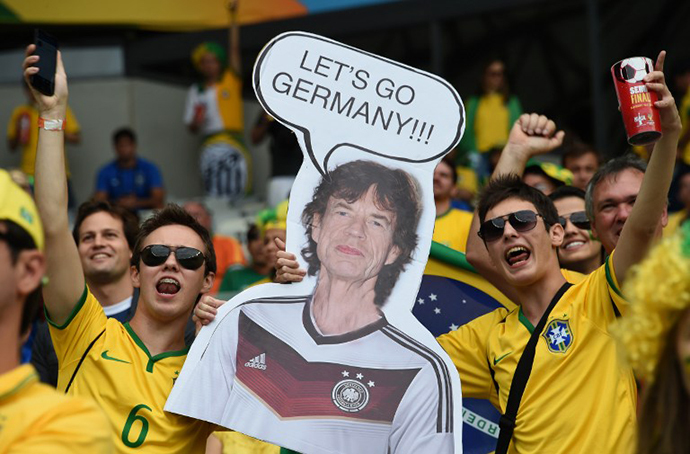 Jagger has been nicknamed
"pé frio,"
which means
"cold foot"
in Portuguese; every team he's visibly supported in the tournament has been doomed to lose.
Fans attempted to ward off the Jagger jinx by waving a cardboard cutout of him garbed in German colors, with a speech bubble stating
"Let's Go, Germany!"
– apparently to painfully little effect.
You can share this story on social media: