Soccer offense: World Cup matches dominate over NHL hockey finals on TV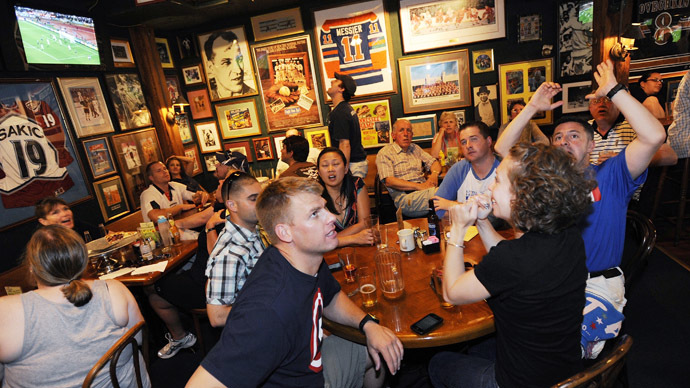 ​Viewership results suggest that soccer is making a real splash in the United States. New numbers reveal that Americans are watching this year's World Cup matches to a degree that's previously unseen in the US.
Monday's game between the US and Ghana was watched by 15.9 million viewers, the Wall Street Journal reported this week, setting World Cup viewership records for the two networks that hosted the event — ESPN and Univision — and dwarfing the competition.
Compared with other major sporting events this month, Monday's match-up dominated the airwaves. The nearly 16 million viewers who watched the US beat Ghana by a 2-1 score is significantly more than the 6 million Americans who tuned in three days earlier to watch the National Hockey League's Stanley Cup finals between Los Angeles and New York.
Even Sunday's National Basketball Association championship between San Antonio and Miami barely beat out the following day's figures. Keach Hagey wrote for the Journal that statistics provided by Nielsen indicate that only around one million more people watched the NBA finals than the next day's soccer match-up, suggesting Americans may for once be tuning in to catch a sport that regularly is sparred major coverage on US television networks.
"Americans are increasingly developing a taste for the 'beautiful game,' at least when their own team is playing," Hagey wrote. Other evidence, however, suggests that Americans are watching in previously unseen numbers, regardless of if Team USA is on the field: ESPN found that the first 11 games of this year's tournament — including none featuring any American soccer stars — experienced a surge in viewership of 2 percent compared to the 2010 event.
Indeed, a Washington Times survey from earlier this year found that around one-third of Americans said they planned to watch at least a portion of this year's major soccer tournament. Should follow-up matches garner the same numbers than Monday's game, then other televised sports may soon find themselves replaced.
"It's just great," Jürgen Klinsmann, the coach of the American team, told The Telegraph on Wednesday this week. "You see the media attention growing, with MLS growing, the internet and television – I don't know how many soccer channels we have in the US, five, six, seven? Big names coming from overseas."
"Every little thing is debated or discussed.That shows you where soccer is now in the United States, and I love that. There are millions of head coaches out there, and they would all have 23 different players," he added.
Brian Steinberg, a senior TV writer for Variety, wrote that the surge in viewership isn't that unexpected this season given the increase in support that has occurred stateside in recent years. Since the last World Cup in 2010, for example, Steinberg said Americans over the age of 18 who have watched, attended or listened to a major soccer match increased by nearly one-third.