Deadly count: US averages 20 mass shootings every year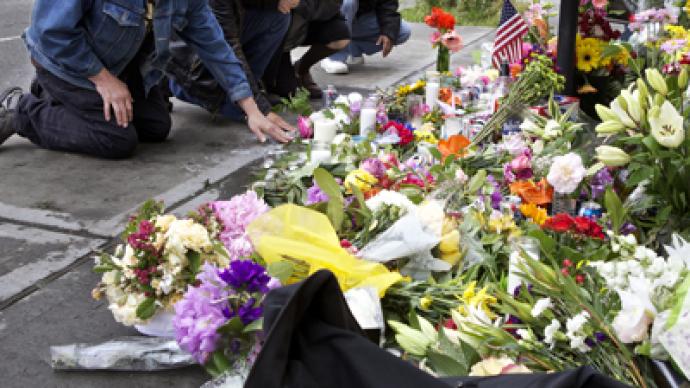 All of the US has turned to Aurora, Colorado after a Friday morning shooting left more than a dozen movie-goers dead. But while the latest massacre has scarred millions of Americans, it's also just another item added to a list of gruesome sprees.
According to an ongoing tally kept by the Brady Campaign to Prevent Gun Violence, the United States is experiencing an average of around 20 mass shootings each year. While Friday morning's incident inside of a Aurora movie theater has perhaps the unfortunate distinction of being the most violent in recent memory — taking no fewer than 12 lives and injuring around 50 more — it is only yet only one example out of many that has marred society this year.The Aurora massacre is believed to be one of the worst incident on American soil since a rampage at Virginia Tech in 2007 left 32 people dead. The Fort Hood, Texas massacre two years later also ended with massive bloodshed, as well, with 13 people losing their lives in that event.Since 2005, however, the Brady Campaign says that these events are occurring, at least on some scale, in remarkable numbers.According to the campaign, who brands itself with the slogan "sensible gun laws save lives," the Aurora incident is already the sixth mass shooting in the month of July alone. Only three days earlier, 17 people were injured in Tuscaloosa, Alabama after a gunman opened fire in a downtown bar. One week prior, three people were killed and two were injured after another rampage erupted during a Dover, Delaware soccer tournament.In Chicago, Illinois, where the homicide rate for June 2012 was 50 percent higher than just a year earlier, three separate outbursts in only the last 20 days have left four people dead and at least another 13 seriously hurt. So far in 2012, more people have been killed in the metropolitan Midwest city than the number of US servicemen in Afghanistan.Earlier this month, two suspects fired at least 61 bullets in an outburst in Queens, NY that, while yielded no fatalities, left several people injured — including children. At the time, the Wall Street Journal reported that the NYPD recorded 730 shooting incidents this year alone, showing a 12 percent increase from the same time in 2011. "Children are becoming victims more and more in these communities," Rev. Taharka Robinson, founder of the Brooklyn Anti-Violence Coalition, told the Huffington Post after the NYC mass shooting weeks ago. "If you can have an individual spray bullets where children are playing nearby, there's something wrong. We need to get to the root of the problem."It's been a sentiment echoed countless times in recent years, especially after the 1999 Columbine, Colorado massacre reintroduced mass shootings as a mainstream issue. Despite continuing pleas, though, the Brady Campaign's statistics seem to suggest that little is being done to curb the crime.According to Brady, the number of homicides in America that occurred in 2012 as a result of mass shootings totaled 50, even before Friday's massacre in Colorado.
You can share this story on social media: