Please, STOP the music: Rihanna wants her songs banished from Trump's 'tragic' rallies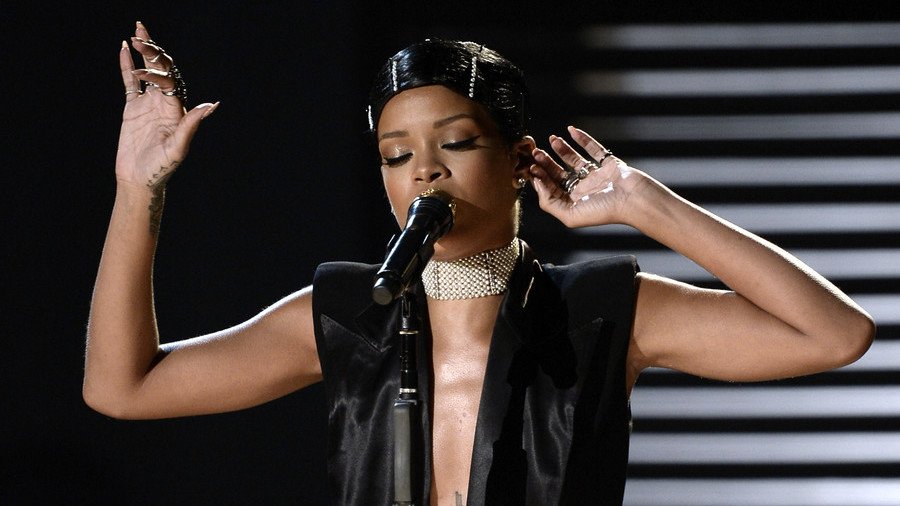 Pop megastar Rihanna doesn't want President Trump using her music to pump up the crowd at his rallies anymore, becoming the latest in a series of pop stars to try deny the president their music.
Before Trump took to the stage in Chattanooga, Tennessee, on Sunday, Rihanna's 'Please Don't Stop the Music' pumped out over the McKenzie Arena's sound system. Campaign staff threw t-shirts into the crowd, who had packed the 11,000 seater arena to capacity.
Rihanna herself was none too pleased to learn about Trump's choice of tunes. The Barbadian singer replied to a tweet by the Washington Post's Philip Rucker, saying her music wouldn't be heard at the president's "tragic" rallies "for much longer."
Rihanna's tweet comes after she endorsed progressive candidate Andrew Gillum in Florida's gubernatorial race. The singer and beauty entrepreneur has also dabbled in 'woke' politics before, donning a t-shirt featuring Hillary Clinton's face before the 2016 election, and joining the anti-Trump Women's March in New York the day after his inauguration.
While almost universally despised by the entertainment industry, Trump uses a diverse collection of crowd-pleasing hits at his rallies, often to the artists' chagrin. Last week, Pharrell WIlliams issued Trump a cease and desist letter after his infectious hit 'Happy' reverberated through a rally in Indiana - hours after a gunman massacred 11 worshippers at a Pittsburgh synagogue.
"There was nothing 'happy' about the tragedy inflicted upon our country on Saturday and no permission was granted for your use of this song for this purpose," read the rapper-turned pop star's snarky legal letter.
Rihanna and Pharrell join a long list of stars grumbling about Trump's use of their music. Adele, Neil Young, Aerosmith and Guns 'n' Roses frontman Axl Rose have all tried to prevent the president from playing their hits.
Unfortunately, most of these attempts have failed. Despite the artist's wishes, permission to play these songs at public events is granted by their copyright holders, rather than the artists themselves. Venues are granted permission by one of two organizations - The American Society of Composers, Authors and Publishers (ASCAP) and Broadcast Music, Inc. (BMI). While these organizations occasionally allow artists to opt out, the venues generally enjoy blanket rights to play whatever they want.
Since his campaign days, Trump has closed his rallies with the Rolling Stones' 'You Can't Always Get What You Want' and there's nothing the Stones can do about it.
"So, the thing is," frontman Mick Jagger explained, "when you appear in America...if you're in a public place like Madison Square Garden or a theater, you can play any music you want, and you can't be stopped."
While musicians often get salty about their least favorite president co-opting their most-loved hits, Trump himself has lashed out when musicians comment on his politics. When Taylor Swift – until recently a famously apolitical, all-American icon – declared last month that she would be supporting Democrats in her home state of Tennessee, Trump fired back.
READ MORE: When Taylor, Kanye and the Celeberati get political, brain cells suffer
"Let's say that I like Taylor's music about 25 percent less now, OK?" he told reporters, evidently wounded by Swift's dive into the murky pond of identity politics.
As for Rihanna, unless Trump decides to voluntarily stop playing her music, and unless she decides to fight a long and costly legal battle, the singer would do well to heed the famous words of Mick Jagger: You can't always get what you want.
Think your friends would be interested? Share this story!
You can share this story on social media: