CIA director Gina Haspel is in Turkey to talk Khashoggi murder… but why?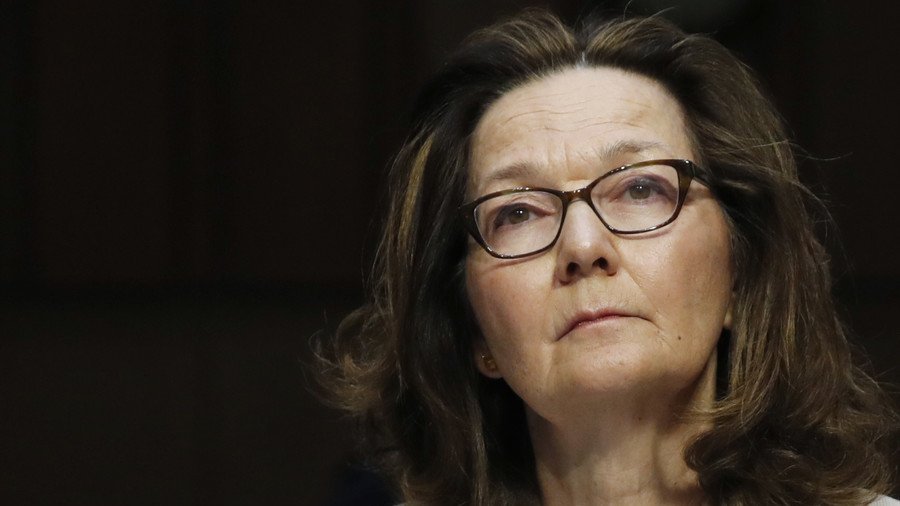 CIA Director Gina Haspel traveled to Turkey on Monday to assess and help with the investigation into the death of Saudi journalist Jamal Khashoggi — but the timing and possible motives of the visit are raising some eyebrows.
With Turkish President Recep Tayyip Erdogan threatening to reveal the full "naked truth" about what happened to Khashoggi, Haspel touched down in Ankara on Monday. Why? A sign of panic from the Trump administration? A damage control mission as Erdogan prepares to reveal politically inconvenient information?
After initially denying any knowledge of what happened to Khashoggi, Riyadh eventually admitted that the journalist had been killed inside its Istanbul consulate, but said that the death was accidental and happened after a "fist fight" broke out between the journalist and some rogue operatives acting in an "unsanctioned" manner.
Turkey, however, claims that Khashoggi's death was planned and brutal. Erdogan has said the journalist was killed in a "extremely savage" attack and called for suspects to be tried in Istanbul. What's more, Ankara claims to have sufficient evidence to prove its version of events and has called on Riyadh to provide answers.
Washington, on the other hand, has been more circumspect about the Khashoggi case, with the Trump administration swaying back and forth between chastising and complimenting Riyadh. Overall, however, Trump has given the impression that he is eager to find a way to defuse the whole situation — even admitting that it would not be acceptable for the US to lose "massive amounts" of Saudi money over the death of a journalist who was not a US citizen, prompting accusations that he was part of a financially motivated cover-up with Riyadh. Those accusations grew louder when Trump said he found Saudi explanations credible and touted the country as a "great ally".
Gina Haspel flew into Ankara overnight - a sign of panic from Trump admin that MbS, who is the keystone of Trump's Middle East policy, is about to be implicated. Has she been able to talk Erdogan down? https://t.co/V5YrDpEn5e

— Bethan McKernan (@mck_beth) October 23, 2018
On the face of it, Trump has sent Haspel to get to the bottom of what happened to Khashoggi; perhaps to look into whether Ankara really has the video and audio evidence some officials have claimed to have seen in leaks to media. But it's hard to escape the irony that Haspel is well known for her role in destroying video evidence of CIA torture in 2005 — one of the hurdles she faced in Senate confirmation hearings earlier this year.
Haspel herself was also reportedly an active participant in torture of detainees earlier in her CIA career, even earning herself the nickname "Bloody Gina" from some less torture-happy colleagues.
CIA Director Gina Haspel is in Ankara urgently trying to blackmail Erdogan into withholding evidence on MBS. Never forget Haspel was personally implicated in CIA programme of mass torture and killing which, where I came across it in Uzbekistan, was as bad as done to Khashoggi.

— Craig Murray (@CraigMurrayOrg) October 23, 2018
So… The US is sending a known torturer, CIA Director Gina Haspel… …to help the world's top jailer of journalists, Turkey… …investigate the grisly murder of a journalist by one of the most repressive regimes in the world, Saudi Arabia.https://t.co/IbpHP7MmvHpic.twitter.com/2LrGUSskB5

— Andrew Stroehlein (@astroehlein) October 23, 2018
Smart move sending Haspel. She knows all about how to get rid of politically inconvenient tapes of people getting tortured. https://t.co/YVlFMOlKXw

— Murtaza Mohammad Hussain (@MazMHussain) October 23, 2018
Well, CIA Director Gina Haspel does know her way around a bone saw.

— Eugene Gu, MD (@eugenegu) October 22, 2018
In order to investigate the Saudi government's torture and murder of Jamal Khashoggi, Donald Trump is sending CIA Director Gina Haspel - who has a history of being involved in torture. Congrats, Trump, you've found a way to make this even worse.

— Palmer Report (@PalmerReport) October 22, 2018
Could Haspel's impromptu trip to Ankara be part of this effort to defuse the situation rather than to really get to the bottom of what happened inside the consulate walls? Could she be there in an effort to convince Erdogan to keep secret information which may implicate Saudi Crown Prince Mohammad bin Salman, who critics believe must have ordered Khashoggi's murder — and who the US would prefer to keep as a "great ally" in the region?
As for Erdogan, some believe he is more than open to withholding crucial information about those responsible for Khashoggi's death if the US or Saudi Arabia presented him with some kind of attractive deal or proposal. Others believe he may want to use whatever evidence he claims to have to weaken the Saudi crown prince, which could be to Ankara's benefit in the region. During the Tuesday speech in which he promised to reveal the "naked truth" about the killing, Erdogan did not make mention of, or implicate, Mohammad bin Salman.
I cannot confirm this but i am told that #Saudi clansman Khalid AlFaisal, governor of Makkah region is in #Turkey to make a face-saving deal with @RT_Erdogan on #JamalKhashoogi .Reporters in #Turkey please get to the bottom of this. Alfaisal was a patron of Khashoggi

— Ali AlAhmed (@AliAlAhmed_en) October 13, 2018
So far Erdogan's speech is falling well short of his promise to reveal all the 'naked details' of Khashoggi's murder. He's keeping the door open for some sort of deal it seems

— Timothy E Kaldas (@tekaldas) October 23, 2018
President Erdogan has started speaking. The question is: How much will he reveal on what Ankara knows on #Khashoggi murder? Will he tell it all as he said he would or will he step back in order not to antagonize Saudis and probably secure some deal in return? https://t.co/bM2H0T93qu

— Selin Girit (@selingirit) October 23, 2018
So is Erdogan still negotiating with the Saudis? Alternatively, did they already make a deal? Why would they sit on the evidence of a body if they have it at this point?

— John Hudson (@John_Hudson) October 23, 2018
Trump has touted the "tremendously talented" intelligence figures Washington has sent to Ankara and said he will have more information on the investigation "very soon". Indeed, very soon we may know more about whether Haspel and her colleagues are tremendously talented at getting to the bottom of crimes or helping cover them up.
Subscribe to RT newsletter to get stories the mainstream media won't tell you.
You can share this story on social media: