US 'disinvites' China from Pacific Rim 2018 naval exercises over 'militarization'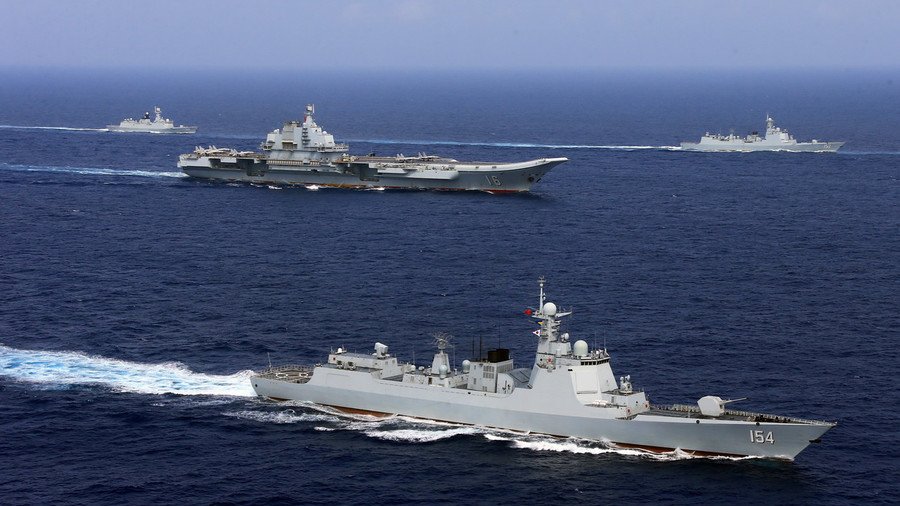 The US has revoked the Chinese navy's invitation to participate in the RIMPAC 2018 naval drills, citing Beijing's militarization of disputed islands in the South China Sea. The two countries vie for influence in the region.
"As an initial response to China's continued militarization of the South China Sea we have disinvited the PLA Navy from the 2018 Rim of the Pacific (RIMPAC) Exercise," US Department of Defense spokesman Marine Lieutenant-Colonel Christopher Logan said in a statement on Wednesday.
At issue is the Chinese People's Liberation Army Navy presence in the Spratly Islands, an archipelago also claimed by the Philippines, Vietnam, Malaysia and Brunei.
"We have strong evidence that China has deployed anti-ship missiles, surface-to-air missile (SAM) systems, and electronic jammers to contested features in the Spratly Islands region of the South China Sea," Logan said. "We have called on China to remove the military systems immediately and to reverse course on the militarization of disputed South China Sea features."

Washington and Beijing have repeatedly clashed over the status of the islands, with the US Navy periodically sailing through the disputed area in "freedom of navigation operations" (FONOP) and China responding with protest notes and an increased military build-up. The latest FONOP took place in March, when the guided-missile destroyer USS Mustin sailed past Mischief Reef.
Despite the ongoing tensions, Chinese vessels were invited to take part in the 2016 and 2014 RIMPAC drills. There is a precedent for revoking someone's invitation, however: Russia was disinvited from the 2016 drills after the US accused Moscow of "aggression" in Ukraine.
Revoking Beijing's invitation fits into the current hard line adopted by both Democrats and Republicans, who regard the military and economic rise of China as the pre-eminent challenge to global US hegemony.
Of particular concern to Washington is the Chinese naval expansion. Long-derided by US naval experts as a "brown-water navy" limited to rivers and coastal areas, the PLAN has demonstrated blue-water capabilities in recent years, and has just conducted drills with its first aircraft carrier, the Liaoning.
More than 25,000 sailors and marines from 29 countries are supposed to participate in this year's RIMPAC exercises, whose theme is "Capable adaptive partners." The exercises will involve 50 surface ships, five submarines, over 200 aircraft, and land forces from 17 countries. Brazil, Israel, Sri Lanka and Vietnam are taking part for the first time.
The first RIMPAC was held in 1971 as a joint exercise between the US, Australia and Canada. It was held annually until 1974, when it became a biannual affair due to its sheer size. RIMPAC 2018 is the 26th such exercise.
Think your friends would be interested? Share this story!
You can share this story on social media: