'Serious harm to sovereignty': Beijing angry after US destroyer sails near disputed islands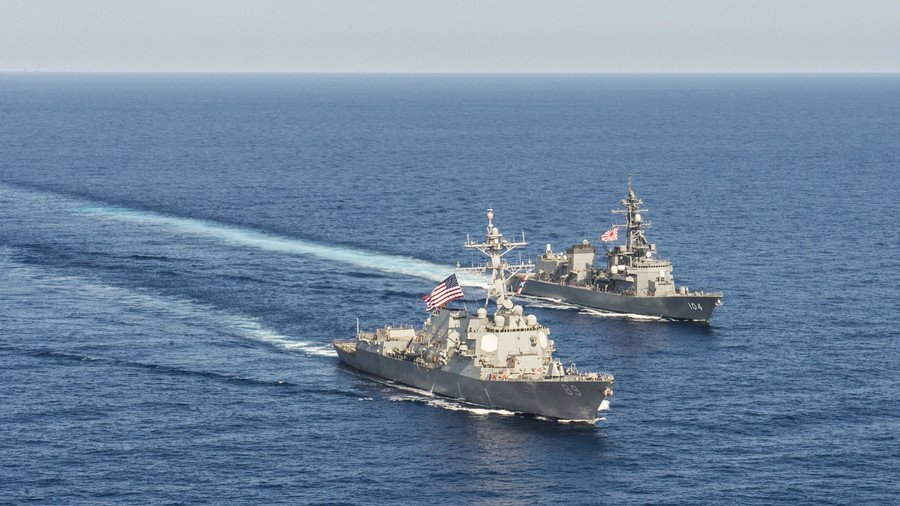 The passage of a US Navy destroyer near the Chinese-claimed islands in the South China Sea was a major political and military provocation against Beijing, the Chinese Defense Ministry has warned.
The USS Mustin came within 12 nautical miles of Mischief Reef in the Spratly Islands archipelago, known as Nansha Islands in China, Reuters reported Friday, citing unnamed officials.
The Chinese Defense Ministry was quick to confirm the report, coming up with a fiery rebuff of Washington's behavior in the region. The Chinese Navy vessels Huangshan and Zhenjiang "took immediate action… to warn off and dispel" the US warship, Ren Guoqiang, the ministry's spokesman, said in a statement.
By sending USS Mustin to the Spratly Islands, Washington carried out "serious political and military provocation against China", which the Chinese military is "firmly opposed to," he said.
"By repeatedly sending vessels into those areas without authorization, the US has seriously harmed Chinese sovereignty and security, violated basic rules of international relations and harmed regional peace and stability," Beijing said, stressing its "indisputable sovereignty over the islands and their surrounding waters."
According to the ministry's spokesman, the US move has also "damaged the atmosphere of military-to-military relations between the two countries." He warned that close encounters between warships and aircraft of the two countries could "trigger miscalculation or even accidents at sea or in air."
Beijing has been building artificial islands and deploying military infrastructure in the Spratly and Paracel islands in order to strengthen its claims. Vietnam, the Philippines, Indonesia, Malaysia, and Brunei also have conflicting territorial claims and aspirations in the region.
Despite Washington having no territorial aspirations in the resource-rich South China Sea, the US Navy conducts frequent 'Freedom of Navigation' operations in the area, as Washington opposes Chinese claims and its increased influence in the region. American muscle-flexing also includes joint drills with Japan and South Korea, all amid the tensions over North Korea's nuclear program.
READ MORE: 'Sovereignty & security violation': Beijing outraged by US warship sailing off disputed island
In January, the USS Hopper missile destroyer sailed within 12 nautical miles of the Chinese island of Huangyan Dao, with Beijing also blaming Washington then of violating "sovereignty and security interests" as well as posing a "grave threat" to its forces stationed in the area.
On Friday, the Chinese Defense Ministry announced that the country's Navy is soon going to stage combat drills in the South China Sea. The exercise will "test and improve the troops' training level and comprehensively enhance the capability to win," the ministry said, adding that the wargames are not aimed at any specific country or target.
Like this story? Share it with a friend!
You can share this story on social media: