What tensions? Chinese ships join US Navy in massive Pacific exercise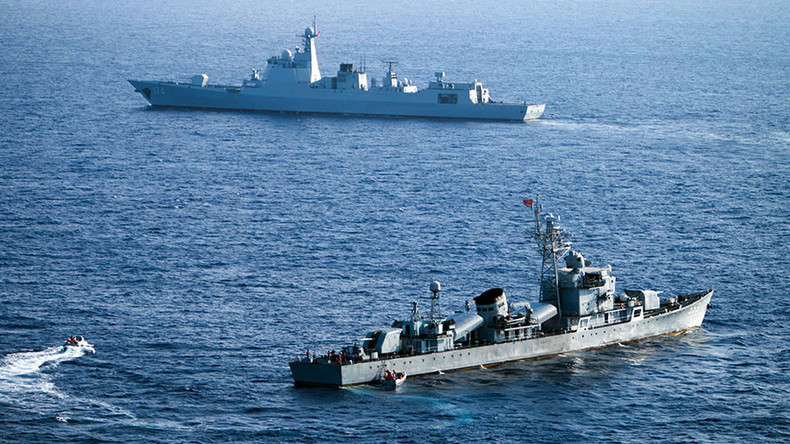 Despite the tensions between the US and China over islands in the South China Sea, a five-ship Chinese flotilla will take part in RIMPAC 2016, international naval exercises featuring 45 ships, 200 aircraft and 25,000 personnel from 27 countries.
Five ships of the People's Liberation Army Navy (PLAN) linked up with the carrier strike group (CSG) led by the USS John C. Stennis (CVN-74) near Guam last week, and set sail for Pearl Harbor, a US Navy official confirmed to the US Naval Institute on Monday.
On the list of ships provided by the US Third Fleet are the Type 052C guided missile destroyer Xi'an (153), guided missile frigates Hengshui and Gaoyouhui, the hospital ship Peace Ark and the submarine logistics vessel Changxingdao, the USNI reported.
Stennis and her escorts – one Ticonderoga-class guided missile cruiser and several Arleigh Burke-class guided missile destroyers – have been operating in the South China Sea since April.
PLAN's involvement in RIMPAC was announced by US Defense Secretary Ash Carter himself earlier this month at the Shangri-La Dialogue in Singapore.
"Our two militaries can all also work together, bilaterally or as part of the principled security network, to meet a number of challenges – like terrorism and piracy – in the Asia-Pacific and around the world," Carter said in a speech on June 4, announcing the Chinese participation in RIMPAC 2016.
This is not the first time Chinese ships have drilled alongside US Navy vessels. Last November, a US destroyer docked in Shanghai for exercises with her Chinese hosts, while three Chinese ships visited Florida to practice rescue missions on the high seas with several US destroyers. Beijing also sent five ships to RIMPAC 2014, along with a Dongdiao-class intelligence ship that monitored the exercise.
One such intelligence ship shadowed the Stennis earlier this month, as the US carrier strike group conducted maneuvers with Indian and Japanese ships in Malabar 2016 exercises off the Japanese island of Okinawa.
Washington has accused China of "acting aggressively" in the South China Sea, after Beijing reclaimed several atolls and built up military installations in the group of islands disputed between China, Japan, Malaysia, Brunei, Vietnam and the Philippines. The US has sent several ships into the archipelago over the past year, arguing it was enforcing freedom of navigation in international waters but drawing protests from Beijing.
This year's RIMPAC, scheduled to begin on June 30 and end August 4, will feature 27 nations, 45 ships, five submarines, over 200 aircraft and 25,000 personnel, according to the US Navy. The massive fleet maneuvers will take place in waters between Hawaii and Southern California.