Watch Russian nuclear sub fire barrage of 4 ballistic missiles in stunning HD (VIDEO)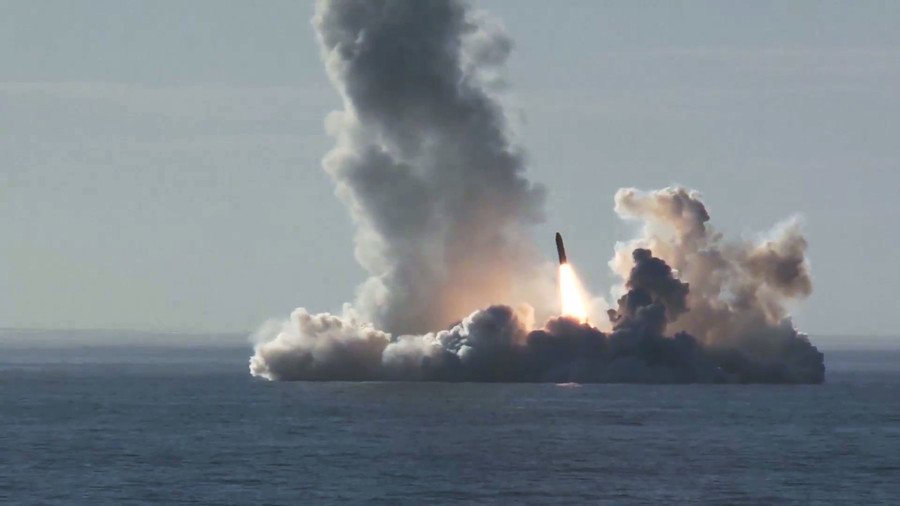 The Russian Defense Ministry has released footage of a Borei-class submarine firing a barrage of four Bulava missiles – the first such test for this type of submarine. The test was conducted on Tuesday in the White Sea.
The video published on Wednesday shows some pre-launch activities on board the Yuriy Dolgorukiy, the lead of the project. Then the submarine is shown firing four Bulava missiles at a test range in Kamchatka in quick succession.
Previous tests of the weapon were conducted solo or in barrages of two on two occasions. Firing missiles in a barrage is more challenging for the crew and ship, but reduces the time the submarine stays close to the surface exposed to detection and possible attack.
Russia currently has three Borei-class nuclear submarines in active service and a fourth upgraded ship – the Knyaz Vladimir, undergoing trial. Four more are being built. Each can carry 16 Bulava SLBMs, which have a reported range of up to 11,000km and can carry up to six nuclear warheads.
If you like this story, share it with a friend!
You can share this story on social media: