Giant Macron effigy with bullet hole in head burned at Paris protest (VIDEO)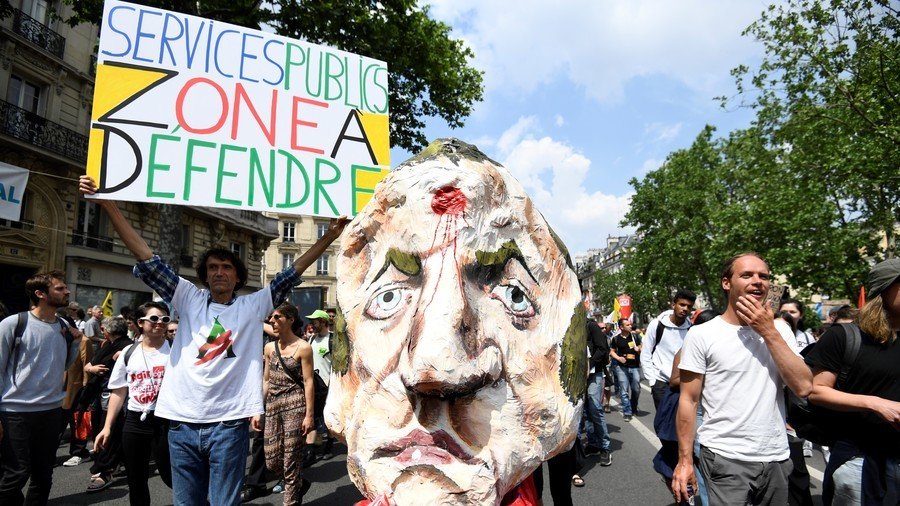 An XXL effigy of Emmanuel Macron with a bullet hole between his eyes was burned at a protest against the president's social reforms in Paris. The rally turned violent with demonstrators clashing with police.
A giant effigy of the French leader was apparently spotted at Place de la Nation, the usual place for all sorts of rallies in the capital. 'Macron' had a bullet hole right between his eyes, with blood flowing from it. Demonstrators were then seen burning the effigy.
Scuffles broke out in Paris on Tuesday during trade union rallies. Protesters hurled projectiles at police and broke shop windows, while officers responded with tear gas and water cannons in an attempt to disperse the crowd. According to reports in French media, over 16,000 people took part in the protests.
RT footage from the scene shows police beating people with batons and detaining masked protesters. The demonstrators are seen fleeing from police through thick plumes of smoke. One of the protesters was filmed sitting on the pavement with his head bloodied, apparently following a scuffle. A police officer was seen moving to him to provide medical aid.
Think your friends would be interested? Share this story!
You can share this story on social media: