'Get ISIS and go home': Trump bucks Pentagon & State Dept. on ultimate US goal in Syria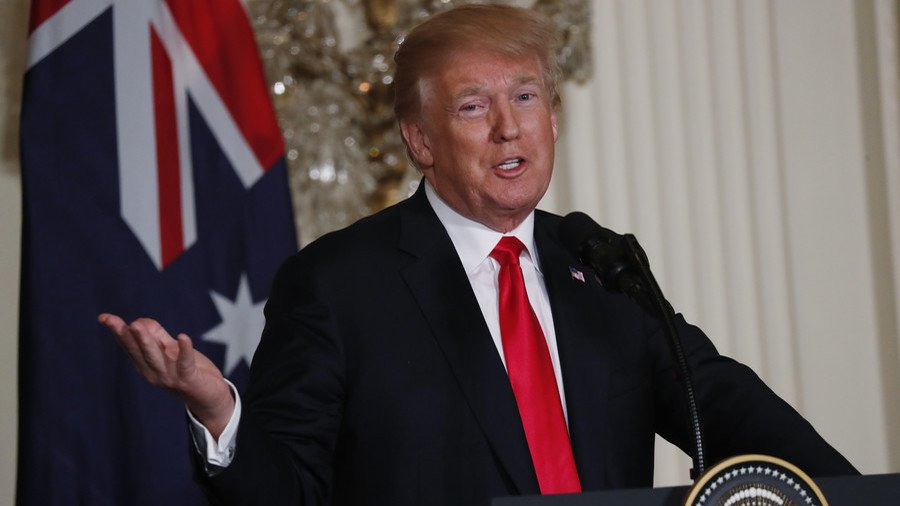 President Donald Trump appeared to dash the hopes of interventionists and contradict his own administration officials, by declaring that US troops' mission in Syria is limited to defeating ISIS and doesn't include regime change.
"We're there for one reason: to get ISIS and get rid of ISIS, and to go home," Trump said on Friday, during a joint press conference with Australian Prime Minister Malcolm Turnbull at the White House. "We're not there for any other reason and we've largely accomplished our goal."
While Trump did not hesitate to call the Syrian government "a humanitarian disgrace," criticizing Russia and Iran for their involvement, his comments implied the US military also had no business in Syria beyond the 'ultimate' goal of defeating Islamic State (IS, formerly ISIS/ISIL).
"Ultimately, there has to be a political settlement," said Turnbull, noting that Australian troops in the region have been focused on training the Iraqi military and not so much on Syria.
The two leaders were answering a question from a US reporter who wondered what they intended to do about the East Ghouta crisis. The suburb of Damascus is held by Al-Qaeda-affiliated militants and has seen heavy fighting over the past two weeks.
Trump's position might be news to his Cabinet officials, however. US envoy to the UN, Nikki Haley, who has been an outspoken advocate of regime change in Syria, is currently championing a Security Council resolution proposing an emergency ceasefire in the area, following the militants' claims of civilian casualties and atrocities uncritically echoed in Western media.
The resolution's objective was to blame the Syrian government for the escalation of violence in order to, yet again, promote regime change, Russian Foreign Minister Sergey Lavrov said at a news conference in Serbia on Thursday. Lavrov added that the militants in Ghouta belong to Hayat Tahrir al-Sham, an affiliate of Al-Qaeda and a terrorist group that is not covered by the ceasefire overseen by Russia, Iran and Turkey.
Last month, Secretary of State Rex Tillerson outlined defeating IS ‒ and Al-Qaeda ‒ as only one of the five goals the US was pursuing in Syria. The others? Curbing Iranian influence and eliminating weapons of mass destruction, ending the civil war and creating conditions for safe return of refugees, as well as ensuring a peaceful transfer to a "post-Assad leadership."
In Tillerson's vision, the majority of Syrian people will peacefully vote out President Bashar Assad in a free election. The Obama administration and its allies had repeatedly insisted that "Assad must go," which the Trump administration has alternately agreed and disagreed with.
In December, a Pentagon spokesman acknowledged the presence of almost 1,800 US troops in Syria, and said they will remain there for "as long as we need to."
Unlike the Russian forces, who are in Syria on the invitation of the country's officially recognized government, the US forces are operating without any kind of mandate under international law. Some lawmakers have even questioned their continued presence under US law, as the Trump administration continues to rely on authorizations from 2001 and 2002 to use military force (AUMF), passed by Congress to allow President George W. Bush to invade Afghanistan and Iraq in the name of fighting terrorism.
Think your friends would be interested? Share this story!
You can share this story on social media: