Pentagon to keep forces in Syria 'as long as we need' – spokesman
Published time: 5 Dec, 2017 20:58
Edited time: 6 Dec, 2017 07:34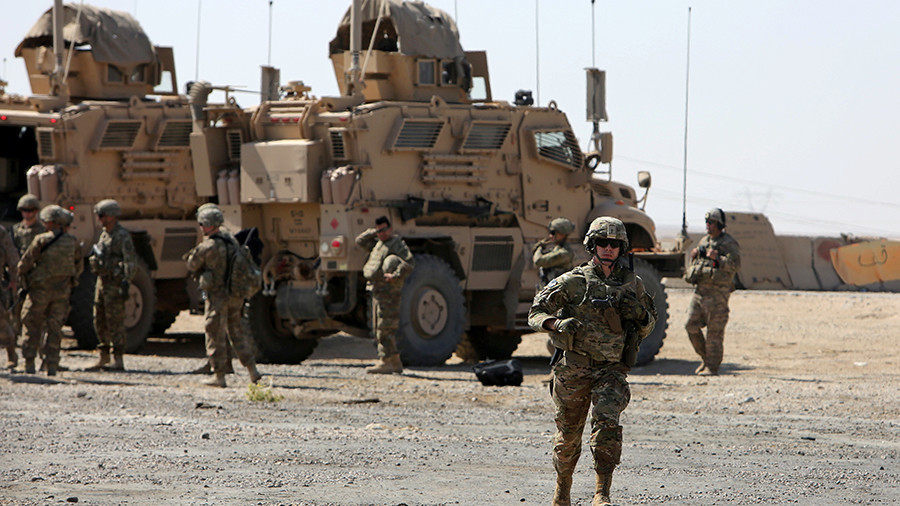 US forces will stay in Syria indefinitely, a Pentagon spokesman has said. There is no legal justification for the US presence in the county which has endured a deadly six-year conflict and partial occupation by Islamic State.
"We are going to maintain our commitment on the ground as long as we need to, to support our partners and prevent the return of terrorist groups," Eric Pahon said Tuesday.
The Pentagon admitted last week that it has 1,720 troops in Syria, more than three times as many as it had previously acknowledged.
The US has maintained its military presence in Syria under the pretext of fighting Islamic State (IS, formerly ISIS/ISIL). Washington has also armed and funded various proxy groups under the banners of the Free Syrian Army (FSA) and the Kurdish-dominated Syrian Democratic Forces (SDF).
The US has cited the 2001 Authorization for Use of Military Force against Al-Qaeda and other terrorists as legal justification for its presence in Syria. The Syrian government, however, has rejected this claim, and insists US forces are operating on its territory illegally.
"We will knock on every diplomatic door, because [the] American military presence in Syria is illegal," Syrian Foreign Minister Walid Muallem said. "When diplomacy will become powerless, then we will examine different options."
Unlike the US, Russia's intervention is at the invitation of the Syrian government. Moscow deployed its forces in September 2015, as terrorist groups threatened to overrun the government. The US has accused Russia of doing little to defeat IS, saying, "They have only conducted a fraction of counter-ISIS operations."
"The statement is nothing new, the same typical snobbery," Russian Senator Frants Klintsevich, deputy head of the Upper House Committee for Defense and Security, said in response. "Even with total resistance from the US special services, those who know how much Russia and the Syrian military forces have done, how many lives were lost, simply cannot say that Russia has done nothing."
As the Syrian military and its allies make gains in eastern Syria, IS is nearing complete defeat. On Tuesday, the US-led coalition announced that fewer than 3,000 IS fighters remain in Syria and Iraq, according to Reuters. Syria continues to be plagued by terrorist attacks, however. A bomb blast on a passenger bus killed 8 people in the city of Homs Tuesday. IS claimed responsibility for the attack, according to local media.