Tillerson touts indefinite US presence in Syria & Assad must go in 'new' plan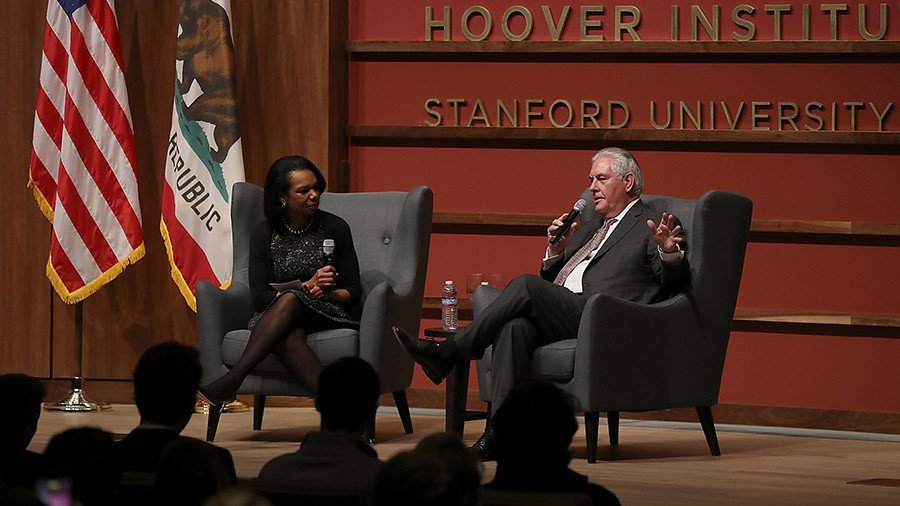 Echoing previous administrations, Secretary of State Rex Tillerson has said the "new" strategy in Syria will involve a long-term American military presence and regime change in order to secure US interests.
Speaking at Stanford University's Hoover Institution Wednesday, Tillerson sought to distance President Donald Trump's policy in Syria from former President Barack Obama's approach.
"We cannot make the same mistakes that were made in 2011, when a premature departure from Iraq allowed Al-Qaeda in Iraq to survive and eventually morph into ISIS," Tillerson said.
Instead, he said, the US now intends to maintain an open-ended military presence in Syria, and that the American mission in the country will be "conditions based."
Tillerson said the US will remain in Syria until several "key end states" are met. These include, the defeat of Islamic State (IS, formerly ISIS), the overthrow of Syrian President Bashar Assad, and stamping out the Iranian influence in the country.
However, his talking points are eerily similar to those made by the previous administrations.
Islamic State
Tillerson made clear that US troops will remain in Syria until IS and Al-Qaeda are defeated.
"Let us be clear, the United States will maintain a military presence in Syria, focused on ensuring ISIS cannot reemerge," Tillerson said, adding that the terrorist organizations are "still a grave threat."
He said the US would stay in the country until "ISIS and Al-Qaeda in Syria suffer an enduring defeat; do not present a threat to the homeland; and do not resurface in a new form; and that Syria never again serves as a platform or safe haven for terrorists to organize, recruit, finance, train and carry out attacks on American citizens at home or abroad or against our allies."
Ungoverned spaces, especially in conflict zones, are breeding grounds for IS and other terrorist organizations. The fight against IS is not over, he said.
"ISIS currently has one foot in the grave, and by maintaining an American military presence in Syria until the full and complete defeat of ISIS is achieved, it will soon have two," Tillerson said.
His speech resounded with the same points previously made by Obama, who was still sending more Special Forces into Syria to fight IS up until the end of his presidency.
The US Secretary of State's remarks also go directly against one of Trump's campaign promises that he would "pursue a new foreign policy that finally learns from the mistakes of the past."
Assad
"We will stop looking to topple regimes and overthrow governments, folks," Trump said during the first stop of his "thank you" tour in 2016.
Tillerson, however, appeared to deviate from Trump's script, and said the US must ensure the Assad is overthrown "through an incremental process of constitutional reform and UN-supervised elections."
"A stable, unified and independent Syria ultimately requires post-Assad leadership in order to be successful," Tillerson said. "The departure of Assad through the UN-led Geneva process will create the conditions for a durable peace within Syria and security along the border for Syria's neighbors."
Tillerson urged Moscow to implement UN Security Council resolution 2254, which he said was a "political framework for peace and stability in a unified Syria."
The resolution, which was passed in 2015, calls for free and open elections in Syria, which Tillerson said would "result in the permanent departure of Assad and his family from power."
However, after the resolution was passed, former US Secretary of State John Kerry said it would "facilitate a transition within Syria to a credible, inclusive, nonsectarian governance within six months."
"The process would lead to the drafting of a new constitution and arrangements for internationally supervised election within 18 months," Kerry said in a statement.
Tillerson's policy mirrors the Obama administration's, which also insisted that Assad must be overthrown. "The future of Syria must be determined by its people, but President Bashar al-Assad is standing in their way," then-President Obama said in a written statement. "For the sake of the Syrian people, the time has come for President Assad to step aside."
Iran
Tillerson also said the US would remain until "Iranian influence in Syria is diminished, their dreams of a northern arch are denied, and Syria's neighbors are secure from all threats emanating from Syria."
"US disengagement from Syria would provide Iran the opportunity to further strengthen its position in Syria," Tillerson added. "As a destabilized nation and one bordering Israel, Syria presents an opportunity that Iran is all too eager to exploit."
His remarks here also echo the previous administration, which also linked their strategy in Syria to Iran.
In 2012, Obama said that if Syria were able to have a representative government, it would "be a profound loss for Iran."
However, Obama later backed off from this strategy as the Iran nuclear deal beckoned. Trump has repeatedly warned that the US will withdraw from the deal if it is not changed.
"I am waiving the application of certain nuclear sanctions, but only in order to secure our European allies' agreement to fix the terrible flaws of the Iran nuclear deal. This is a last chance," Trump said in a statement last week. "In the absence of such an agreement, the United States will not again waive sanctions in order to stay in the Iran nuclear deal. And if at any time I judge that such an agreement is not within reach, I will withdraw from the deal immediately."
You can share this story on social media: