'US-trained Border Security Force is a clear project to partition Syria'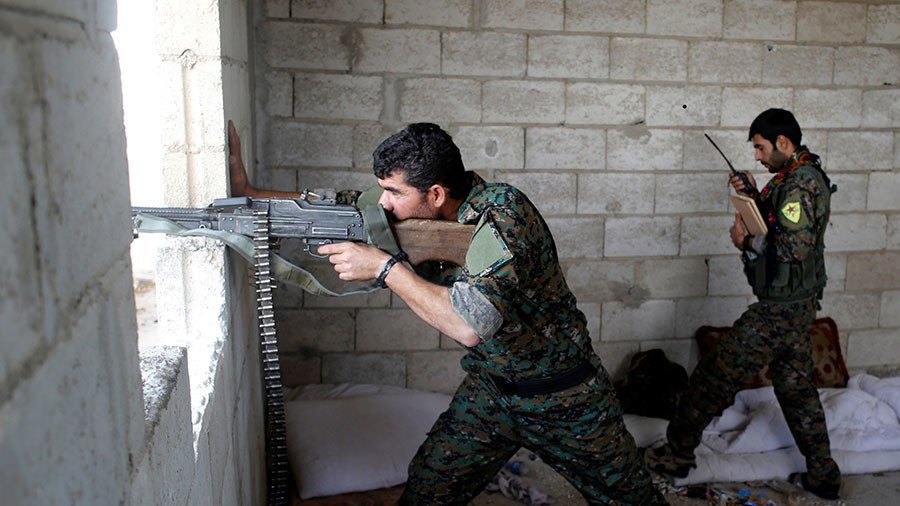 Instead of an initiative towards more peace, aid, and reconstruction for Syria, the US is moving forward with more war by creating a new fighting force aimed at partitioning Syria, experts told RT.
On Sunday, the Pentagon announced it is training a brand-new force in the north of the Syria, the so-called Border Security Force (BSF).
About half will be members of the Syrian Democratic Forces (SDF), the Kurdish-led group already supported on the ground by the US.
"There are approximately 230 individuals training in the BSF's inaugural class, with the goal of a final force size of approximately 30,000," the Coalition's public affairs officer, Colonel Thomas F. Veale, told the Defense Post.
Turkish President Recep Tayyip Erdogan vowed to 'drown' the US-backed Border Security Force, calling it a "terrorist army."
RT discussed the issue with Middle East expert and contributor with Al-Monitor news website Ali Rizk, and security and political analyst Omar Nashabe.
RT: What does this move mean to the already fragile peace in Syria and the region?
Ali Rizk: It gives you… a fairly clear picture of what the US agenda for Syria now is: with ISIS being on the verge of defeat, I think it has become clear that you do have a project of partitioning Syria. It seems to me, especially when you use the term "border." When they say a border force – 'border' is a term which is applied to sovereign states – so, what they are trying to do, it seems, is to build a state within a state – a small state within the wider Syrian state. And that, as I earlier said, is a clear project of partitioning. Now, why would they do that? [It may be] a way to continue to have leverage, a way to prevent the Syrian government from establishing control of all of Syria's territories. And I think another very important point which I always like to emphasize is that America's main Middle Eastern ally, Israel, does not want a scenario whereby the Syrian government and its allies like Iran and Hezbollah, etc. emerge as complete victors within Syria. And so, what they are doing by trying to create this small statelet inside Syria, that is also a way of trying to work for the interests of their main ally – Israel. I think you have all of these elements in play.
RT: The Turkish president has vowed to destroy the US-backed fighters in Syria. What would be the consequences for US-Turkey relations?
Omar Nashabe: The relationship between Turkey and the US has not been on the right track, has not been really positive since the beginning of the tension, especially in the northern parts of Syria. But what is interesting today with the announcement of the Americans with the creation of this new army, or the… "new border army," I wonder what kind of "border." – this is a clear sign that the Americans are going for a partitioning of Syria, as [Russian Foreign Minister] Lavrov said earlier today. I think that this would lead to more escalation. And I noted a correlation here: a correlation between the fact that the Syrian Army and the Russian Army have been making a lot of progress in eradicating terrorism, have been making a lot of progress with moving forward with the peace talks at various conferences here and there, and here come the Americans with creating a new army. One would have expected an initiative towards more peace, more aid, more reconstruction for Syria, a better future for Syria. Well, what we can see is the Americans are moving forward with more war, like creating a new fighting force… a border fighting force. I am trying to really analyze and understand what is meant by this border force. Is it that they are creating a true partition of Syria and creating an area that is separate from the rest of Syria where they can actually have military bases there to actually put pressure on Iran, on Turkey and on the future Syria, and to ensure American interests? I think this is counter to American interests…
You can share this story on social media: