Trump ally & ex-sheriff goes on trial over targeting immigrants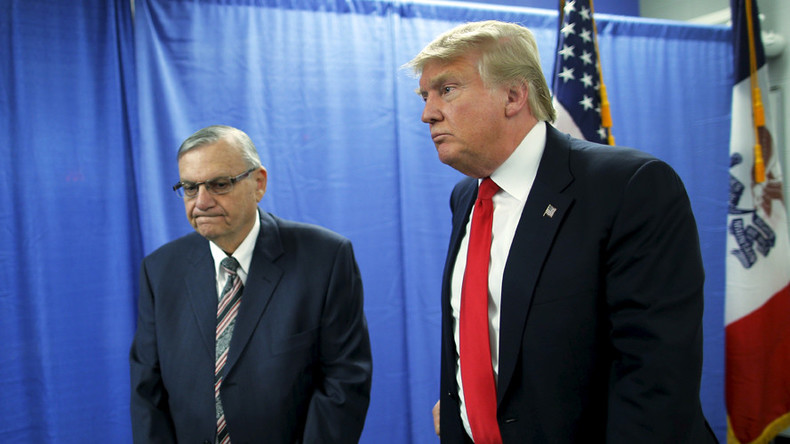 A federal court in Phoenix, Arizona will decide whether notorious former Sheriff Joe Arpaio, 85, is guilty of a misdemeanor contempt of court for disobeying a federal judge's order to stop traffic patrols that targeted immigrants.
The former six-term sheriff of Maricopa County was voted out office last November, despite then-presidential candidate Donald Trump's touting of the self-described "America's Toughest Sheriff" and his practices at his rallies.
In 2011, US District Judge G. Murray Snow ordered Arpaio to stop immigration patrols, later finding that his officers racially profiled Latinos. Despite the injunction, sheriff's deputies continued to chase after illegal immigrants during traffic patrols for at least 18 months.
The judge concluded that Arpaio ignored the order because he believed his hardline efforts against illegal immigrants would help his 2012 campaign.
The US Supreme Court on Monday rejected the former sheriff's request to let a jury instead of a judge decide whether he is guilty.
"This is really just a fight about immigration law and what it means," said Arpaio's attorney, Jack Wilenchik. "And Arpaio is trying to do what a good cop does, which is to enforce the law."
His defense argues that the former lawman is being charged for the crime of cooperating with US immigration officials.
Arpaio's attorneys subpoenaed Attorney General Jeff Sessions but he hasn't responded.
"The point of calling Jeff Sessions is to say what constitutes cooperation with the federal government," Wilenchik said. "That constitutes the defense in this case. Under federal law, if you're doing something and the federal government wanted you to do it, that's not a crime."
Unlike other local sheriffs, who left immigration enforcement to other US authorities, Arpaio made hundreds of arrests in traffic patrols targeting immigrants. He also carried out numerous business raids in which his officers sought out immigrants who were using fake IDs to get jobs.
The US Department of Justice charged Arpaio in October. If convicted, he could face up to six months in prison.