300+ inmates still housed in Phoenix Tent City Jail during heat wave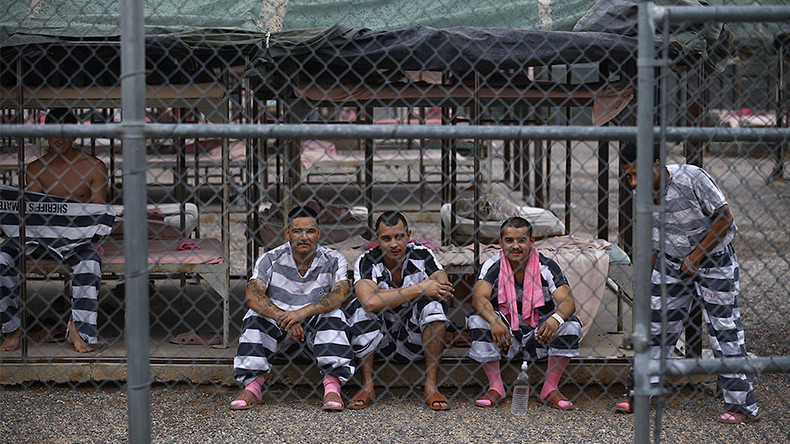 Hundreds of inmates are still being housed in Maricopa County's infamous 'Tent City Jail,' as Phoenix is being hit with a punishing heat wave. Temperatures are forecasted to reach at least 120F (48C) or higher.
The Tent City Jail is an outdoor, canvas tent prison compound in Maricopa County, Arizona, where prisoners are subjected to the elements.
"Almost all of these inmates are in Tent City only at night," Maricopa County Sheriff's Office spokesman Mark Casey told the Phoenix New Times. "We estimate that approximately 50 will be on-site in the daytime – meaning that they work either a second or third shift at their job."
It's going to hit 120 tomorrow and Maricopa County is still housing hundreds of low-level offenders outside in tents https://t.co/QsxW5kOsfr

— Antonia Noori Farzan (@antoniafarzan) June 19, 2017
Casey said inmates will be given unlimited access to ice water during high temperature warnings, and anyone requiring medical attention will be transferred.
Many of the inmates housed at Tent City work on chain gangs. Both male and female inmates work 30-day programs, doing roadside clean-up and landscaping. Tent City also houses work furlough and work release populations.
Maricopa County Sheriff Paul Penzone announced in April he would close the jail, and recent news stories have focused on crews breaking down tents and beginning to dismantle the complex, but there are still 380 inmates left in Tent City.
While located in the desert with lower temperatures at night, temperatures are still expected to be around 100F (37C) at midnight.
Dozens of airliners have canceled flights to Phoenix, Arizona, and doctors urged people to be careful around concrete, playground equipment, and vehicle interiors, as temperatures approach 120F (48C).
Temperatures in Arizona in the month of June vary between 102 and 106F (39 to 41C).
Tent City was opened in the 1990s under controversial former Maricopa County Sheriff Joe Arpaio as a symbol of his "tough on crime" stance.
Inmates lived in the tents through the sweltering Arizona summer heat and were issued old-fashioned prison jumpsuits and pink underwear.
Serving as sheriff for 24 years, Arpaio called himself the "toughest sheriff in America," and used to take people on tours of the Tent City Jail.
Read more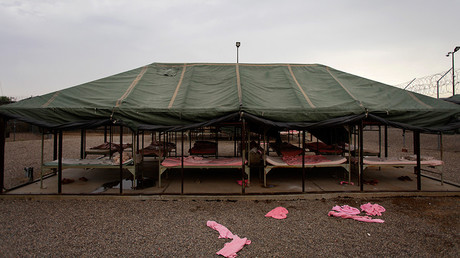 Rights groups criticized the jail for being humiliating and inhumane.
Eleanor Eisenberg of the ACLU said "Sheriff Arpaio has conditions in his jail that are inhumane, and he's proud of it."
Arpaio was also accused of various types of misconduct, including abuse of power, misuse of funds, failure to investigate sex crimes, unlawful enforcement of immigration laws, and election law violations. Deaths and injuries in Arpaio's jails cost Maricopa County taxpayers $43 million in court and settlement expenses.
A Federal court monitor was appointed to oversee his office's operations due to racial profiling complaints. The US Department of Justice concluded that Arpaio oversaw the worst pattern of racial profiling in US history, and subsequently filed a suit against him for unlawful discriminatory police conduct.
Arpaio, now 85, is due in court next Monday after being charged eight months ago with criminal contempt of court. He is facing charges of ignoring a federal judge's orders to stop enforcing federal immigration laws. If convicted, he could get six months in jail.
Newly-elected Sheriff Penzone told reporters in April the facility was not a deterrent, not cost efficient, and was not tough on criminals.
"This facility became more a circus atmosphere for the general public," Penzone said, according to NPR. "Starting today, that circus ends and these tents come done."
Penzone said closing the facility and sending the inmates to other detention centers would save about $4.5 million.
The jail population peaked at 1,700 inmates, and in April, stood at 700-800.