'Circus atmosphere': Sheriff Arpaio's Tent City jail to shut down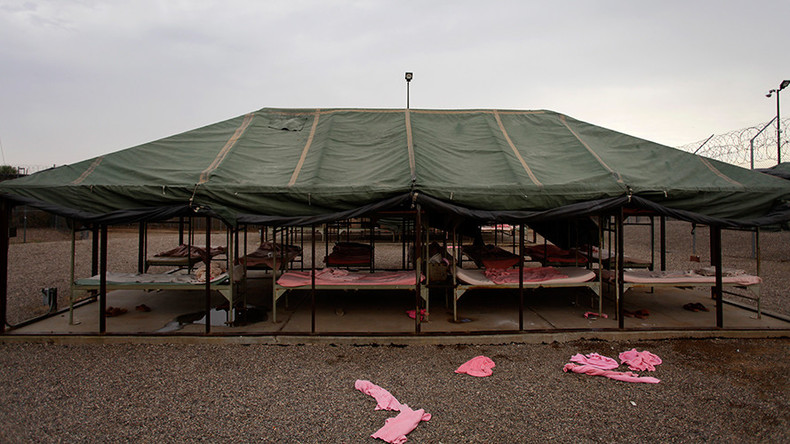 The newly elected sheriff of Maricopa County in Arizona will be shutting down the Tent City prison facility, where inmates were forced to wear pink uniforms. Former Sheriff Joe Arpaio called the decision "the wrong move."
On Tuesday, Sheriff Paul Penzone held a press conference to announce the Tent City facility will be shutting down to save on costs and help with efficiency.
Sheriff Penzone stated that the facility does not deter criminals, is not cost efficient, and is not tough on criminals.
"That may have been the intent when it was first opened and there was a need, but this facility became more of a circus atmosphere for the general public," Penzone said. "Starting today, that circus ends and these tents come down."
This decision to close Tent City was based on the recommendations of a comprehensive review by the Sheriff Penzone's Executive Advisory Review (SPEAR), an advisory committee that was appointed by Penzone after he took office in January.
The committee's decision was unanimous.
Penzone says that the committee did not find any evidence that Tent City was a deterrent to criminals, but had actually "become a preferred location" where inmates chose to stay.
"The image of hard core inmates being punished and 'scared straight' through forced exposure to our hot summers was false. All inmates could opt to stay in air conditioned areas and their medical condition and fitness for Tents detention was constantly monitored," Penzone said in a news release obtained by KTVT.
The committee also found that shutting Tent City would save $4.5 million of taxpayer funds, which would be spent more efficiently detaining inmates in Estrella and Durango jails.
In a press release issued by the sheriff's office Tuesday, the committee estimated Tent City was costing taxpayers an average $8.7 million every year, while only housing up to 800 inmates in an average year. The facility, which was designed to solve the overpopulation occurring in the county's jails, was supposed to house up to 2,100 inmates at a time. At its peak, the population of Tent City reached approximately 1,700.
"Tent City was established to fill the demand for quick and inexpensive beds," former Arizona Attorney General Grant Woods, who chaired the SPEAR committee said, according to the press release. "By closing Tent City, needed money can be reallocated by moving inmates to other MCSO jails."
Joe Arpaio, the former sheriff of Maricopa County, said Penzone referring to Tent City as a circus was "insulting."
"A circus!? That's an insult to all the dedicated detention officers in 24 years, they worked in the tents on a great program. I hope he didn't say that," Arpaio told KSAZ.
Arpaio also refuted the claims that the facility was not a deterrent, especially to illegal aliens.
"I've been accused of keeping the inmates in 124 degrees, which is true. Now people are saying that it's nice, it's not a deterrence anymore. What do you mean it's not a deterrence?" Arpaio said.
Tent City was built in 1993, at a time when the county could not find the space to house the inmates in their detention centers. The facility was meant to be a temporary, cost-saving solution, but Arpaio decided to keep the facility running.
The high temperatures of the Phoenix desert in the open-air facility were meant serve as a deterrent for criminals. The inmates were also forced to wear humiliating pink uniforms.
READ MORE: Naked woman steals police vehicle, high speed chase ensues
Decommissioning of the facility will begin immediately, and is expected to be completed in six months. At the press conference, Penzone asserted that there will be more than enough space in the five other detention centers in the county to house the remaining inmates from Tent City.
"Closing Tent City doesn't mean you aren't going to jail in Maricopa County. We have five hard-walled detention centers waiting for you and your stay will not be a pleasant experience," Penzone said in a news release.
"Jail isn't supposed to be fun, but we can use it more effectively to help those who make mistakes break the cycle of criminal behavior," he said.