Donald Trump lays out immigration policy at Phoenix rally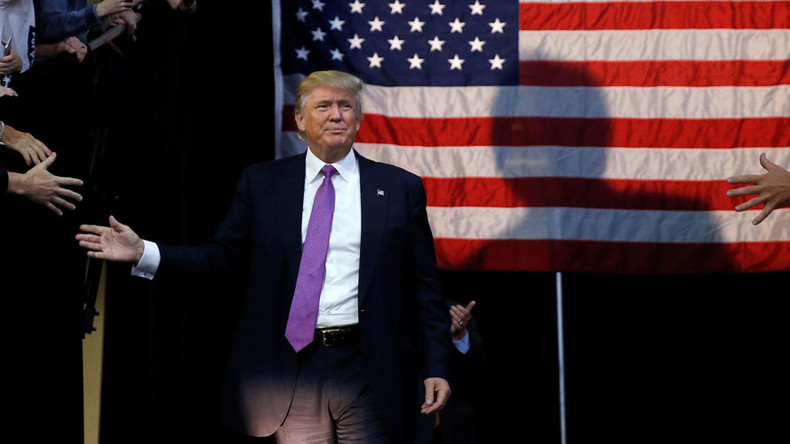 Fresh from a visit south of the border to meet with Mexico's president, Donald Trump landed in Phoenix, Arizona late Wednesday afternoon to present what is anticipated to be his most in-depth immigration policy speech yet.
Read more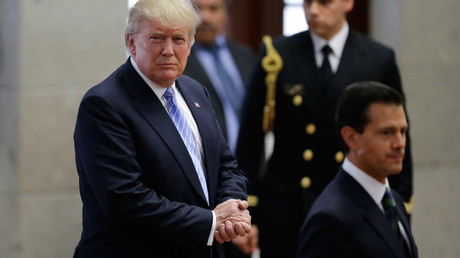 The Republican presidential nominee privately met with and held a press conference alongside Mexican President Enrique Peña Nieto earlier Wednesday, but their formal remarks on immigration and trade were based on a "preliminary meeting" and did not go into any detail.
"There's a lot of value that can be created by both countries working beautifully together, and that, I'm sure, will happen," Trump said in Mexico to members of the press.
It's a whole different spectacle at the Phoenix Convention Center, where thousands have packed in for a Trump rally on the same day. Despite the change in venue and mood, Trump's comments are expected to be more serious than his typical stump speech. It is scheduled to begin at 6:45pm local time, or 9:45pm Eastern time.
This past week, Trump expressed support for tracking immigrants entering the country on a visa.
"If we don't enforce visa expiration dates, then we have an open border – it's as simple as that," Trump said Saturday during a campaign speech in Des Moines, Iowa.
To roaring "USA! USA!" chants, Trump told his Phoenix fans, "I am so glad to be back in Arizona."
"This won't be a rally speech per se," he added.
"Both countries, we're all going to win," Trump said of his immigration policy as it specifically pertains to Mexico.
The "fundamental problem" of current US immigration policy is that it serves wealthy special interests, not the American people, Trump declared.
As a sovereign country, Trump said, it is the citizens' collective right to choose immigrants who will "thrive, assimilate and love us."
Trump juxtaposed the issue of immigration with the mainstream media and his Democratic opponent Hillary Clinton, saying all they talk about is the welfare of the undocumented. Trump claimed that "those living here illegally" often receive better treatment than "our vets," which prompted loud boos from the crowd.
"Not gonna happen anymore folks. November 8, not gonna happen anymore," Trump continued.
Trump also claimed that the costs of public services for illegal immigrants totaled around $113 billion annually.
The core issue of immigration should be the "wellbeing of the American people." Anything in second place "doesn't even come close," he proclaimed.
That is, of course, depending on official Mexican cooperation, of which Trump is optimistic.
"I really believe they want to solve this problem with us, and I believe they will," he said.
"We will terminate the Obama administration's deadly, and it is deadly, non-enforcement policies," Trump promised.
On his first day in office, Trump said, he would push Congress to pass Kate's Law, which would impose mandatory minimum prison sentences on illegal immigrants with a prior criminal record in the US trying to re-enter the country.
"We're also going to hire 5,000 more border patrol agents," and "put more of them on the border instead of behind desks, which is good," he added.
"Block funding for sanctuary cities, no more funding," Trump urged, claiming the city policies had resulted "in so many needless deaths."
Trump also took the opportunity to swipe at his opponent.
"Within ICE, I am going to create a new special deportation task force focused on identifying and quickly removing the most dangerous criminal illegal immigrants in America, who have evaded justice just like Hillary Clinton has evaded justice, OK? Maybe they'll be able to deport her."
Trump also incorporated the refugee crisis into his immigration pitch.
"For the price of resettling one refugee in the United States, 12 could be resettled in a safe zone in their home region, which I agree with 100 percent," he said, adding, "We have to build safe zones, and we will get the money from Gulf states."
Warming up the crowd earlier, Maricopa County Sheriff Joe Arpaio said he was "very proud of what happened today" when Trump accepted the Mexican president's invitation to meet in Mexico City.
Former New York City Mayor Rudy Giuliani also spoke, while wearing a hat reading, "Make Mexico Great Again Also."
Next up was Senator Jeff Sessions (R-Alabama), who also donned the "Make Mexico Great Again Also" cap.
Trump's vice presidential running mate, Indiana Governor Mike Pence, spoke next to introduce the billionaire businessman. Pence previewed Trump's address, saying that he would cover the issue that "he and he alone put at the center of our national debate: ending illegal immigration once and for all."