#Podesta leaks continue with 18th release of emails from Clinton campaign chair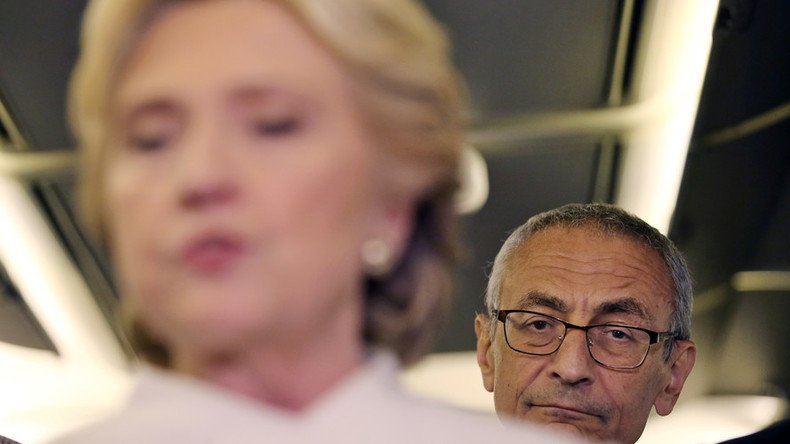 WikiLeaks has published a new batch of emails from the account of Hillary Clinton's campaign chair, John Podesta.
The whistleblowing site has released more than 30,000 Podesta emails online and has said it intends to keep releasing documents each day right up until the November 8 US presidential election.
The emails have yielded an insight into the inner workings of the Democrat's campaign team, including discussion on how to react to Bill Clinton's sexual assault allegations, framing information for 'news hyenas', and boosting Hillary Clinton's public image.
On Monday, the 17th release from Wikileaks revealed Podesta's dim view of Clinton's 2008 presidential run, the team's fears about Bernie Sanders"beating us up", as well as Hillary Clinton's failure to win over Al Gore.
The releases also shed some light on frayed relationships within the political bubble of Washington, such as long-term aide Doug Band's beef with 'backstabbing' Chelsea Clinton.
Obama and Hillary's email server
Tuesday's release includes an email exchange that indicates President Barack Obama had known of Clinton's private email server use.
An email thread dated March 7, 2015 between Podesta and Clinton lawyer and chief of staff Cheryl Mills shows the pair's concern over comments Obama made to CBS News regarding Clinton's use of a private email server.
Podesta emails Mills a link to a tweet by Buzzfeed political editor Katherine Miller carrying a quote from Obama saying he found out about Clinton's private email system at "the same time" as everyone else.
However, in her response, Mills indicates that Obama had already received emails from Clinton which do not bear the governmental state.gov address.
"We need to clean this up - he has emails from her - they do not say state.gov," she writes.
Clinton in the ring
An email dated May 16, 2015 from The Hill columnist Brent Budowsky to Podesta bizarrely references former Republican presidential candidate Mitt Romney's charity boxing match with former World Heavyweight Champion Evander Holyfield.
Budowsky recommends that if Hillary is asked about it in the media she should "offer him high praise and say she would love do to a charitable boxing match sometime....maybe Carly Fiorina [then candidate for the Republican nomination] would be free one night."
Tweet time ≠ release time.
We don't always immediatly tweet when we release. Everyone can check our website.
Was that so hard to figure out? https://t.co/zNgWXn9eIv

— WikiLeaks Task Force (@WLTaskForce) October 24, 2016
Members of Clinton's campaign have accused RT of involvement in the email hack due to its swift reporting of the leaks. WikiLeaks has been openly publishing batches of emails online every day for over two weeks.
Public perception of Wall Street speeches
An email from Hillary's campaign manager Robby Mook dated March 11, 2015 flags his concerns about the public reaction to Bill Clinton giving a Wall Street speech within days of announcing her presidential bid.
"I know this is not the answer she wants, but I feel very strongly that doing the speech is a mistake - the data are very clear on the potential consequences," Mook writes to Tiny Flournoy, Bill Clinton's chief of staff.
"It will be three days after she's announced and on her first day in Iowa, where caucus goes [sic] have a sharply more negative view of Wall Street than the rest of the electorate."
Earlier in the thread, Huma Abedin had flagged that Hillary "very strongly did not want him to cancel that particular speech."
"I will have to tell her that WJC chose to cancel it, not that we asked," Abedin added.
Mook responded to Abedin and Podesta: "[T]he issue is that if we're announcing on the 12th/13th and he's speaking to a wall street bank on the 15th, that's begging for a bad rollout."
'Weird' rumor of donor hire
The Clinton campaign appears to have been happy to take money from former New York City School Chancellor Joel Klein - but less at ease with bringing him on board as a member of staff.
In emails from August 2015, Clinton's campaign manager says rumors that Klein is to be hired by Clinton are "weird," due to his poor reputation with the American Federation of Teachers union.
"They hate him and someone made up a rumor we hired him, which is just weird. He's a max donor and that's it," Robby Mook writes.
It came after Outreach Director Nikki Budzinski received a "panicked call" from the teachers' union about Klein potentially joining the campaign team. "AFT has flagged this as a really big issue for them," Budzinski said.
Concerns over fallout from 9/11 Saudi lawsuit

Former Clinton White House counsel Jack Quinn offered to help "defang" negative attention he predicted could hit the Clinton campaign over a lawsuit alleging Saudi Arabia's involvement in the 9/11 attacks.
An email sent by Quinn – who was representing some of the 9/11 victims' families – on March 27, 2015, gives Podesta a heads-up on a motion to have the case dismissed by the Kingdom of Saudi Arabia (KSA).
Quinn warns Podesta that the deposition of "prominent Saudis" will "draw significant and sustained media attention over the next two years."
READ MORE: Brent Budowsky to RT: 'Washington has evidence Russia hacked US'… no proof though
"John, I see this, of course, through all my own lenses… But I equally do not want this cause to be misused for political purposes," Quinn writes.
The Clinton Foundation has received donations from the government of Saudi Arabia.
"Those of us who have been concerned about that politicization have had some thoughts about how to defang the issue and would be happy to knock those around with you or Cheryl [Mills] if and whenever you like," Quinn writes.
Podesta thanks Quinn for the notification, before asking Mills: "Should we worry about this?"

You can share this story on social media: