Best of the worst: Here are the most shocking WikiLeaks Podesta emails so far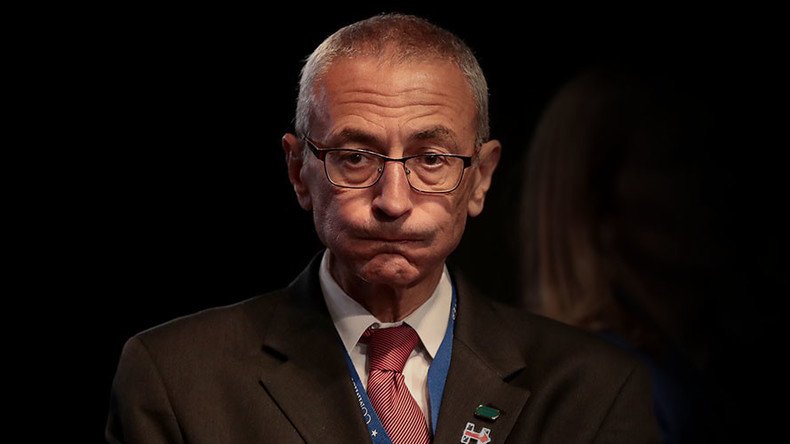 As WikiLeaks continues to release emails from Hillary Clinton campaign chair John Podesta, RT brings you a round-up of the most scandalous details released so far.
READ MORE: Podesta files: Top 10 revelations from leaked Clinton campaign emails
Those Wall St speeches
A January 2016 email detailed how Clinton boasted of her "great" relations with bankers in an October 2013 speech. She spoke of how "more thought has to be given to the process and transactions and regulations so that we don't kill or maim what works, but we concentrate on the most effective way of moving forward with the brainpower and the financial power that exists here [on Wall Street]."
READ MORE: 'Holy grail of US journalism': WikiLeaks releases transcripts of Clinton's paid Wall St. speeches
Meanwhile, a June 2013 speech to Goldman Sachs detailed Clinton's hope to "intervene in Syria as covertly as possible" and that the US "used to be much better at this than we are now."
A November 2015 email chain between campaign staffers discussed planting a Wall Street speech in the media to give the impression that Clinton's speeches "to all those fat cats" were nothing to worry about.
Obama emails
Emails from an account possibly used by Barack Obama before winning the election in November 2008 were revealed on Thursday.
In an email sent on election night in 2008, just minutes before the major TV networks called the election in his favor, Podesta messages Obama discussing an upcoming G20 meeting.
"On the chance that President Bush would raise this with you tonight, I wanted you to be aware that it is the unanimous recommendation for your advisors that you NOT attend," Podesta writes.
READ MORE: WikiLeaks publishes list of Obama emails, reveals his address
Pay to Play?
In a mail from February 2016, simply titled 'speaking at the banks,' Neera Tanden, the President and CEO of the Center for American Progress, suggests to John Podesta that Clinton "should just return the money" if she "lose[s] badly."
READ MORE: Pay for Play? Clintons' financially fueled favors revealed in latest Podesta emails
Another email from Clinton aide Huma Abedin to Mook and Podesta in January 2015 details how Moroccan authorities donated to the Clinton Foundation's Clinton Global Initiative (CGI) to get access to Clinton.
Abedin says the "King has personally committed approx $12 million both for the endowment and to support the meeting" and that "the condition upon which the Moroccans agreed to host the meeting was her participation. If hrc was not part of it, meeting was a non-starter."
She goes on to say that the meeting had been Clinton's idea. "Our office approached the Moroccans and they 100 percent believe they are doing this at her request," Abedin adds. "She created this mess and she knows it."
Designed to give her some cover
Politico's chief political correspondent Glenn Thrush sent his article to Podesta to be approved prior to publishing. "Please don't share or tell anyone I did this," Thrush said. Podesta responded that there were "no problems here."
In an email exchange from June 30, 2015, Brent Budowsky, a columnist for the Hill, contacted Podesta regarding a piece he wrote which he describes as being "positive, carefully written, and designed to give her [Hillary Clinton] some cover with liberals."
Doofus Bernie
Podesta messaged Tanden in December 2015, regarding the Paris Climate Change Conference and referred to Bernie Sanders as a "doofus" for attacking the deal.
Budowsky criticized the campaign in a September 2015 email for allegedly giving Clinton surrogates talking points to attack Bernie Sanders. He instead recommended that the campaign "make love to Bernie and his idealistic supporters, and co-opt as many of his progressive issues as possible."
A mail to Podesta from Philip Munger, a philanthropist known for his hefty donations to the Democratic Party, took an alternative approach. Munder wrote Clinton is "going to have to kneecap him. She is going to have to take him down from his morally superior perch."
What planet is she on?
Clinton's description of herself as a moderate Democrat at a September 2015 event in Ohio angered Tanden. In a mail to Podesta, she asked why Clinton described herself as such, to which he replied that she "didn't remember saying it. Not sure I believe her."
Tanden insists that the comment has made her job more difficult after "telling every reporter I know she's actually progressive."
"It worries me more that she doesn't seem to know what planet we are all living in at the moment," she adds.
The Clintons won't forget their friends
In November 2014, Clinton's campaign manager Robby Mook emailed Podesta about moving the Illinois primary out of March, as it would be a "lifeline to a moderate Republican candidate."
Although Illinois was offered "a bonus of 10% extra delegates if they move to April and 20% if they move to May," the date didn't change.
"They don't really care about being helpful and feel forgotten and neglected by POTUS," Mook writes. "The key point is that this is not an Obama ask, but a Hillary ask. And the Clintons won't forget what their friends have done for them."
Food groups
February 2016 messages between Podesta and Frank White Jr, who raised over $2.3 million for President Barack Obama during his 2012 reelection campaign, highlight the Clinton team's awareness that it "doesn't value black folks."
A list of potential vice presidential nominees categorized in "rough food groups" is detailed in an email from Podesta to Clinton. These "food groups" were broken up into seven categories, including Latinos, women, black men, business magnates and one group with just one member – Bernie Sanders.
Hillary's Achilles heel
After Clinton gave an interview, which referenced the email scandal, to NBC's Andrea Mitchell on September 4, 2015, Tanden once again gives an interesting insight into Clinton's shortcomings.
"Everyone wants her to apologize," Tanden says in an email to Podesta and Jennifer Palmieri, Clinton's director of communications. "And she should. Apologies are like her Achilles heel. But she didn't seem like a bitch in the interview. And she said the word sorry. She will get to a full apology in a few interviews."
You can share this story on social media: