Pay for Play? Clintons' financially fueled favors revealed in latest Podesta emails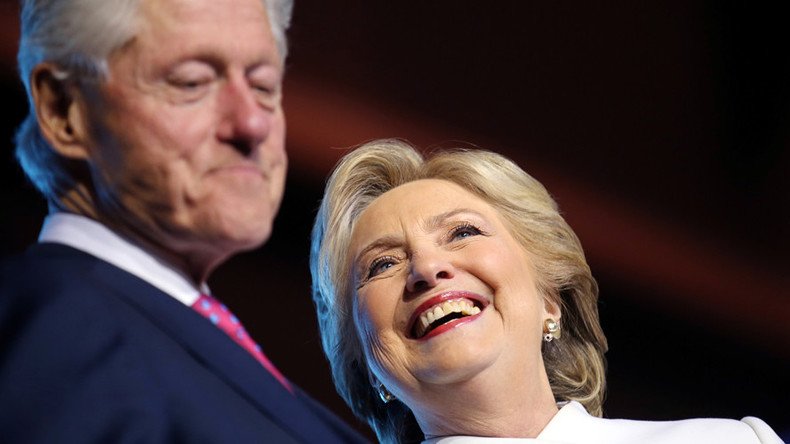 WikiLeaks' latest release of the Clinton campaign manager's emails adds merit to growing allegations that the Democratic presidential nominee considered and indulged in the so called "pay for play" practice.
The leaked emails highlight a number of occasions where large sums of money were demanded in return for either Bill or Hillary Clinton meeting with influential figures.
In a mail from February 2016, Neera Tanden, the President and CEO of the Center for American Progress, suggests to John Podesta that Hillary Clinton should consider returning money to banks who paid to hear her speak, if she does not secure the presidency.
Simply titled 'speaking at the banks,' the mail is in regard to Clinton speaking at financial institutions in which Tanden tells Podesta "don't shoot me but if we lose badly maybe she should just return the money."
"Say she gets the anger and moves on. Feels a little like an open wound," Tanden adds.
Clinton made speeches to a number of banks including Goldman Sachs and Deutsche Bank.
Clinton is also said to be "considering" a meeting with a delegation from Morocco in exchange for a $12m donation from the country's King, Mohammed VI, to the Clinton Foundation's Clinton Global Initiative (CGI).
"The King has personally committed approx $12 million both for the endowment and to support the meeting," the mail from aide Huma Abedin to Podesta reads.
"Just to give you some context, the condition upon which the Moroccans agreed to host the meeting was her participation," Abedin adds, claiming "if hrc was not part of it, meeting was a non-starter."
Clinton had been scheduled to attend a CGI event in Marrakech from May 5 to May 7, 2015, but a number of weeks before this, a Foundation official told Politico it was "unlikely" she would attend.
Adding more fuel to Donald Trump's accusations that the Clinton family's wealth is built on a "pay for play" scheme, another email released earlier this week revealed the Clinton foundation would consider having Bill Clinton call Sheikh Mohammed, the vice-president and prime minister of the United Arab Emirates, in exchange for $6m.
"Unless Sheikh Mo has sent us a $6 million check, this sounds crazy to do," a foundation staffer says in a mail in which Bill Clinton is asked to call Sheikh Mohammed to thank him for offering the use of his plane to attend a conference in Ethiopia.
READ MORE: Clinton & DNC accused of fraud, finance violations in election commission complaint
The revelations come following renewed calls this week for an investigation into allegations that the FBI were bribed during their investigation into the use of a private email server by Clinton during her time as US Secretary of State.
Earlier this week, the FBI released records pertaining to the investigation, in which the Undersecretary of State, Patrick Kennedy, allegedly calls on the FBI to alter the classification of a number of sensitive emails on Clinton's server in exchange for more resources for the bureau.
READ MORE: House committee demands criminal investigation of State Dept. undersecretary over FBI 'quid pro quo'
You can share this story on social media: