Latest WikiLeaks #Podesta emails: Black voters, 'backstabbing' & San Bernardino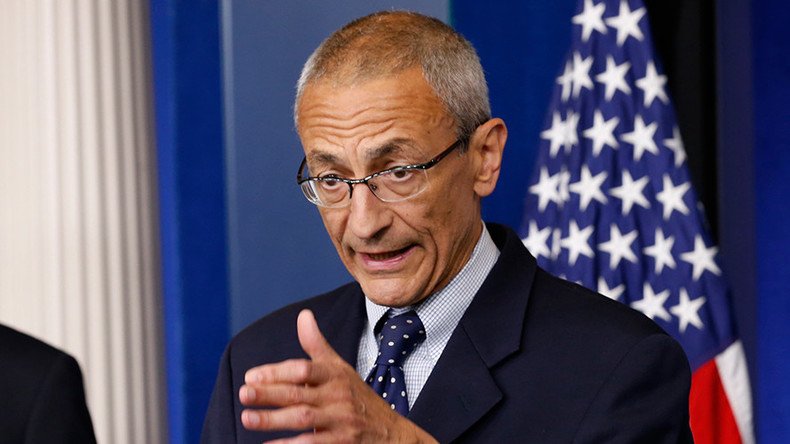 WikiLeaks have uploaded yet another batch of emails from Hillary Clinton's campaign chair, John Podesta. This ninth release brings the total number of leaked files to over 12,000.
Among the hundreds of emails released Sunday are discussions about appealing to black voters, Hillary's email apologies, and Chelsea Clinton being described by one of her father's longtime aides as a 'backstabber'.
Ranging from how to take down Sanders, to strategizing around sexual assault allegations against Bill Clinton, multiple aspects of the Clinton campaign have been laid open to public consumption through a series of WikiLeaks releases this week.
The thousands of emails already released also cover topics including US allies Saudi Arabia and Qatar clandestinely funding ISIS, the Clinton campaign's efforts to handle the media, and courting billionaire donors. You name it, John Podesta sent or received an email about it.
Courting black voters
The latest leaked emails highlight campaign concerns that Clinton is not doing enough to appeal to black voters. In the February 2016 messages between Frank White Jr, who raised over $2.3mn for Barack Obama during his 2012 re-election campaign, and John Podesta, White writes: "I'm hearing the same complaint in political circles that I continue to hear while fundraising. 'The campaign doesn't value black folks and takes us for granted'."
Podesta responds: "I have been working on that and will resolve soon. We need to strengthen the overall structure and this is the most critical piece of that."
Chelsea Clinton's 'backstabbing'
Long time Clinton aide Band can be seen slating the couple's daughter as a backstabber in some of the leaked correspondence.
The businessman, who helped set up the Clinton Global Initiative, shared a message he received from Chelsea Clinton with Podesta and Cheryl Mills on January 27, 2012.
Clinton is seemingly complementary in her email, saying that political strategist Clark Winter had "terrific things" to say about Band.
"She sends me one of these types of email every few days/week," Band writes. "As they say, the apple doesn't fall far. A kiss on the cheek while she is sticking a knife in the back, and front."
It's not clear which Clinton parent Band was referring with the "apple doesn't fall far" comment. The email could cause some embarrassment, given Band's close relationship with former president Bill Clinton.
Chelsea's email is signed off with her real name but comes from sender "Diane Reynolds". The email lends credence to an earlier WikiLeaks statement that she uses this alias when communicating online.
Band, founder of advisory firm Teneo, previously labeled the Clinton's only child a "spoiled brat" in an email to Podesta on November 12, 2011. That message related to Chelsea Clinton's concern that eyebrows might be raised over Teneo employing former aides who worked at the State Department during Hillary's term as secretary of state.
Hillary's apology problem

Hillary's difficulty with apologizing was acknowledged as her "Achilles heel" in earlier leaked emails. The latest emails underscore the issue with an exchange between campaign aides about public perception of her expressions of regret over her email server controversy.
Clinton's "inability to just do a national interview and communicate genuine feelings of remorse and regret is now, I fear, becoming a character problem (more so than honesty)," warns Clinton ally Neera Tanden.
"Trying to figure out how to get her there and best way to execute," Podesta responds.
Podesta on San Bernardino
As news broke of the San Bernardino mass shooting in December 2015, Podesta suggested it would be "better"if the perpetrator named in early reports on the incident was not called "Sayeed Farouk".
It is now known that Syed Rizwan Farook and his wife Tashfeen Malik carried out the atrocity in California on December 2 last year.
However, on being informed of a tweet by MSNBC host Chris Hayes naming Farook, Podesta quips: "Better if a guy named Sayeed [sic] Farouk was reporting that a guy named Christopher Hayes was the shooter."
Heated exchange
Sunday's leaks carry a heated exchange between former Clinton Foundation COO and current adviser Laura Graham and longtime Clinton aide Cheryl Mills over budget concerns. In the emails, Graham pushes the importance of support for her role, writing: "I need an assistant. I won't go wo one. I cannot do this all by myself."
At one point, Mills forwards the thread of emails to Podesta, and he jokingly responds: "Can we do an HBO movie when this is all over?"
These emails came just weeks after Bill Clinton aide Doug Band highlighted serious concerns over Graham's mental health, allegedly due to the strain of working at the Foundation and with the Clintons. He wrote that Graham had appeared suicidal and contacted him for help "as she couldn't reach my brother or her shrink."
"She called me to tell me the stress of all of this office crap with wjc and cvc as well as that of her family had driven her to the edge and she couldn't take it anymore," Band said.
Aids gaffe
No fewer than 20 advisers were involved in drafting Clinton's apology earlier this year for crediting the late Nancy Reagan with starting a "very effective" conversation about AIDS in the 1980s.
In fact, the Reagan administration's silence and lack of response to the AIDS epidemic has been widely ridiculed for many years. Reagan's presidency is also the subject of a short film, titled "When AIDS Was Funny", which features press secretary Larry Speakes jokingly talking about the outbreak of the deadly disease.
So when Clinton told MSNBC she admired Nancy Reagan's "low key advocacy" in fighting AIDS, the Democrat's campaign team went into overdrive to stem the flow of public outrage.
A thread of emails from March 12 reveals the process of getting a statement out to LGBT members.
"I think our lingering problem on this is that people just don't understand, on a fact level, what happened and how she could have gotten so mixed up," Clinton aide Teddy Goff wrote.
The email conversation, sent to top political advisers like Nick Merrill, Brian Fallon and Jennifer Palmieri, charts the draft of an apology. It reveals that the line, "the comment was just wrong, and I said so right away" was removed for sounding too defensive.
The phrase "I made a mistake" was also binned in favor of, "I said something inaccurate".
Speechwriter Megan Rooney also stated that the group needed a "strategy" to get Hillary Clinton to approve the statement. Clinton's polished response to the gaffe was later published on Medium.
A "civil war" between women
Clinton supporter and political pundit Brent Budowsky warned the Clinton campaign in February 2016 that asserting younger women must support Hillary because she's a woman, could cause serious blowback: "Team Clinton has no idea the danger they are causing of creating such an intense antipathy towards Hillary that many Bernie supporters and younger women will not vote for her in November."
Burdowski said he was inundated with calls from establishment Democrats "who she (Hillary) thinks support her, who are appalled and alarmed by the kind of campaign she is running."
Burdowski, a political columnist, then turns up the heat, saying: "Would you like a sample of what Bernie and liberals will say about Hillary if they angrily feel she is questioning Bernie's integrity? The idea of the campaign for the candidate who could become the first woman president initiating a civil war between older women and younger women over her candidacy is political malpractice that leaves me speechless."
He then backed up his claim by relating an anecdote: "I had coffee today with a female college senior who is an intern with the Obama administration - the daughter of a Democrat who has worked for senior Democrats who asked me to look after her while she is in Washington, who told me 'I just hate her so much I might even vote for a Republican but I will never vote for her.' And she doesn't even support Bernie."
'Take the money!!'
A particularly long email thread discusses what the campaign might do about donations from "foreign agents" – people acting on behalf of foreign entities such as governments.
Under the Foreign Agents Registration Act (FARA) foreign agents have to register their relationships with the Department of Justice.
In April of last year Podesta was in an email chain along with a number of key campaign figures, including Director of Communications Jennifer Palmieri and National Finance Director Dennis Cheng, over whether to allow those lobbying on behalf of foreign governments to raise money for the campaign.
General counsel Marc Elias argued, "this is really a straight up political call. One middle option is to take case by case. If, for example, they are FARA registered for Canada, we may not case. If for N. Korea we would."
Cheng is concerned that "people we are close with" are among the list of foreign agents. He name checks Tony Podesta – John's brother, who lobbies for Iraq, Egypt and Azerbaijan among many others – and the law firm DLA Piper.
A list of the lobbyists and who they act for is then circulated and it contains an extraordinary amount of foreign governments, embassies and trade councils.
Among these is the Kurdistan regional Government, the Executive Office of Dubai, the Government of Ethiopia, Sheikh Mohammed Bin Rashid Al Maktoum, the Republic of Iraq, the Republic of Kosovo, the Justice Equality Movement Embassy of the Republic of Korea and the National Board for the Following Up and Recovering of the Libyan Looted and Disguised Funds of the Transitional Government of Libya.
It was initially decided not to take money from any currently FARA registered foreign agents but that changed following push back from Cheng and Elias.
Cheng argued: "I feel like we are leaving a good amount of money on the table [both for primary and general, and then DNC and state parties]… and how do we explain to people that we'll take money from a corporate lobbyist but not them; that the foundation takes dollars from foreign gov'ts but we now won't."
Campaign strategist Robby Mook then said he was convinced to take the money, without restrictions, as he said that Obama got judged more harshly for accepting money with restrictions.
The final word went to Jennifer Palmieri who simply said, "take the money!!"
You can share this story on social media: